The 3 best dog seat covers for leather seats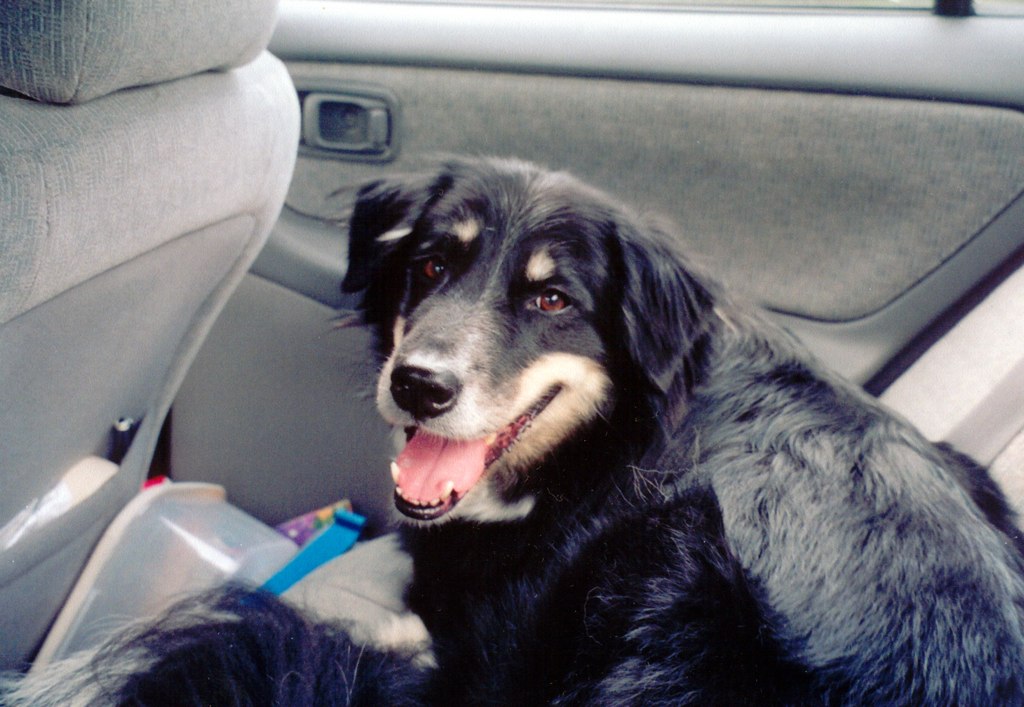 As dog owners, we know that traveling with your dog is becoming more common every day.
Whether it's a quick car ride in town or a long-distance road trip adventure, your dog makes an excellent passenger and is part of the family.
Your dog's favorite seat might be your lap as he sticks his head out the window to feel the breeze, but this isn't a safe way to travel. Before your dog causes an accident, you need to find a designated space in the car where he will be safe and so will the rest of your passengers.
This space will most likely be the back seat of your car. However, if you decide to secure your dog back there, then you'll want to protect your leather seats. The best way to do this is with a dog seat cover designed for leather seats.
In this article, we'll cover finding a designated space in the car for your canine, safety concerns, why you should protect your seats, and finally our top 3 leather seat covers.
If you're in a hurry, then our top choice to safeguard your back seat is the hammock style Kurgo Loft Car Seat Cover.
Finding and measuring a designated space for your dog
Finding the right space in the car for your dog needs to be thought out carefully.
The first thing you want to do is consider the size of your dog. If you have a small dog that fits perfectly in the passenger seat and is comfortable with a doggie seatbelt or restraint that's great. But if you have a large dog like a German Shepherd, whose head reaches the ceiling of the car when sitting straight up, you need to find an alternative space.
Make sure that the designated area and whatever seat cover option you choose is size appropriate for your dog. If the area or cover is too large or too small, it simply won't work.
Keep in mind larger dogs fit well in the back end of SUVs with a flatbed, some toys, and treats. Finding the perfect place where your canine is safe and unable to roam around the car is essential to your safety.
Is the front seat of the car safe for dogs?
Your furball might enjoy riding in the front seat, but is it safe for them? Depending on the size of your pup and how many airbags your car contains in the passenger seat area, the front seat can be a dangerous place for your dog. Airbags are powerful and can cause harm and injury to dogs in certain situations.
Designating the back seat to your dog will keep them safer in case of an emergency. It will also prevent them from climbing onto your lap while you're driving.
Does your dog suffer from arthritis, joint pain or hip dysplasia? A dog that experiences discomfort due to ailments might not feel comfortable in the front seat. In this case, the back seat or the back end of an SUV where he can rest will be a better option. Adding an orthopedic flat surface dog bed under the seat cover will help ease aches and pains during the trip.
When choosing the right spot in the car for your dog think carefully about your dog's well-being. Always take into consideration your dog's health, anxiety level, size, and weight. Finding the perfect spot in the car is essential to successfully traveling with your dog.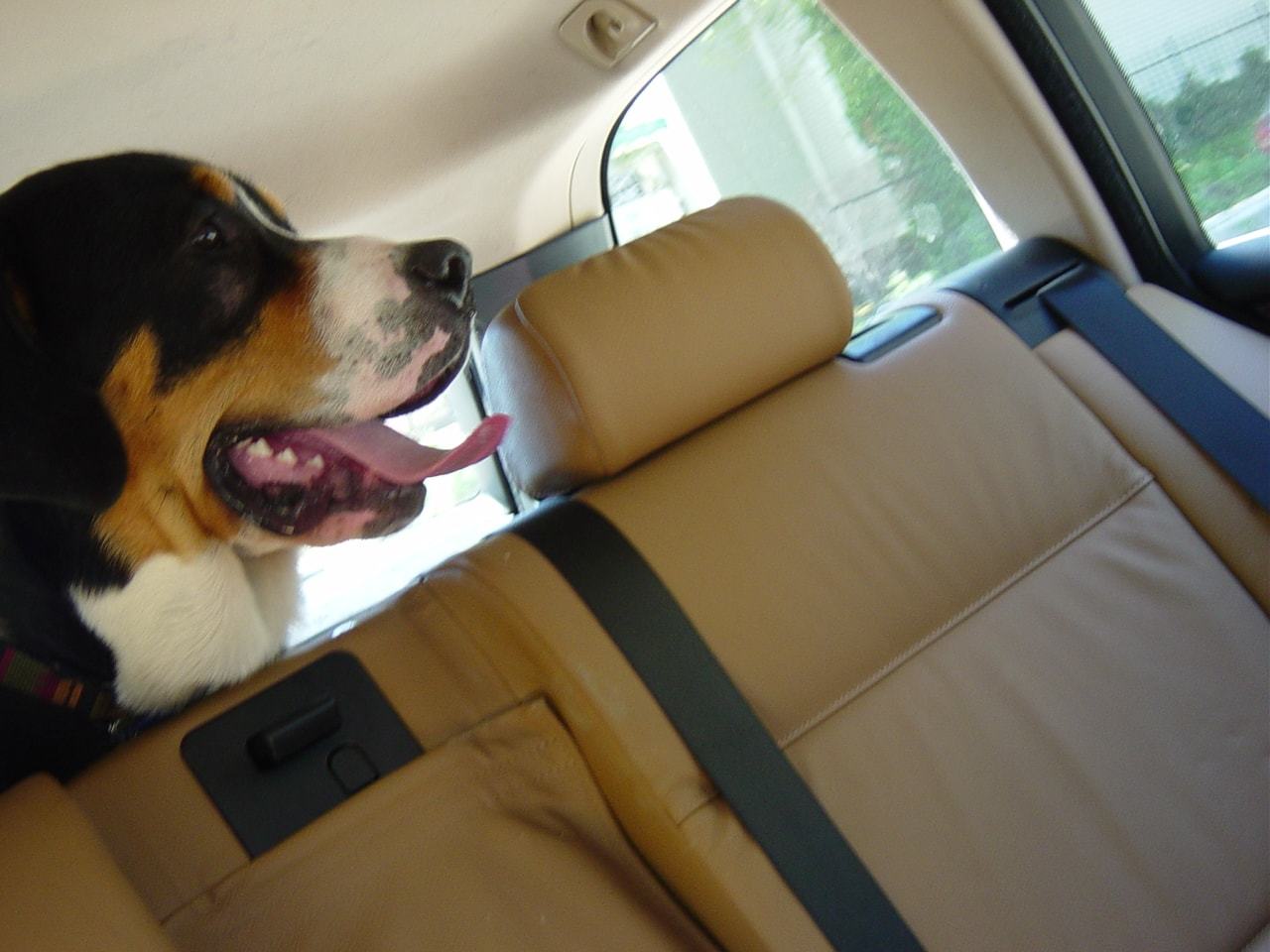 Improve safety by limiting movement
Does your dog love to jump around in the car or race from one window to the other while observing the outdoors as it goes by? If you have an anxious canine that enjoys moving around inside the car, you need to be able to control its movements for safety.
The pet industry has created a multitude of car seats and restraints especially made for dogs of all sizes. Investing in one or more of these restraints will help limit their movement during the trip. Remember safety always comes first when it comes to riding in the car.
There are terrifying stories from pet parents that reveal that they had a car accident simply because their pooch chose to jump in their lap or block their view. In one reported incident, the dog hit the gear shift throwing the car into the park position while going 40 mph! This caused an immediate and unexpected stop in the flow of traffic and caused an accident that wouldn't have happened if the dog was in a restraint. Controlling your furry friend's movement is important for your safety and those around you.
Use a hammock or restraint
An excellent way to control your dog's scope of movement is to use a hammock in the back seat that restrains them only to one area of the vehicle. This is an excellent option for large canines who enjoy walking from one window to the other to check out the scenery.
One common issue pet parents come across is the pooch who loves to stick their head out of the window to get some fresh air. While this is cute, it's also dangerous if they aren't restrained with some sort of device. You will be surprised how many pets get overly excited and jump out of the car window.
Investing in a restraint that is comfortable as well as safe is highly recommended.
Controlling the mess your canine makes in the car
Your furball might be the cutest passenger in the car, but they're often the messiest as well. If they lick the windows, drool, track dirt into the car after a rest stop visit, shed hair, smear treats on your leather car seats, or cause any other type of mess, you need to clean it up immediately before the mess stains the seat.
Sometimes spot cleaning your leather seat makes the mess worse than it initially was. A good vacuum cleaner will take care of hair and other debris, but the stains are the most difficult to remove. It's best to control the mess by giving them treats outside of the car at rest stops, stopping for bathroom breaks frequently, and cleaning their paws before entering the car after a rest stop.
Taking these steps will limit the mess but won't completely eliminate it. That's where a good-quality seat protector comes in handy.
Traveling without destroying your seats
Your pup is an essential part of your family, and it's exciting to bring them along on a road trip. However, many pet parents struggle with the decision to bring them along or not. It's a big responsibility to travel with your dog, Jordan the founder of Natural Dog Owner, travels with his dog all the time. Check out his tips to make your trip with your dog as successful as possible.
You can make the best rules to travel in the car, but things don't always work out the way you expect. For example, what if it starts raining at one of your rest stops while you are walking your dog? You don't have time to clean their paws before they enter the car with muddy feet, a smelly coat, and wet everything else. All of that mess gets rubbed directly into your brand new seats.
Pet parents who have traveled with their pooch before understand that unforeseen circumstances can arise on a road trip. This is why many choose to use seat covers to protect their car from damage.
Car seat covers are convenient and easy to clean. This means if your dog tracks mud or anything else in your vehicle, it gets absorbed by the seat covers instead of causing permanent damage to the new seat below. Ultimately they help preserve the value of your car, especially in high-end vehicles like a BMW or Lexus.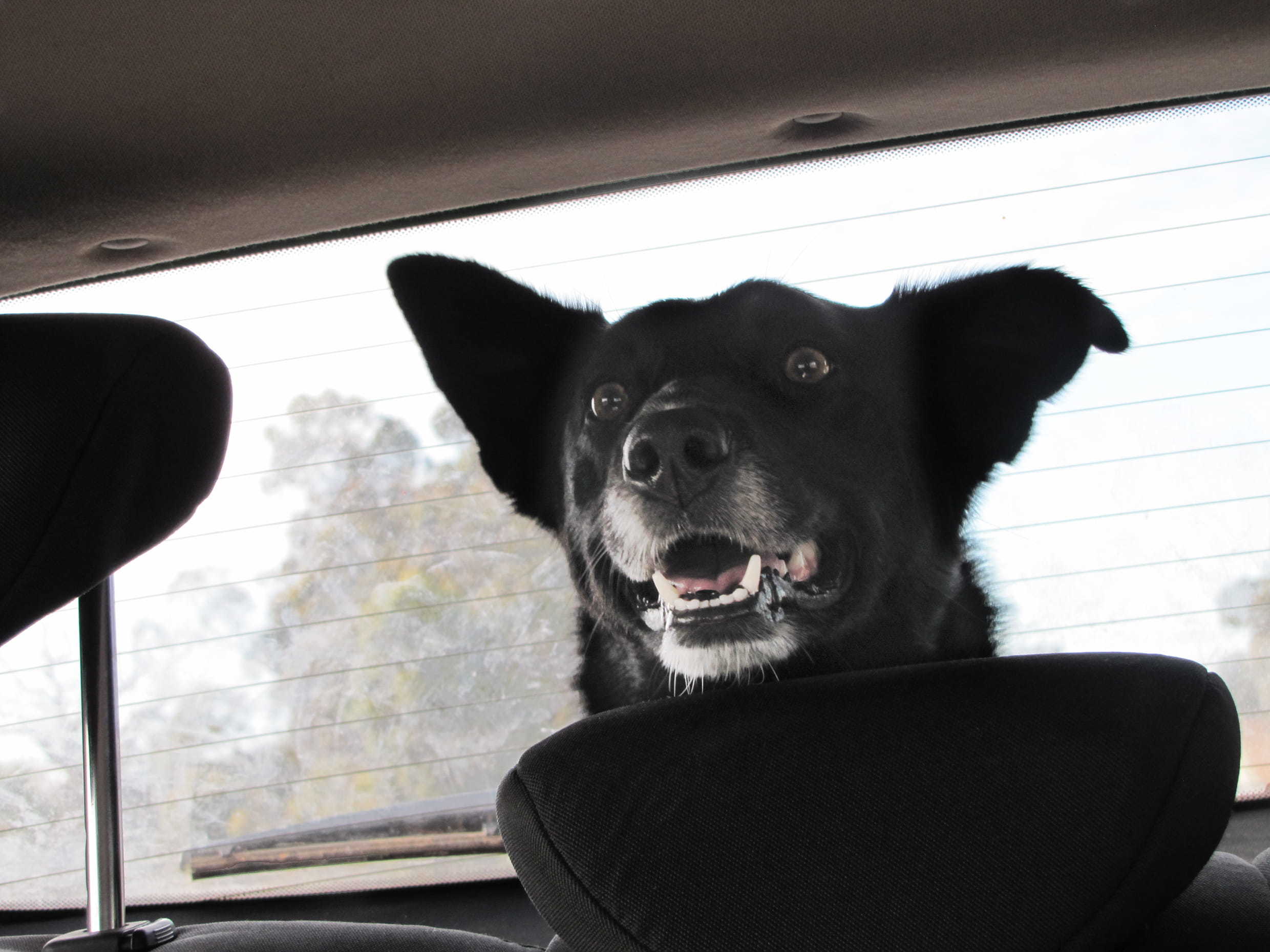 Will my car look ugly with a low-quality cover?
Chances are you've invested a lot of money into your car, and your gorgeous leather seats were an added expense. As a pet owner, you love your car and your dog, but you need to find a way to help both co-exist without damaging your property. Car seat covers are an excellent option and often the only item that will solve your dilemma.
Choosing the right cover for your car seating is essential to finding a balanced resolution to your issue. You want your adorable pup to come on the road trip, but you also don't want to use low-quality seat covers and make your car look cheap either. A high-quality, sleek option is essential to preserving the aesthetic of your vehicle.
What's the difference in seat cover materials?
Seat covers made from leather or synthetic will surely keep up proper appearances, but it's not necessarily practical for canine travel. The smooth leather surface can cause your dog to slide around in the seat and the constant friction rubbing against your original car seat can cause scratches, discoloration, and damage.
Cloth seat covers come in a variety of colors and sizes, plus they are soft on the original seat upholstery. However, low-quality cloth covers can be ripped to shreds and fall apart quickly.
Ideally, you want a layered synthetic fabric. This will give you the proper protection from claws puncturing a cloth cover while still being gentle on the seat below. Another advantage of a semi-soft fabric outer shell combined with a synthetic layer is it creates a waterproof barrier and still remains durable.
Top choice: Kurgo Loft Hammock Car Seat Cover
The Kurgo Loft Hammock Car Seat Cover was built to be rugged, but also comfy for those times when your pup has to take the backseat on a long ride. Made from a quilted microtomic ripstop material, the Kurgo Hammock was designed to protect your car seats from accumulating dirt, mud, or doggie debris without sacrificing the security or comfort of your pup.
If you're concerned about your pup's safety, you're in luck! Because the Kurgo Seat Cover is a hammock, it not only safeguards your seats, but also keeps your pup in their place and prevents them from trying hop into your lap in the front.
Better yet, the cover is waterproof and stain proof, so you won't have to worry about getting caught in the rain. When you get home, simply throw the Kurgo Hammock in the wash with mild detergent, hang it up to dry, and you're good to go!
With five robust attachments and an easy to use seat belt and child latch function, the Kurgo Hammock is one of the most versatile and functional pup-proof car seat covers on the market. In fact, you can pack it down into a soft-shell carry case or convert it into a seat cover, in-between adventures.
At 55" wide x 56" long, the Kurgo fits most, but not all vehicles, so you'll want to measure the width of your car seats to make sure you get the perfect fit. If you're looking for peace of mind, however, the company offers a lifetime warranty for products purchased new from authorized sellers and offers a Car Seat Cover Buying Guide, to make sure you get what you're looking for.
We really like the quilted microtomic ripstop material because it's soft and won't be abrasive against leather seats.
Here's what customers have to say about the Kurgo Loft Hammock:
Pros:
Waterproof material
Easy to set up and take down
Keeps mud and dirt from staining seats
Lightweight and portable
Cons:
Soft but slippery surface
Waterproofing does not safeguard against urine (accidents)
You can get more info and purchase the Kurgo Loft Car Seat Cover on Amazon.
Runner up: Urpower Back Seat Hammock
Does your dog cause damage to your car when entering and exiting? If so, this car seat cover is the one for you. It features side flaps that protect your car from hair, scratches and other damage.
This versatile car seat and hammock allow other passengers to ride next to the dog when needed. The split zipper hammock allows passengers and your dog to travel together in their own designated space.
Here is a quick video review of the seat guard.
The seat cover measures 54"W X 58"L and fits most car and SUV models. This durable dog seat cover is created with heavy-duty oxford fabric that's 100% waterproof. The non-slip surface is an added benefit and especially helpful when you are driving in high traffic areas where you need to break often. You won't have to worry about your dog sliding back and forth during shortstops. It's also easy to clean and installs within minutes.
You can purchase the Urpower Pet Back Seat Hammock on Amazon.
Urpower Bucket Seat Cover
If you do decide to have your dog ride in the front passenger, then bucket seat covers are an excellent option. This bucket seat cover easily protects the entire seat plus come with buckles and anchors to secure it in place. This option is best suited for dogs who fit comfortably in the front seat and can't become injured upon airbag inflation.
The high quality quilted fabric is easy to install and has a universal fit. Additionally, it's easy to clean, vacuum and spot clean with a damp cloth. It also features a quick-release buckle and built-in non slip backing that helps keep it in place. Some consumers have found that a buckle is more durable than a velcro option. This acts as a seat anchor The waterproof polyester fabric is heavy-duty, highly durable and ready to handle any mess your dog makes. It measures 20.5" X 40.1."
You can read more reviews of the Urpower Bucket Seat Cover on Amazon.
How to protect your car doors
So, you've invested a lot of time into finding the perfect pup-proof seat cover, but what about your doors? Chances are, once your dog is in the car, their idea of a good time includes some variation of climbing on the door to check out a passerby or hang in the breeze.
Kurgo Car Door Guard
To combat the doggie door damage problem, Kurgo developed a waterproof and stain proof door guard to prevent scratches, slobber, dirt, and dog-inflicted stains from ruining your car doors. Like the Kurgo Hammock Seat Cover, Kurgo's dog door guards are machine washable and simple the install.
The Kurgo Car Door Guard also includes storage pockets, so you can pack up your dog's leash, bowl, treats, and toys, all in one place. They also come in a variety of color options to match your interior.
The size of the door guard can be adjusted from 23" to 28" wide and 18" tall, which makes it customizable to most cars. However, we recommend that you review the door guard specs and take measurements to make sure they're the perfect fit.
Note: Many of the negative reviews for this product stem from improper installation. Many people report when the door guards are installed properly they will stay in place and work great. You can check out Kurgo's tips for installation here.
You can see photos and purchase the Kurgo Car Door Guard on Amazon.
Travel Tips
Now that you are prepared to protect your car with seat covers, you need to think about the rest of the trip.
Always plan rest stops so your dog can drink water, take a walk, and eat. It's also essential to bring along blankets, bedding, toys, treats, food, and a first aid kit.
If your dog has an illness that requires medication, make sure you have enough to last the entire length of the road trip and add a week to the length of time in case of emergencies.
It's also important to research veterinarian offices or animal hospitals in the area you will be visiting in case of an emergency.
Keep in mind that seat covers aren't just for long road trips, but also an excellent choice for rides around town. If your dog tags along in the car as you run errands and visit the local dog park, protecting your SUV is something, you need to do on a regular basis. Choose the right style car seat that best suits your dog's situation and always keep the car clean and your dog safe.
Bottom Line
As you can see, traveling with your dog and protecting your car seats is possible with seat covers. You have the choice of bucket seat covers for the front passenger side, plus back seat and hammock style covers to protect the rest of your car. The car seat covers for dogs shown above are highly recommended, stylish, versatile, safe, durable and easy to clean.
Till next time!
Feature image by:David Beyer
Now read this: