Travel With Your Dog: Things to Know Before You Go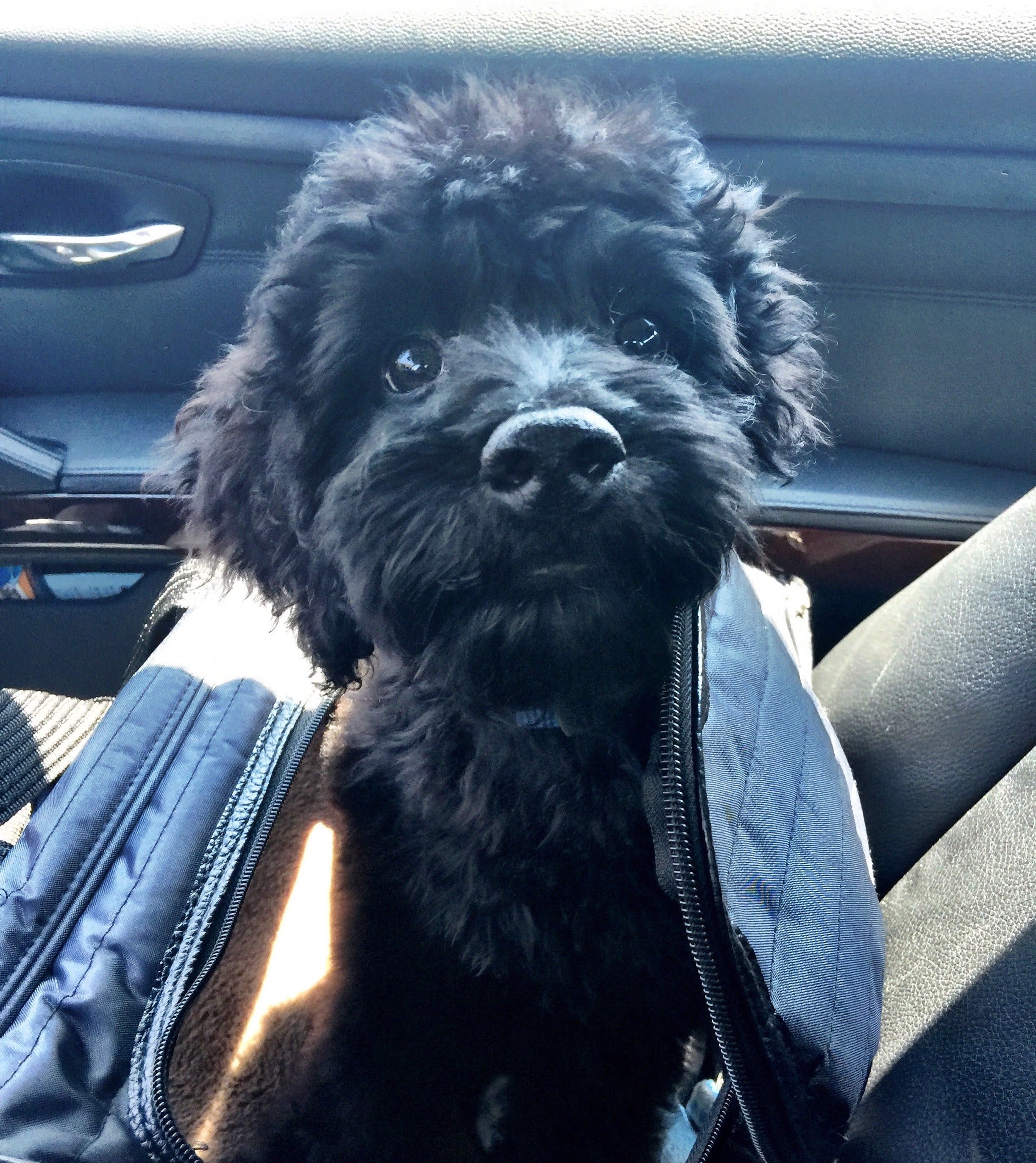 Want to travel with your dog?
In the spring of 2016 when I brought Carl into my life, one of my main goals outside of general behavior training was to get him comfortable with traveling both by car and airplane.
I knew that I needed Carl to be flexible with traveling because my family lives on a different coast than I do, and I knew that they would be dying to meet him.
I brought Carl home in late April, and my goal was to prepare him for a 4 hour flight from Denver to Philadelphia in early July.
In this article, I'll share the tips and tricks I used to make Carl a successful frequent flyer!
Crate Training & Dog Carrier Bags
For me the two keys to successful travel with Carl were crate training and a good dog carrier bag.
Be sure to check out my full breakdown of crate training too.
If your dog isn't crate trained then extended travel, especially on an airplane, will likely turn into an extremely stressful situation for both you and your dog.
As you progress with your crate training I suggest slowly introducing an appropriately sized dog carrier bag to your little one, make it fun!
One thing that really worked for me, was keeping the carrier bag in my car, and having Carl sit in it every time we were on our way to any fun destinations nearby. After a while, he started associating having fun and going to places with sitting in his bag.
At first, I would keep the bag closed, and reward him with treats for good behavior while he was in the bag. Within 2 weeks Carl was diving head first into any bag I put in front of him!
It's gotten to the point where I can't keep the bag in my apartment without Carl trying to hang out in there.
Carrier Suggestions
I currently have 2 bags that I use regularly, but I'm always looking for new options to make travel easier.
Sherpa Carrier
If Sherpa makes a bag that your dog can comfortably fit in, you really can't go wrong.
It was the first bag we used for training, and after trying 3 different bags up to this point, the original is still Carl's favorite option for airline travel.
They also have a bag that has wheels on it! This is a great option for traveling with larger dogs, or for individuals with disabilities.
You can read more reviews and buy the original Sherpa Pet Carrier here.
For the option with wheels go here.
Travel Bag by Caldwell's Pet Supply Co.
I recently purchased this bag to see if it would be a good alternative to the Sherpa. So far the bag is holding up extremely well, but only time will tell if the craftsmanship can compete with the industry standard of the Sherpa.
This carrier is marketed primarily for cats but works very well for small to medium sized dogs.
Check out Caldwell's Pet Travel Bag here.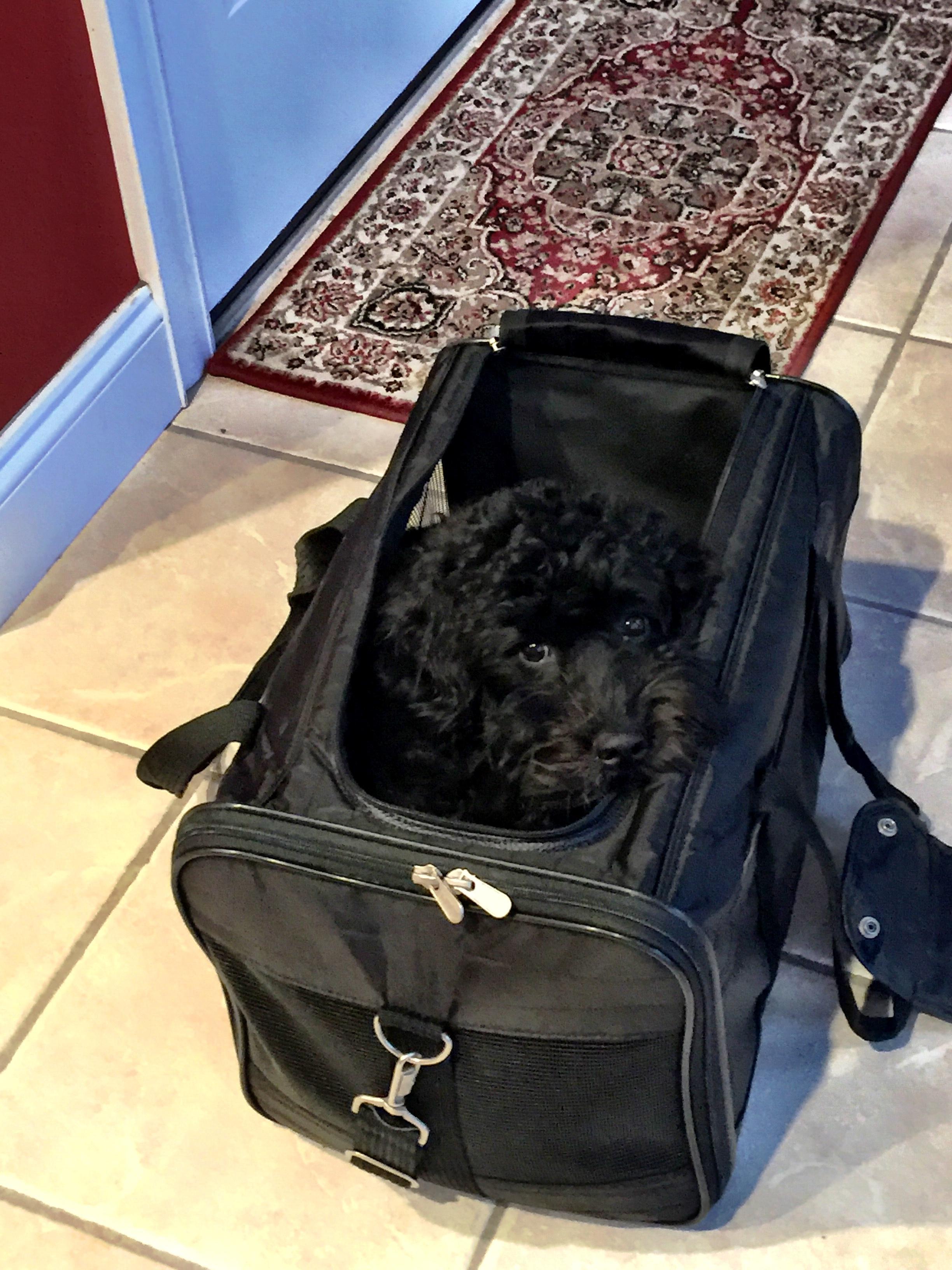 Carl ready for travel in his Sherpa Carrier
Dog Travel Tips & Tricks
Here are some general travel tips & tricks that have worked well for Carl and myself.
Food & Water
Depending on the length of your trip, I suggest making sure you feed your dog several hours before your trip starts.
Make sure to bring extra dog food with you. Two servings in your carry-on bag should do the trick.
You never know what may or may not happen with your flight, your best bet is to be prepared.
Try to limit the amount of water you give to your dog prior to your trip. While Airports will typically have dog relief stations, I have found that most dogs are hesitant to want to go to the bathroom while traveling.
My goal is always to make sure my dog is as comfortable as possible. Be sure to have some sort of bowl or cup that your little one can drink out of in your carry-on.
During long trips, I also suggest offering your dog an ice cube from time to time.
What Else Should You Bring?
Puppy Pads- Just in case!
Toys- Traveling is boring for everyone, including dogs. Bring something to drastic them. Preferably something they can't destroy.
Extra food- You never know if your flight will get canceled or delayed. Your best option is to have about 2 servings of extra dog food in your carry-on bag.
Travel Water Bowl- It's important for them to have something to drink out of. I carry a water bottle that has a removable bottom compartment that works great for a quick little bowl!
Vaccination Documents- Sometimes airlines or hotels will ask for documents, sometimes they won't. Always have them with you just incase. I carry a folder in my backpack with all of Carl's info.
Traveling is fun, especially with your furry friend. If you follow these travel tips you should have a smooth travel experience.
Till next time!
-Jordan
Now read this: