What you need to know about the best dog first aid kits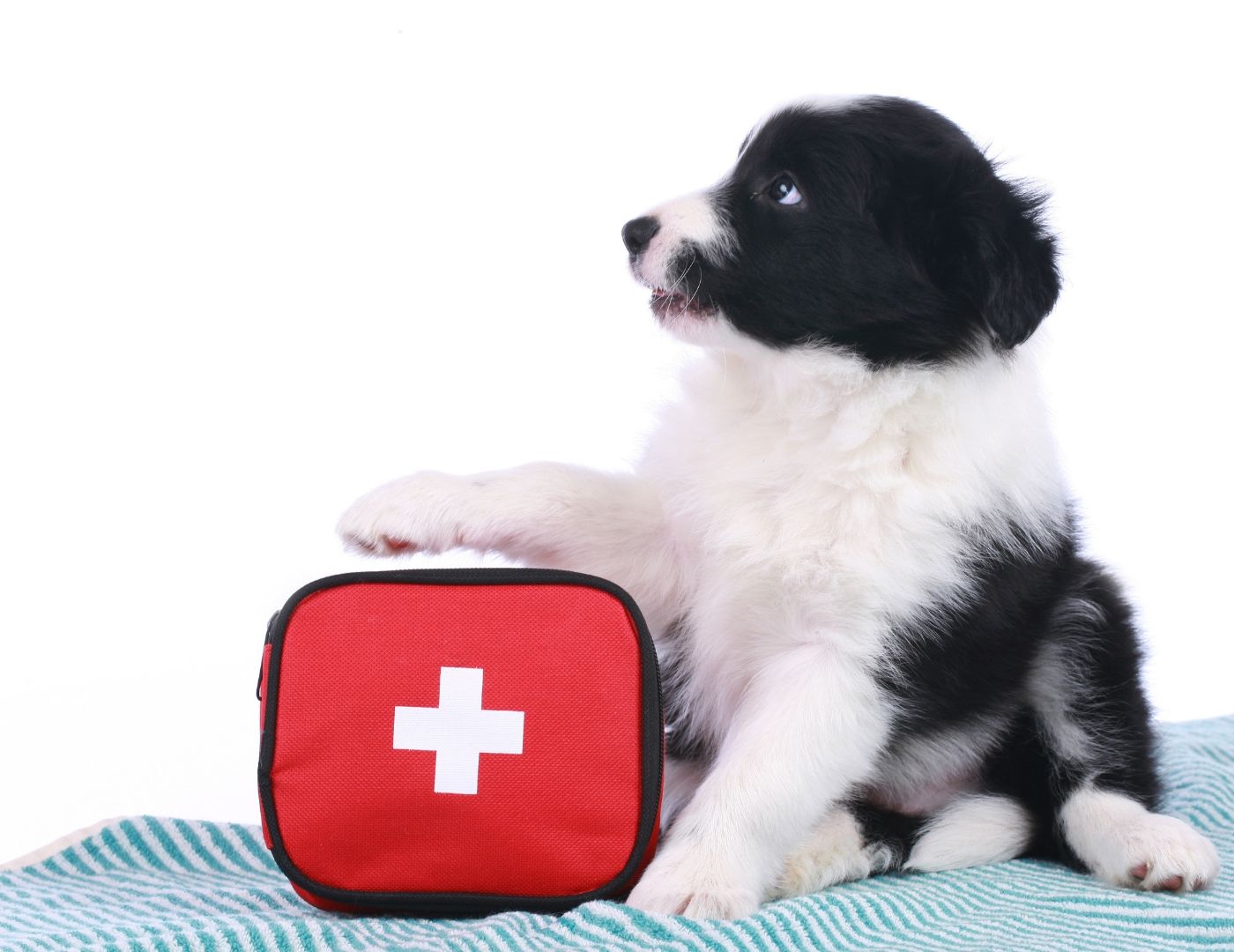 Emergencies can happen at any time. We often have disaster and emergency planning for us, but it's important to remember that our pets are included in those unexpected moments as well. In almost every urgent situation, preparation and planning is key to saving lives. There would be nothing worse than having an emergency strike, and knowing that you could have made a difference for your beloved companion if you just would have had some necessary tools on hand.
In this article we will discuss what's needed in every great first aid pack designed for your canine, the uses of each item, and some quick how to's in the event of the unexpected.
If you are pinched for time, we recommend the RC Pet Products First Aid Kit at Amazon for your on the go first aid needs. It's lightweight, easy to attach to your bag on the go or store inside, and includes all the supplies you would need in an emergency! Read on for must have items in your kit and full product reviews.
The must haves
Before you start stocking your first aid kit, there are a few things you must have in order to be prepared for any pet emergency. The supplies in your first aid kit handle the life saving aspects of a medical emergency, but proper identification is the most important factor in any doggy crisis. If for some reason your pet escapes you, evidence of their identity might be their key to receiving treatment, and the only way you can ensure that you two will be reunited again. 
Microchip
Microchips have reunited so many lost pets with their worried owners over the years. With my experience of working in an Emergency Animal Hospital, I can tell you first hand just how many times a microchip has saved an animal's' life. Microchips are so common now, that if your pet is lost and brought to a facility, they will immediately be scanned for a microchip. Now, imagine if your dog happened to be injured during their escape. Establishing quick contact with you could literally save their life, as many shelters and hospitals need approval for certain treatments.  Having your pup microchipped is your way to have your pets back in any unexpected situation.  
Collars and tags
Having a collar or tag with their name, your name, and your phone number is crucial for the times that your dog escapes from your care. The average Samaritan does not have a microchip scanner, so having proper identification on their collar is the next best way to make sure your pet finds their way back to you. 
Medical records
Having your furry friend's medical records on hand can be crucial in a number of situations. One, most importantly, is if you require temporary shelter. If for any reason you are displaced from your home, almost all hotels or housing shelters will require that your pet be fully vaccinated. Most will not accept your pet without proof of the vaccination on paper, even if they are wearing a rabies dog tag.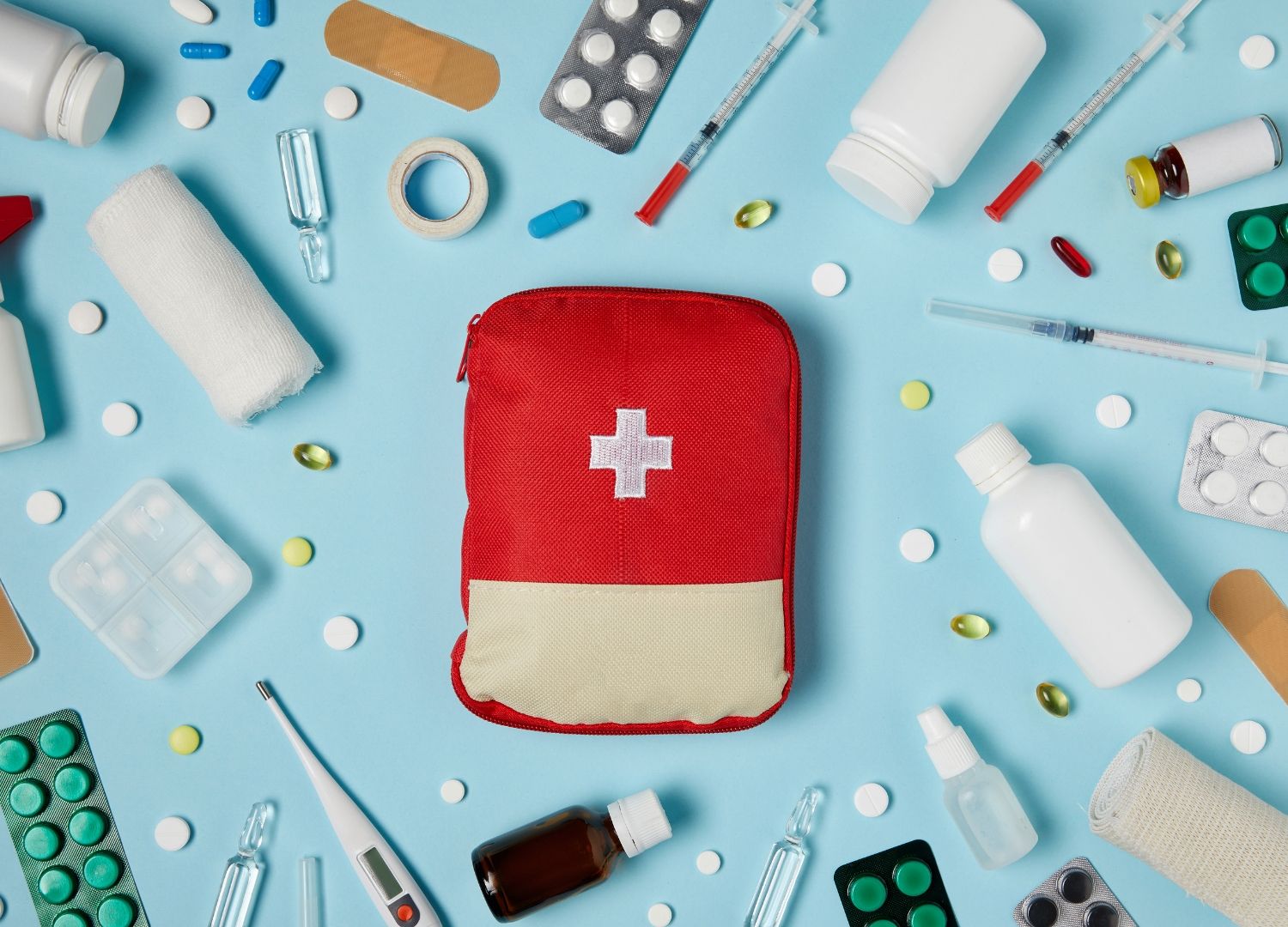 Dog first aid kit essentials
A first aid kit for your pup could be the tool that saves their lives in an emergency situation. In this breakdown we'll discuss the must-haves for any dog first aid kit, and the ways in which each item can save your beloved companion!
Non Stick Bandages/stretchable bandages/gauze: Supplies such as vet wrap and gauze can be incredibly helpful in a situation in which your pup is losing blood. Even if you are as swift as possible with getting your dog to a veterinarian, a large amount of blood can be lost in even a few minutes. Holding pressure to the area with gauze and applying a nonstick bandage can help your pet in those crucial minutes on the way to the animal hospital. 
Adhesive tape: Since you should not use adhesive bandages (such as ace bandages and other similar material) on dogs, it's important that you have some kind of adhesive tape on hand if you need to keep a non stick bandage in place. Dogs aren't so compliant with strict rest and keeping their bandages in place, so having an adhesive tape that can keep a bandage intact is important. 
Eye wash/saline solution : Just like us, a dog's eyes can be seriously injured when in contact with abrasive material and chemicals. For example, I recently worked with a dog who was standing too close to a fire pit, that when sparks and soot blew from the fire, he was immediately frantic and pawing at his face in an effort to remove the foreign material from his eyes. Luckily, his owners had saline eye wash solution at home, and rinsed his eyes on the way to the vet. What could have been been severe ulceration and damage to the eyes, ended up being irritation and minor corneal abrasions. You never know when you may need to flush your furry friend's eyes in an instant.
       *  Make sure any eyewash that you purchase contains saline only, and no other unknown ingredients. Other ingredients can be harmful to the eye if any injury to the cornea is present. If you are unsure of what the solution contains, do not use it. 
Hydrogen peroxide: If your pet receives a minor cuts that needs cleaning, hydrogen peroxide is a great tool to have on hand. While it is not ideal for a severe wounds or long term use, this is a great option for cleaning up a small wound in your preparations in seeing a veterinarian. Hydrogen peroxide acts to "kill" the bacteria in a wound. When you see the solution fizzling upon application, it is targeting the unwanted bacteria, but also other healthy cells. Because hydrogen peroxide is not specific in the cells that it does kill, it is not recommend for long term use on a wound that is trying to heal. 
Styptic: Styptic powder and styptic pencils are great for those nail trim mishaps! This can be used when you accidentally trim just a bit too far up, and  trim the nail quick. Applying the styptic stick or powder can help to coat the bleeding area, and stimulate clotting. 
Emergency blanket: Emergency blankets are great to have on end in the event that you need to keep your animal warm or cool. These blankets help to trap in the ideal temperature that you require in an emergency situation, by helping to block out the outside elements. If you have a pet that needs to stay warm, emergency blankets help to trap in the dogs body heat when they are wrapped around your pup. If you need to cool down your pet, they have emergency blankets that are made to be dipped in water, and will help to drop the body temperature when wrapped around a dog. 
Scissors/tweezers/tools: Having tools on hand that can help you to remove those pesky fox tails, burs, and any other foreign material that finds its way into your doggo's fur is ideal for prevent further complications.
Benadryl: Benadryl is an incredible medication to have on hand in the event of an allergic reaction. Just like us, our pups can have reactions to bug bites and new exposures. If you notice any minor facial swelling, hives, or sudden skin redness, benadryl can be your first defense. The standard dose of Benadryl we recommend in a minor allergic reactions is 1mg for every 1lb. Meaning if your dog is 25 lbs, then they should receive a 25mg tablet of Benadryl. Of course, it's important to contact your veterinarian in every medical situation, as your pup may require more veterinary care. Allergic reactions can worsen quickly, so a visit to the vet is the only way to know that your companion is in the clear. 
Poison control: Our pups are notorious for grabbing unknown items off the ground or getting into things they shouldn't. As far as toxicities, there are a few things that are helpful to have on hand in case your pup gets a hold of something toxic. 

Another use for hydrogen peroxide is its ability to induce vomiting. By giving 1ml for every pound of body weight, this can cause a dog to become nauseas, and therefor vomit. It is extremely important to contact your vet before inducing vomiting for any toxic substance, as some toxins  can have a serious effect on your pet as it is vomited. For example, vomiting any corrosive material can cause serious damage to your pets esophagus, so inducing vomiting is a dangerous process for a substance of this nature 
Poison control centers for pets are an incredible addition to the veterinary world, as they act as your "first responders" in a toxic situation. Companies such as Pet Poison Helpline and Animal Poison Control will let you know how to proceed in your situation, and provide you with a case number to take to your vet if veterinary care is recommended. 
Activated Charcoal is another product to have on hand in case of an ingested toxin. Activated charcoal helps to deactivate the toxins that have already traveled through the GI tract, so this can limit a substances effect on your pup. Make sure to contact your veterinarian for recommended doses, as each toxin can require a different approach. 

Tick treatment/flea treatment: Fleas and ticks can cause disease, anemia, and not to mention the obvious discomfort that their presence can cause. When it comes to these crawling critters, there are a few things to have on hand to help with their removal. 

Dawn dish soap: Dawn dish soap (or similar products) has been used for years to rid pets of fleas and other critters. Bathing your pup with dish soap helps to kill the living fleas on your pet upon contact, so this can be your first defense against fleas before starting your pet on flea treatment. 
Fleas and ticks can also be managed with the use of monthly flea and tick prevention. Once you talk to your veterinarian about which option works best for your furry friend, it's a good idea to have extra on hand in your dog's first aid kit. Aside from tweezers, you can use the Tick Check Premium incredible tool that designed specifically for easy tick removal, and comes with a guide on how to safely remove ticks.

Rubber gloves: Rubber gloves and disposable gloves are a great supply to add to your pet's first aid kit, for those  messy mishaps. Whether you are dealing with dirt, blood, or contagious conditions, gloves can protect you from any potential threat that your pup may carry. This also helps to reduce the spread of bacteria if you are cleaning any wounds. 
Slip leads/muzzles for safety: If your dog is scared or in pain, their first reaction may be to run away or snap at those offering their help. A slip lead is an easy option to slip around your dogs head whether they are wearing a collar or not, and prevents them from escaping. Also, a nylon or basket muzzle is a smarty supply to have in your first aid kit, as dogs tend to bit in stressful situations. You don't want anyone else to get injured in the process of helping your pet.
Digital thermometer: A digital thermometer is a great tool to have in your dog first aid kit, as this is the only accurate way to judge a pets temperature. Having a thermometer on hand will keep you aware of your pets body temp, and help you know when to act if their body temperature is above or below normal. (A normal temperature for a dog is anywhere from 99-102 degrees)
Antibiotic ointment : Antibiotic ointment is important to have in your pet's first aid kit for any minor wound management. Daily application on small wounds can help to prevent any additional infections or complications. Look for ingredients such as bacitracin, neomycin, and polymyxin when choosing an ointment. 
Collapsible bowls for water/food: You never know when you may need to give your pup food or water on the go. Collapsible bowls allow for quick feedings, no matter where you are!
If you are needing some inspiration on putting together your own pet first aid kit, the ASPCA has an instructional videos on first aid kit assembly, and other helpful tips here!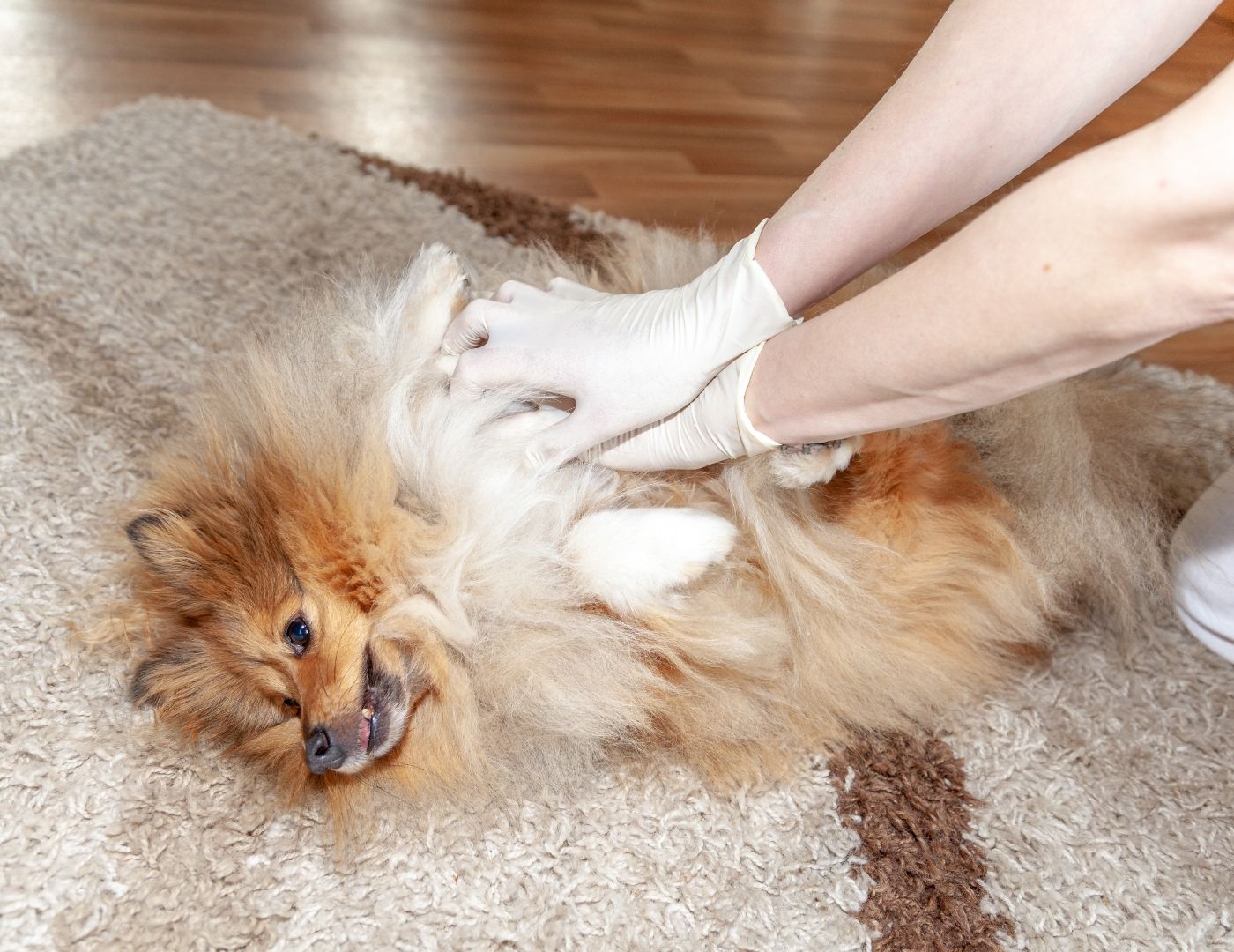 Guides to dog first aid
Having basic knowledge on dog first aid, and who to contact in an emergency can be the key to saving your pet's life. 
Contacts
Nobody wants to go on a desperate search for emergency phone numbers in the moments that your pets need it most. Look up your local veterinarian and emergency veterinarian, and save their phone number and address in your phone. This way you won't have to waste any precious time finding this information if you need it in an instant.
Classes
When it comes to applying first aid care, in person and online classes can be an incredible tool to save lives. American Red Cross offers a  CPR class that you can take online or in person, that teaches you the main steps of canine CPR and first aid. 
Guides
Luckily, there are now reliable options on guides that can teach you the basics of dog first aid, and help you prepare for those emergency situations! Below are two reliable guides that you can study and keep on hand:
Pet Emergency Pocket Guide
The Pet Emergency Pocket Guide is a small, handheld book that gives you the first aid basics, while being small enough to fit in any dog first aid kit. With its organizational tabs separating each critical category, its a user friendly option for pet owners. 
Offers step by step instructions for daily care for cats, dogs, and pocket pets.
Gives you advice for emergency planning and evacuation.
Provides you basic injury and illness assessment.
Provides a checklist for must have emergency tools and how to use them.
Pros
This book is separated into individual categories for dogs, cats, and pocket pets, giving you specific instructions for each species.
Its user friendly tabs allow for quick access to specific topics, eliminating the need to shuffle through the book looking for topics.
It is small, making it easy to pack away.
Cons
This book is small and allows for easy packing, leading some purchasers to think that some useful information could have been excluded.
The first aid section has one tab, meaning you may have to read through the section to find the specific first aid topic you are looking for.
You can read more and buy the Pet Emergency Pocket Guide at Amazon.
Red Cross Dog First Aid, Kindle Edition
The Red Cross Dog First Aid is a downloadable guide to everything you could ever wish to know about animal first aid, disaster planning, and common illnesses and ailments. With it's downloadable option, you can access this information at any time on your portable kindle or cell phone.
Each chapter includes valuable information on general health, first aid, disaster planning, and standard medical conditions you may experience with your dog.
Offers an in depth explanation of over 60 different medical conditions in dogs.
Provides you with information and recommendations for preparing for natural disasters and evacuations with your dog.
Pros
Each chapter is separated based on the kind of emergency, making it easy to find exactly what you are looking for.
The information is provided by the red cross, meaning this information comes from a well known organization that deals with natural disasters and medical emergencies.
This guide is recommended to first responders and K9 officers, meaning this guide is trusted by many.
Cons
Some purchasers mention conflicting ideas for CPR that they have seen in other Red Cross CPR guides.
Get the Red Cross Dog First Aid, Kindle Edition at Amazon.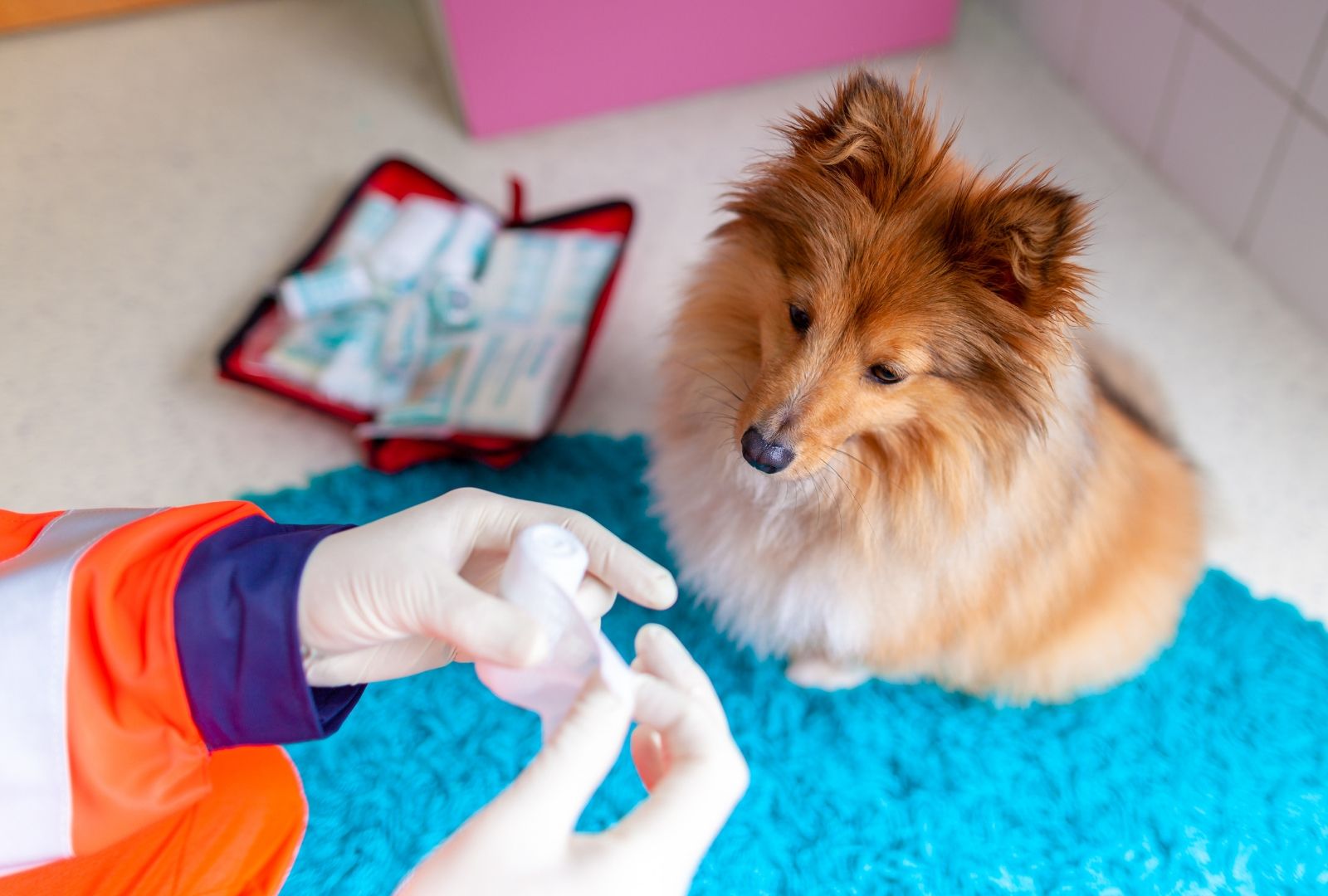 Dog First Aid Kit Reviews
Below, we've compiled a list of our favorite pet first aid kits for all of your emergency pet needs. Each option has their own pros and cons, which we've listed to help you make the best choice for your beloved companion!
1. Adventure Medical Canine First Aid Kit 
Adventure Medical first aid kit is a kit designed to help you and your dog on your outdoor adventures. It includes supplies for you and your dog, so you are both covered in the event of a medical emergency, and includes a guide book to assist you in applying first aid to you or your pet during emergencies. Weighing 1.47 lbs, it's easy to keep on hand, or pack away for easy storage.
Includes sterile bandage materials, bleeding and wound care, blister/burn care, fracture/sprain care, common medications, waterproof DryFlex bags, and essential tools.
Includes supplies that allow you to muzzle your pup, in case of a painful injury.
Pros
Has supplies for you and your pup, so you don't need to have a separate pack for each of you.
Lightweight and easy to carry on outdoor adventures.
Cons
Some purchasers do mention how they wished there was more of each supply, as they quickly ran out whenever they did need to use each supply.
See more pictures and purchase the Adventure Medical Kit at Amazon.
2. RC Pet Products First Aid Kit
RC Pet Products Pet First Aid Kit is a product geared for first response treatment to your pets medical needs, before you can reach your veterinarian. It's perfect to keep on hand at home, in the car, or for outdoor adventures.
Weighs 1.2lbs, meaning it's lightweight and easy to store.
Kit organizes supplies and instructions into clear vinyl pockets for easy access.
Contents include bandages, gloves, gauze pads, antiseptic, small emergency blanket and other first aid supplies. 
Pros
Contains a small emergency blanket and cold pack, which differs from some other first aid kits.
The clear cases make it easy to find supplies quickly.
Has additional space as well, so it easily allows you to add more items if needed. 
Cons
Some purchasers mention how it's missing a dropper for administering liquids.
Purchasers wish it included a guide or more detailed instructions on basic emergencies.
Read real reviews and purchase at Amazon.
3. FabFur Gear First Aid Kit
FabFur Gear Pet First Aid Kit is an on the go kit that contains the basic medical-grade supplies for instant relief and treatment until you can get your dog or cat to a vet. 
Included several bandage supplies, tweezers, an emergency blanket, tourniquet, and an emergency collar. 
Weighs just under 1 lb, making it easy to transport. 
Includes a handbook with basic first aid instructions for each supply.
Pros
It is lightweight and sturdy, making it easy to attach to your backpack.
Has extra space where you can add your own items.
Purchasers note that it's versatile tools can be of use to humans as well.
Comes with a strap that can easily be hooked on to your backpack, or your pups harness.
Cons
While some loved the compact size of this kit, others mentioned that it was too small to carry all of their first aid supplies. 
Read more about FabFur Gear at Amazon.
4. Pet Evac Pak Big Dog Emergency Kit
Pet Evac Pak Big Dog Emergency Survival Kit is a first aid kit made specifically for emergency evacuation and longer travel. With its larger supplies and space, it's designed to be used in emergencies for up to 72 hours.
Weighs just under 10 pounds.
Includes 5 year shelf life food and water with 2 collapsible bowls.
Includes Vet wrap, pet wound ointment, ClotIt blood stopping powder, tweezers, cotton swabs, alcohol wipes, gauze pads, hydrogen peroxide spray, emergency blanket, and a cold pack. Also includes a 6ft slip lead and LED light as additional perks.
Pros
It is designed for use for up to 72 hours, so it is perfect in the event of an evacuation.
Comes with an in depth guide on pet medical emergencies, and how to use each item in an emergency.
Has everything a pet owner could think of in an emergency, and more. Purchasers mention how this kit includes items they never even thought they 
Does include extra space for any additional first aid items.
Cons
Due to the many supplies it carries, it can be quite heavy for on the go use. (10 lbs)
The larger supplies are geared more towards dogs weighing 30-70 lbs, making the leash and dog food that's not ideal for smaller dogs. You would have to pack a leash and dog food for your smaller breed. 
Read more reviews and purchase the Pet Evac Pak at Amazon.
5. Diatonic Design Pet First Aid Kit
Diatonic Design first aid kit is made with you and your pets need in mind, and is a dual purpose first aid kit for on the go medical emergencies. Made with water resistant material, this kit is perfect for tagging along on water activities.
Weighs 1.2 lbs, making it easy for on the go use and storage.
Contains over 20 supplies for pet first aid, including antiseptic wipes, emergency blanket, gauze, bandage material, saline eye wash, exam gloves, and more. 
Also comes with a collapsible bowl for feeding on the go!.
Pros
It's durable material makes it perfect for outdoor adventures, even in the rain.
Its lightweight and easy to pack away.
Has a wide range of supplies, giving you everything you need in a pet emergency. Includes some extra space for additional items if you may choose.
Cons
Does contain an ace bandage type of wrap, meaning you would need to include your own pet safe bandage since it is conforming.
See and purchase the Diatonic Design First Aid Kit at Amazon.
It's so important to include your pet in your emergency planning, and with these options, it's easy! Make sure to gather your emergency pet supplies, and you'll have everything you need in any unexpected event!
My name is Amber LaRock. I am a Licensed Vet Tech that took my career online to spread knowledge on animal welfare, as far and often as I can! I grew up with a deep passion for helping animals, and knew that it was my life's purpose. After gaining my degree in veterinary technology along with my license, I began work in an emergency animal hospital. With the experience I gained from my time in the hospital, I have been able to travel the world, offering my services to as many animal rescues as I can find. If I am not at my laptop, or back home visiting family, you can find me somewhere in the world, cuddling every furry friend that I can find! Read more about me on my blog.
Sources
Now read this: