How to take a worry-free cross country trip with your dog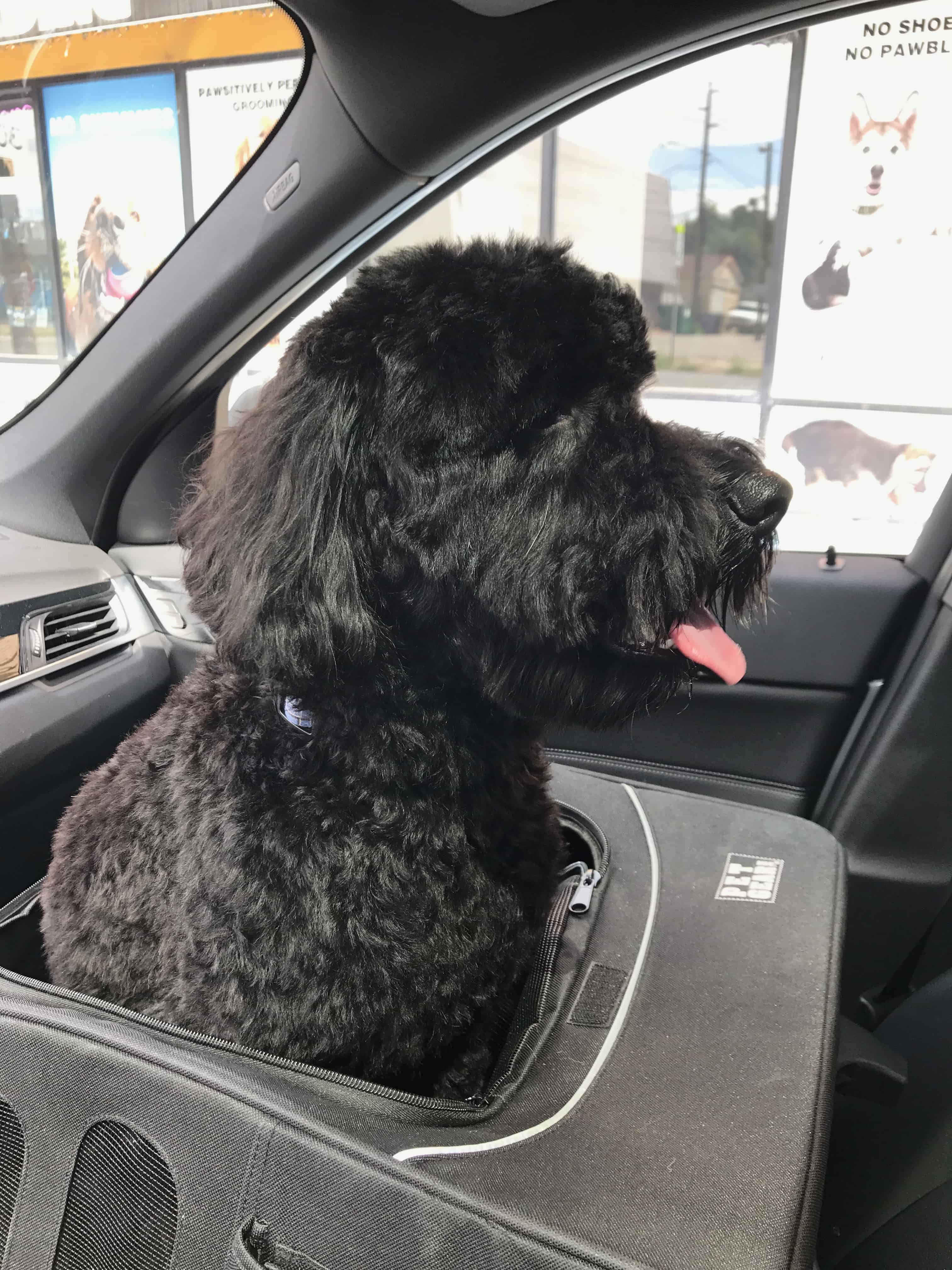 Recently I took a road trip from Colorado to Pennsylvania to visit my family.
Per usual my golden doodle, Carl, was there to keep me company.
Instead of flying to my destination like a normal human being, I decided it would be fun to drive across country to see some sights with my little buddy.
In some ways it was fun, and it others it was extremely nerve-racking. In this article, I take you through our journey, and then lay out my go to tips to make your next cross country drive with your dog a stress-free success.
If you're in a rush here are my 7 essential tips to keep in mind when going on a road trip with your dog:
Plan your trip to control every detail that you can.
Overpack. From cleaning supplies to dog toys.
Watch out for car sickness.
Take plenty of breaks.
Train your dog on smaller trips.
Make sure your dog is healthy.
Make sure you have a first aid kit.
Planning the cross country road trip
Our five day trip started in Denver, Colorado, and would take us over eight states, two major tourist attractions, quite a few unplanned walking pitstops for Carl, and would finally end at my parents house in Pennsylvania.
Our two main stops were Mount Rushmore, and the Mall of America, and luckily, for the purposes of this story the differences between those two destinations shows how the term "Pet Friendly" can mean vastly different things.
Prepping for life on the road
Before we hit the road, preparation was in order! I knew I was going to be traveling for at least five days, and I also knew that driving across the country with a dog would bring its own set of problems.
From a simple pit stop for gas, to unloading Carl's supplies at the hotel, everything is more complex when you have a dog with you.
I had a positive attitude about the trip, but being in the car for nearly a week is tough for anyone, let alone a two year old dog. I knew that I needed to be prepared, if anything I needed to be overly prepared.
Packing
I started packing for Carl with the basics. At the very minimum I knew I needed enough Ziwi Peak dog food to last the week, a crate and bed for Carl to sleep in, toys, blankets, bowls for water and food, and cleaning supplies just in case.
I quickly realized that I was either drastically overpacking, or that the "very minimum" supply count was high!
Here's a full list of everything I packed for my dog for the cross country trip:
Water and food bowls
Elk antler (Carl's favorite treat)
Bed
Jacket for snow or rain
Cleaning supplies
A quick note on the crate. Pet friendly hotels make you crate your dog when your not in the room with them so it's a good idea to bring a crate with you.
Once we were packed and ready to go we set off from Denver to Mount Rushmore fully equipped with all the puppy pads and dog treats that anyone could ever need.
The first day on the road
The first day of our trip was a six hour drive through the relatively rough terrain of the mountains leading to South Dakota and Mount Rushmore.
Our first day was the shortest drive of our whole trip, but unfortunately it was our hardest. Carl is used to traveling, but we mostly travel by plane, so a long and bumpy first leg of our trip was very tough on the little guy. I couldn't tell if he was car sick, or feeling anxious, but he was shaking from time to time. Plus, he wasn't interesting in staying in his seat.
This lead to us take a few extra stops for short walks along the way. At this point, I was nervous. I had a full week of driving ahead of me, and Carl was already having a hard time.
After spending a few minutes being hard on myself, and feeling bad for Carl, I realized that it was more or less out of my control, and that I needed to be patient. I needed to remember that very few people like riding in cars for an extended period of time, so why should Carl?
Discovering certain hotels are more pet-friendly than others
The first day of our trip was behind us, and we eventually got to our hotel near Mount Rushmore.
When I was searching for different hotels to book for the trip, I was only looking at pet-friendly hotels. Which is obvious because I was traveling with Carl, but what's not obvious is that not all pet-friendly hotels are as "pet-friendly" as others.
I was lucky that this hotel went above and beyond for its four-legged guests. We were immediately greeted by a welcome doggie bag, with homemade treats, a toy, a bone, and a set of bowls for Carl to use during his stay. To add to the excitement, on the way to our room the bellman showed us the hotel's walking trail, and how it would be a perfect place to take Carl to.
I was thrilled. I had been worried all day about the car ride, about the hotel, about the bathroom situation, and all of that worry instantly faded away when I realized how welcoming and pet-friendly this hotel was.
The walking trail was perfect for taking my dog out for some exploring, and he was so excited to not be walking around random rest stop parking lots!
Later on we'll get into some of the hidden problems that a not so "friendly" pet-friendly hotel can present.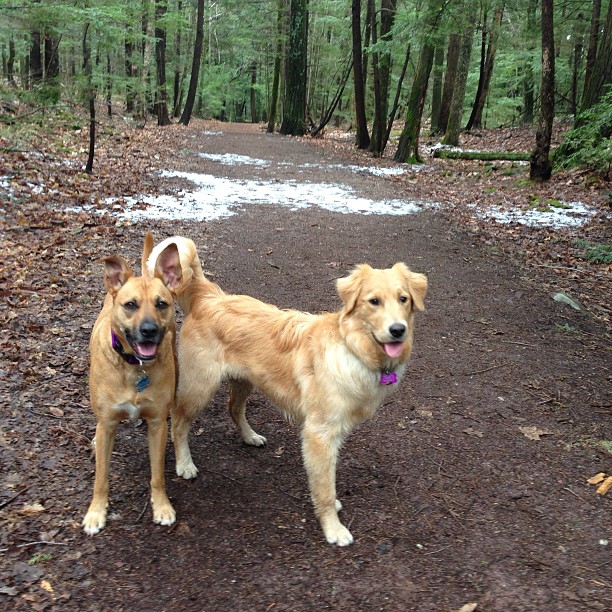 The road to Minneapolis
The second day of our trip was significantly longer than the first, and would take us almost ten hours. While day one of our trip wasn't exactly smooth sailing, we had gotten into a comfort zone by the end of the day.
The drive to Minneapolis would present a different set of problems than our previous day. Since it was such a long trip, Carl would have to have dinner on the road. He would have to take more bathroom breaks, and it would basically be a full day of riding in the car.
Those factors made me nervous, but we didn't have other options. So we set off from Mount Rushmore, and headed east to Minneapolis and the Mall of America.
Resting along the way
After driving for three hours I decided it was time to take our first stop to stretch our legs. Carl was thrilled about this development of course, and was happy to wander aimlessly around a rest stop area in the middle of nowhere. The first stop of our day was behind us, but the long stretch of afternoon driving was staring me directly in the face.
Before I knew it, it was time for Carl's dinner, and once again we found a dog-friendly rest stop in the middle of nowhere to take a break. Here we ran into an unforeseen issue.
We were traveling in the middle of winter and the weather was very cold and windy. The rest stop was directly off of the highway, and the wind was very intense because of that. Unlike earlier, Carl had no interest in spending any time outside. He instantly went to the bathroom and wanted back in my car.
I had originally planned on feeding him outside, and relaxing outside for a while he digested his meal. We threw this plan out the window because of the weather. I ended up feeding Carl inside of my car while holding his bowl up to his face. It wasn't ideal, but we made it work!
The Mall of America
Later that night we got to our hotel that was attached to the Mall of America, and I quickly noticed that we were lucky to stay at such a pet-friendly hotel the night prior.
The new hotel was in a more commercial area than the previous night, and that's something I really didn't take into account when planning the trip. I assumed that being attached to the Mall of America would be a plus, but in reality it added an additional layer of difficulty to our stay.
We were greeted with a sub par welcome bag, and a bandana that Carl would be forced to wear during our times walking through the hotel. This wasn't a big deal, but it did make me appreciate the hospitality I had received the night prior. It almost seemed as if dogs weren't fully welcome on the property.
Before heading to the room, the hotel staff gave us a little tour of the property, showing us the area that was designated to take dogs to. Like the welcome bag, it was underwhelming compared to the Mount Rushmore hotel, but it would have to do.
The dog area was about a two minute walk from the lobby, and consisted of a small turfed area with a fake hydrant. After a long day of driving and this short tour of the hotel, we finally arrived to our room to relax.
However, within five minutes Carl threw up! It was mostly bile, but it was clear that the long day of traveling had taken a toll on the little guy. Thankfully, I packed some cleaning supplies and was able to clean the mess with ease. I felt bad and decided I would stay in the hotel room with Carl for the rest of the night.
What does a "pet-friendly" hotel really mean?
Luckily, our hotel stay was scheduled for two days so we could recover from the long drive. This extra time ensured we were fresh and prepared for the next day of the trip.
The next morning, however, is where the shortcomings of this hotel's pet-friendliness became apparent. The hotel was set up to have two separate lobbies on different levels. To get to the small pet area, I needed to either take an elevator from my floor to the second lobby and then take another elevator or escalator to the main floor.
This wasn't ideal, the escalator was out of the question because of the risk of Carl getting injured, so I had to wait for a second elevator. Carl was confused, but luckily he made it outside accident-free. In hindsight, I should have asked each hotel what their lobby and elevator situation was like, but moving forward that's something that I am going make sure I do before booking any hotel rooms.
Dealing with the elements in Indiana & Pennsylvania
The next day of the trip was supposed to take us on a seven-hour drive to Chicago, but unfortunately, Mother Nature had other plans in mind.
When we were around two hours away from Chicago, it started to downpour. We had to pull over and wait for it to stop. We ended up being caught in a massive storm that derailed our day.
Instead of staying in Chicago we decided to head to Indiana to try to make up some time on the last day of the trip. This storm threw a wrench into our plans. Like earlier in the week, Carl had no interest in being outside in this weather, and to be honest neither did I. Carl ate his dinner in the car again, and after a little convincing we put on his rain jacket and ventured out into the elements to get him on a walk.
The terrible weather clears up
As we got later in the day, the weather started to get better, and slowly my stress levels started to reduce. At this point, it had been a very long and stressful few days, and I wanted to be off the road.
Our hotel in Indiana was pretty average regarding pet-friendliness. Getting outside and walking around was easy enough, but there was no welcome bag. Carl was disappointed by his lack of new treats and toys, but we somehow managed to get through the night.
The rest of our trip was relatively uneventful, but we were happy to be with family, and we were happy not to be stuck in a car anymore.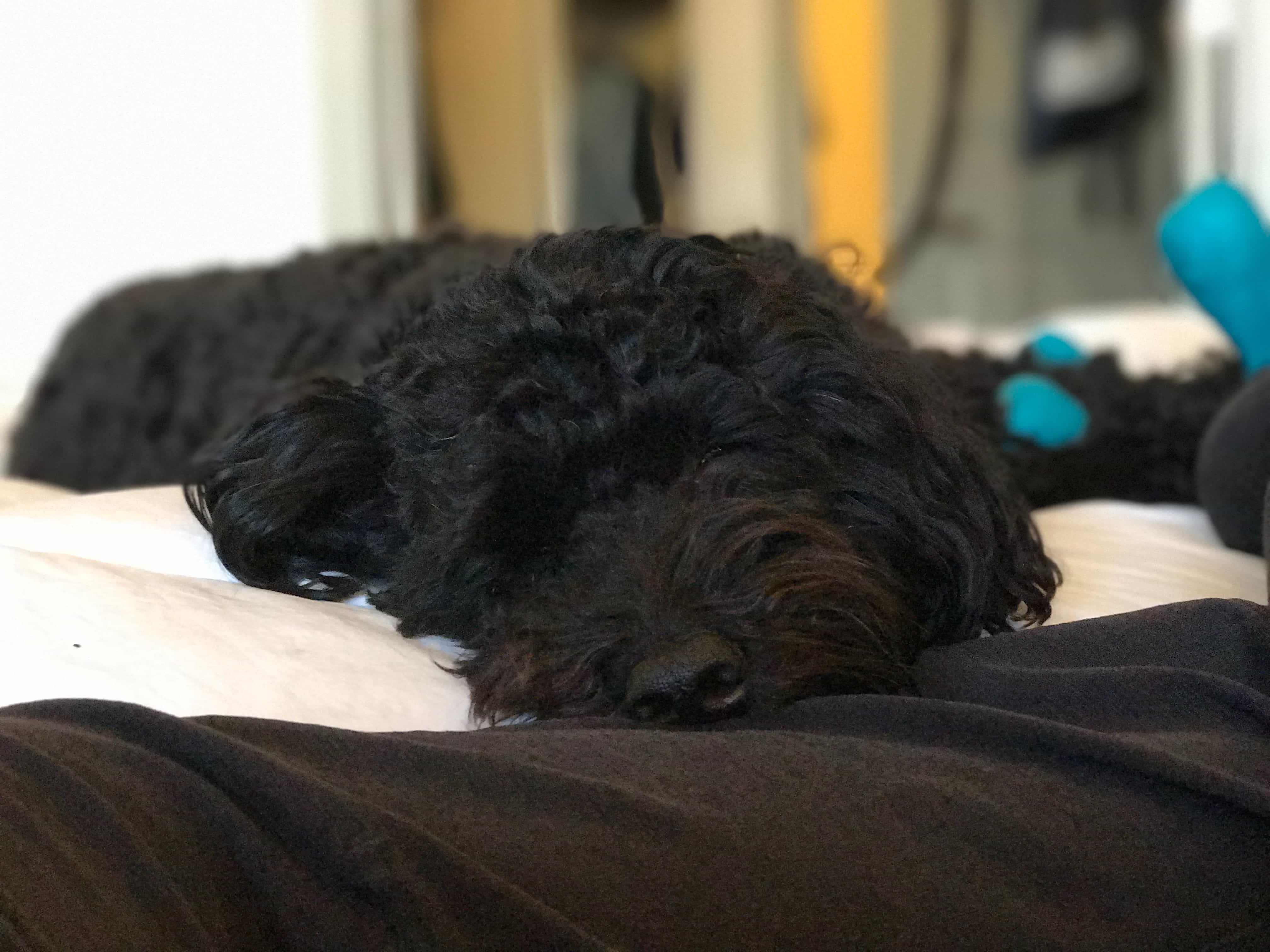 How to prepare better
Before my trip, I thought I was overpacking. I thought there was no way I would need to use all of the things I brought. With hindsight, I can see that I was wrong.
Being prepared helped me get through the issues that popped up. From Carl getting sick, to running into bad weather, I was prepared because I had the supplies I needed.
Here are must haves for a cross country trip with your dog.
Crate or Kennel
The majority of pet-friendly hotels will ask you to crate your dog whenever you aren't in the room with them. For me, when it comes to a standard crate or kennel, I think a metal crate works best because they're easy to broke down and store. But recently I have been using a soft-sided collapsible crate made by a company called Elite Field. If you travel a lot this is a great option for you. It's lightweight, comes in multiple different sizes and colors, and on top of that, it's extremely well made.
Crate training is a must here because if your dog isn't used to being in a crate or kennel they're likely to bark, and your hotel room neighbors will complain. For crate training help, check out our full crate training guide.
Dog bed for inside the crate
You want your dog to feel as comfortable as possible. Bring a bed that they're comfortable with, and throw in one of their blankets for extra comfort!
Food & Treats
Over pack on food. It's better to have extra than to run out!
Bring your dog's favorite treats. Driving a long distance is going to be tough on your dog, they deserve a treat.
Food & Water Bowls
These are obvious, but I like to bring a travel set of collapsible bowls to save room.
These bowls by Ruffwear on Amazon are my favorite.
Toys & Chews
Your dog is going to get bored. Bring some toys they can play with while you're driving. Bring some safe chew toys for the road to let them burn off extra energy. Your normal walking routine is going to be off, they're going to need an outlet!
Bad weather gear
There was snow on the ground in Minneapolis, and multiple inches of rain on the ground near Chicago. Having Carl's jacket and a towel to dry him off was a major plus.
Cleaning supplies & Puppy pads
Carl threw up in our hotel, luckily I managed to direct him to a puppy pad to limit my clean up. I suggest bringing more paper towels than you expect to need, and your favorite pet-related cleaning product. We like anything with enzyme action!
Looking back on the trip
Staying in different parts of the country, at different types of hotels showed me how different the standards could be for different establishments. From welcome luxury bags and walking trails to a mini turf patch in the middle of a cold city, pet-friendly meant two vastly different things in both locations.
I've realized now that the key to a worry-free cross country trip is to do the research ahead of time and be prepared for everything that can come your way.
I hope my story helps to get you ready for your next long-distance drive with your dog! It's easy to get stressed on the road. Remember to relax and enjoy the trip!
Until next time.
-Jordan
Now read this: