The ultimate guide to the best dog doors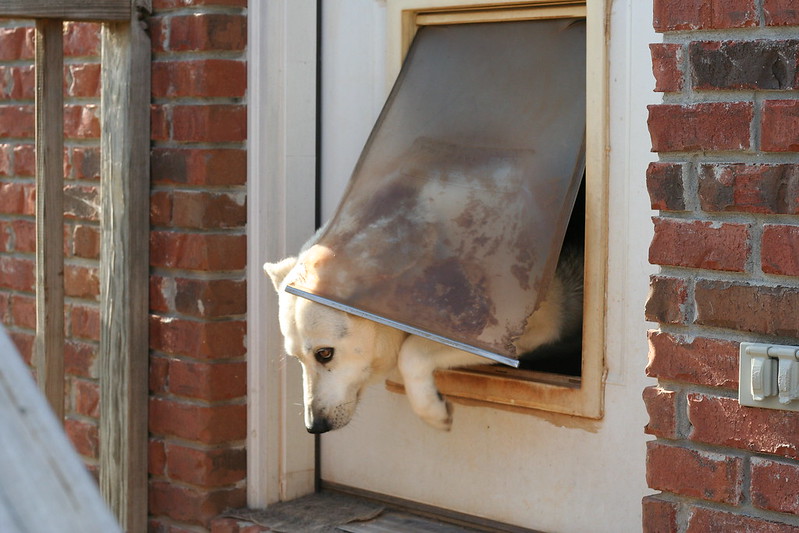 What is a doggy door?
A doggy door is pretty much exactly what it sounds like: a dedicated door just for your pet pooch. Dog owners love them because they take the hassle out of having to let your best friend in and out. Giving your pup easy access to the yard when you're not at home can give you some peace of mind. What's more, obesity is a national dog dilemma (1) that doggy doors may help solve by increasing activity and stimulation during the day.
While the advantages of a doggy door numerous, they're not without their downsides. Obviously, there are questions about weatherproofing, security, and potentially damaging your home by making a doggy-door shaped hole in it. Read on for all you need to know about doggy doors and how to choose the best dog door for your purposes.
5 Types of doggy doors
There are almost as many types of doggy doors as there are dogs, which is to say a LOT. Read on for a breakdown of the basic categories.
1. Door mounted
Door-mounted doggy doors are what most people imagine when they think of a pet door–a flap installed into a people-sized door. These pet doors are designed to be installed into a flat-surfaced door. Door mounted pet doors are great if you are a homeowner and don't mind cutting a hole into an exterior door.
Difficulty of installation
If you are a handy person who owns tools, installation is pretty straightforward on a solid, wood door. However, if you are dealing with a metal door, the cutting may be a bit more challenging. For the construction-challenged, this may be a job you have to hire out, but it's quite easy and shouldn't take more than an hour or so.
Things to look out for
If you have a hollow-core door, you'll want to choose a doggy door with a 'self-framing' or telescoping frame.
Some doggy doors are more weather resistant than others. In more extreme climates, look for a door with a double flap system rather than a single flap.
Do your homework to make sure you choose the model that works best with your type of door.
Recommended Door-Mounted Doggy Doors
The Designer Series Ruff Weather pet door with telescoping frame by Ideal Pet Products is a durable, all-weather pet door that is designed for energy efficiency. It has two vinyl flaps for extra insulation and comes in four sizes to accommodate dogs across the spectrum. Some users report that when water hits the flaps it drips down into the door frame. For this reason, it might be best to use this door only on doors and walls (there is a wall kit that can be purchased separately) protected from rain by an overhanging roof or awning.
Get the Ruff Weather pet door at Amazon.
2. Wall-mounted
Wall-mounted pet doors are great for rental homes where you don't want to ruin an exterior door and you are comfortable with the repairs to the interior and exterior walls required to restore them to their original state. There are some excellent, weatherproof permanent doors available for homeowners who find wall entry more convenient than door entry. The wall kit comes with a telescoping tunnel that seals off the passageway, creating a seamless, efficient dog door for your pup.
Difficulty of installation
Wall-mounted doggy doors are a bit more difficult to install than door-mounted doors, because of the difficulty of cutting through a wall. There may be electrical wires or pipes running through a wall, so it is definitely a good idea to leave this type of installation to the pros.
Things to look out for
If you live in a climate with weather extremes, you'll want to invest in a more heavy-duty, energy-efficient door. If your dog is super large and you're worried about security, make sure you choose a doggy door with extra security features, such as an optional closing panel that can be inserted when you don't want the door to be accessed.
Recommended Wall-Mounted Doggy Doors
On the high-end, the Endura Flap Double Flap Wall Mount is a sturdy, weather-resistant product with excellent, tight seals for energy efficiency. The strong magnetic seal will not blow open, even in strong winds, and the frame and tunnel are made of solid metal. While not cheap or easy to install, this is the only door that is rated to -40 degrees and it receives glowing reviews from users.
Get the Endura Double Flap Dog Door at Amazon.
A more economical option, for the budget-conscious pet owner, is the Perfect Pet All-Weather Energy Efficient Dog Door. Constructed with structural foam molded plastic and fitted with a double vinyl flap, this doggy door has a three-inch insulating air pocket between the flaps. The wall kit option makes it a good choice for a wall-mounted door, and strong magnets ensure a good seal on the flaps.
Get the Perfect Pet All Weather Dog Door at Amazon.
3. Sliding door
Sliding door/patio panel doors are the best pet doors for renters who have a sliding door in their homes and don't want to cut any holes into their doors or walls. These doors are designed to slot into the opening of a partially-opened sliding patio door. The sturdy aluminum frame on these door panels makes it easy to move them from one home to another, too.
Difficulty of installation
Patio panel doggy doors are some of the easiest doggy doors to install–most don't require any tools at all. Some panels will require you to drill a hole in track to secure the panel in place, but others are held in with a pressure-mount system. Even if you're not very handy, a buddy with a power drill and a metal drill bit can help you if you need to drill a hole–it shouldn't take more than 10 minutes to do.
Things to look out for
Sliding door pet doors usually come as a full-length panel that fits snugly right into the groove that a sliding glass door slides on. For this reason, it is crucially important to make sure you've measured accurately. You should also be completely sure that the door is the right size for your pup. Too large is better than too small because there is no way to change the flap on an existing door. As long as you get these measurements right, this is one of the easiest installations of pet doors that exist.
However, be forewarned that this option is not suitable for extra-large dogs because the width of the insert would be too wide to allow normal use of the sliding door. Users of sliding door pet doors usually choose to install a bar lock for security, as the patio door lock is longer be able to engage with the doggy door installed.
Recommended Sliding Door Inserts
The Fast Fit Pet Patio Door 80" by Ideal Pets is a great door option, comprised of an aluminum frame with a plastic framed pet door installed in the lower section and a safety glass panel mounted above. Pet owners report ease of installation and use by dogs both large and small. However, it is imperative that you measure carefully–if the door is not the right fit for the panel, it is as good as useless.
See photos and get the Fast Fit Pet Door by Ideal Pets at Amazon.
The PetSafe Freedom Pet Door is a sophisticated-looking, easy-to-install pet door that comes in four different sizes. However, despite weather-stripping and a weather-resistant aluminum frame, it isn't as well-insulated as a solid glass door. You can expect a loss of efficiency in extreme climates. The door comes with a slide-in panel to close the flap completely which increases its weather resistance.
Purchase the PetSafe Freedom Pet Door at Amazon.
4. Electronic Dog Doors
But what about pet owners who love the idea of a door their dogs can use to come and go as they please, but who don't want random neighborhood cats, raccoons, and possums wandering in, too? Or perhaps the thought of an unlocked door leading inside the home is a bit unsettling. The simple solution to these concerns is to get an electronic doggy door. The range of electronic doggy doors includes electronic, motorized, magnetic, microchip, and RFID chip doors. All of these electronic pet doors are more expensive than their manual counterparts and should come with a one year warranty.
Types
Microchip Because microchips are usually inserted in the same place, behind the shoulder blade, microchip doors are designed to unlock when they sense the chip nearby. Unfortunately, these are only suitable for smaller dogs, as the proximity of the chip is problematic in larger dogs.
Magnetic Sensors: Electromagnetic doggy doors work by releasing the lock on the door when a magnetic collar key is present. These doors are battery-powered, which means that it is necessary to maintain fresh batteries in the door at regular intervals. Clearly, these doors function better in non-ferrous metal doors. The positioning of magnetic doors is important because the magnet in the collar must come close enough to the latch to activate it.
Ultrasonic Sensors: An ultrasonic sensor door is unlocked by a high-frequency sound emitted by your dog's ultrasonic collar. The microphones can be adjusted for sensitivity to allow access control to be activated from a larger or smaller distance. The sound that the collar makes is too high to be heard by dogs, but the units are vulnerable to water damage and should not be worn by dogs while swimming. This style of door also requires batteries which must be checked regularly to ensure proper function.
RFID: An RFID door is much like the other electronic pet doors: a small chip in your dog's collar activates Unlike ultrasonic or magnetic sensors, RFID chip collar keys do not require any battery power. They are highly durable and waterproof, but also are a little more expensive than some of the other options.
Radio Frequency: Similar to the ultrasonic sensor collar, radio frequency collars emit a radio frequency signal that unlocks the door when the door reads it and re-locks it as soon as the signal is out of range. This type of smart key is useful for multiple animals, as the collar key is programmable and up to five different signal keys can be recognized by the same door.
Things to Consider
Some electronic pet doors are fully motorized, but others need the pet to give the door flap a push to open it. Elderly, injured, or arthritic dogs will do better with a door that is motorized and opens in front of him. Another consideration is that an electronic door that uses a manual flap system can be set to a non-electronic mode, but a motorized door will only work electronically. Also, there are very few electronic models suitable for large dogs.
Recommended Electronic Doggy Door
The HighTech Pet Power Pet Electronic Door is an ultrasonic model with a motor-driven door. It can be mounted on a human door or in a wall, and it has a versatile power option of either AC or battery. This door even offers a patio door insert, which means it can be installed in three different configurations: door-mounted, wall-mounted, or in a sliding glass door. It is suitable for pets up to 100 pounds. The downsides of this unit are that it only comes with one collar and that the plastic construction is a little flimsy and it may not last as long as some more sturdy doors.
Get the HighTech Pet Power Electric Door at Amazon.
5. Window Doggy Doors
Pet owners who want to avoid installing a pet door in a door or a wall will be happy to know that there is another option: a window-mounted door. This is one of the best pet doors if you have a window that is low enough for your dog to easily access. If the window is too high for your dog to easily reach, you will need to install stairs or some other means for them to reach the door easily.
Difficulty of installation
Window doggy doors panels are easy to install–they are usually pressure-mounted in the window opening with a spring-loaded mechanism. They can be put in or removed in less than five minutes, which cannot be said for other pet door types.
Things to Consider
With a window-mounted doggy door, it is important to measure your window carefully to ensure that the door fits properly. Some products offer width extensions to help a panel fit if the panel is too narrow. You can also cut a piece of plywood to the right dimensions to shore up any gaps on either side.
Recommended Window-Doggy Doors
The Ideal Pet Products Aluminum Sash Window Pet Door is a high-quality aluminum construction unit with a white finish that fits seamlessly into most aluminum sash-style windows. Users report great ease of installation and comfortable use for dogs up to 75 pounds. For the price and uncomplicated installation, this is an option that anyone with low-to-the-ground sash windows may want to consider.
See photos and purchase the Ideal Pet Products Window Pet Door at Amazon.
Best doggy doors for large dogs
Large dogs are lovable in so many ways, but one of the big downsides of large breeds is trying to find doggy doors that can accommodate them. The options for giving your gentle giant easy yard access are limited and tend to be on the pricey side. You can forget about microchip doors for your extra-large hound, and an extra-large sliding glass door insert will mean sacrificing your own access, but there are still some solid options available at Amazon.
The most important factor in getting the right door for your large or giant breed dog is measuring accurately so that you find the right fit. Plenty of door and wall-mounted doggy doors will accommodate a 70-pound dog, but only a few comfortably fit a 130-pound giant.
Best dog doggy doors for cold weather
For harsh winter climates, a high-quality door is of the utmost importance. A door with a double flap and magnetic closures is necessary for areas where high winds and snow are a regular winter feature.
The Endura Double Flap wall mount pet door is high-end and top-rated, but it will cost you. See photos of the Endura Double Flap at Amazon.
The Ruff Weather pet door is more economical but may not hold up to extremely cold weather as effectively. Purchase the Ideal Pet Ruff Weather at Amazon.
The PetSafe wall entry pet door at Amazon is another budget-friendly door that is highly-rated, although some folks complain that the flaps do not reliably enough seal, which is a huge problem in cold climates.
What type of door is right for you?
Purchasing a doggy door can be a significant investment, so it pays to take your time and do your homework to find the best product for you and your pet. Here are a series of questions to help guide your decision.
Do you want to cut a hole in your house?
If you are a homeowner who is willing to cut a hole in your house, then a wall-mount door may be the right choice for you and your pup. The major advantage of a wall-mounted doggy door is that you can install it anywhere and are not limited to a door. However, the installation will be more complicated and may require a professional.
Do you want to cut a hole in a door?
Cutting a hole in a door is far simpler than cutting a hole in a wall, and doorways are natural paths for foot traffic and so make sense for doggy doors. If you have a metal door, you may want to take extra precautions to ensure that it won't interfere with the door function and that you have the tools needed to cut a hole in the door.
Do you have a sliding door?
If you have a sliding glass patio door, this can be one of the easiest ways to install a doggy door. In many cases, no special tools are required, and you can take the doggy door insert with you when you move. However, these are best for small dogs, as the larger versions are expensive and will make the patio door inoperable for people.
How big is your dog? How big will your doggy door be?
Getting the right size door is extremely important. Most dogs will refuse to squeeze through a too-small door, and a too-large door can be a challenge for small dogs.
Do you have multiple dogs of different sizes?
Households with different sized dogs face the additional challenge of finding doggy doors that can work for all of the family dogs. In these cases, the flap opening should be large enough for the largest dog, but the height needs to be low enough for the smallest dog.
How to measure your dog to fit the right door
It is critically important for you to make good, accurate measurements of your dog, your door, window, or other surfaces where you will install a doggy door.
Measuring your dog is slightly more difficult than measuring a person. To get an accurate measurement, use a wall next to a level floor, a measuring tape and carpenters' level, a pencil, and possibly an assistant.
Height
Begin with your dog standing normally with all four feet on the ground. Resting the level across your dog's shoulder blades, place the end against the wall and adjust until the bubble in the level is centered. Mark the wall at this shoulder height and then use the tape measure to determine the floor to mark distance.
Width
This measurement is easy to make. Just hold a door open the minimum width to allow your dog to come through without having to squeeze. Measure this opening and you have your width.
How dog measurements convert to door measurements
The top of your doggy door should be an inch or two taller than your dog's height. Doggy doors work best when they are at least two inches wider than the width of your dog. If your dog is not full grown, purchase a door that is appropriate for his adult size.
Safety and Security
As much as giving your best buddy freedom of movement gives you peace of mind, it can also be stressful having a weak link in home security– especially if you have a doggy door large enough for a person to squeeze through. Bear in mind that many would-be burglars are deterred by the presence of a dog, so the time to be concerned is when neither you or your dog are at home.
Locking cover
Purchasing a strong pet door with a built-in lock will help to increase security. Locking the door at night and when you aren't home can secure it against burglars. Most doors come with a protective plastic barrier that you can replace with a sturdy metal barrier for increased security.
Secure location
Doggy doors installed in walls are less likely to be noticed by burglars, nor can they be used to reach a doorknob to unlock a door. Make sure your doggy door isn't visible from the street.
Keep pests out
Of course, burglars are not the only intruders that can come through a pet door. Mice, raccoons, possums, and other animals have been known to enter homes through flap doors. If this is a major concern for you, consider an electronic-style door that opens only for your dog.
Weatherproofing
Whether you live in an extremely hot or cold climate, climate control inside your house is a major issue and expense. The last thing you want is cold air pouring in or precious air conditioning flowing out through a flimsy doggy door. The following covers some of the factors to consider when selecting a doggy door in an extreme climate.
Insulation
For extra insulation, look to doggy doors that are made with structural foam molding plastic. The most energy-efficient doors will seal tightly, so choose options with double flaps and secure magnetic closing mechanisms.
Extreme weather issues
Even the best doggy doors may have trouble holding up to extreme weather events. If you experience high winds, extreme lows, blizzards, or heavy rainstorms regularly, you will need to invest in an appropriate door or you risk a mess around your doggy door when weather strikes.
Cold and snow
The biggest complaints about doggy doors come from folks in the far northern states where blizzards and extreme storms occur from time to time. The most common issue is doors not closing properly and allowing cold air or in some cases snow to enter the house. It is important to remember that extreme storms are unusual and that no pet door is rated to withstand winds above 50 miles per hour or lows under -40 degrees.
Extreme weather actions
Proper installation can prevent many of the failures that people report during extreme weather. However, it is still possible to add weight to a flap by applying silicone or caulk to the lower half of the surface to make it more wind-proof. You can use weather stripping or sealant to close any gaps in the frame where cold air is coming in through the door. And in extreme weather events, you may want to use the protective plastic barrier that came with your door to completely close it off. Your dog won't mind, because he's not going outside during a blizzard!
Durable materials
The most expensive doors also are usually the highest-rated for extreme temperatures and are made from the most durable materials. There are plenty of well-designed mid-range doggy doors that function perfectly in mild climates but may not be suitable for extreme climates. If durability is a major consideration, avoid flimsy plastic doors with plastic hardware. Durable, heavy flaps with strong magnets are preferable to lighter-weight flaps, and metal hinges are certain to hold up longer than plastic ones.
Energy Efficiency
Even the most energy-efficient doggy door will leak air like a sieve if it is poorly-installed. Proper installation is the key to a doggy door that lets your pooch in and out without compromising your climate control. Don't skimp on installation, and if you require additional insulation or sealant, install it along with your door instead of waiting.
If you're deeply concerned about a doggy door affecting your energy bills, you may want to go with a Freedom Pet Pass door at Amazon, the only doggy door that has been officially tested by the National Fenestration Ratings Commission (NFRC). While a standard human door leaks 120 cubic feet of air under test conditions, the Freedom Pet Pass door only leaked 20.(2) There isn't a ton of research on the subject, but there is plenty of sound evidence indicating that a tight seal is the main factor affecting energy efficiency.(3)
Information on Features
Single vs double flap
Single flap doggy doors are good for mild climates, but double flaps provide an extra layer of insulating air to keep the weather out and heat or cool in. Some single flap doors are designed so that you can install a second flap if you must, but if your bills are being affected by your doggy door, it may be time to upgrade to a dual flap unit.
Security covers
Most doggy doors come equipped with a plastic security cover that can be slid into place when no one is home. However, for owners seeking additional security, there are high-security options like Watchdog Security pet door covers, which are constructed from 12-gauge steel and include a combination lock. There are also heavy-duty covers, such as Gun Dog Drop-in closing panels, with aluminum rails and a ¼ inch thick polypropylene panel.
Electronic features
Electronic features include electronic, motorized, magnetic, microchip, and RFID chip doors. While more expensive than manual doors, they come with a warranty and offer benefits that manual doors do not. Electronic doors can keep out pests, intruders, and pets that aren't yours. Some can be programmed to give your pet a curfew, and they can be counted on to close behind your pup.
Telescoping frame
Telescoping frames expand to span the width of the door or wall opening you make to install the doggy door. These frame widths vary, so measure carefully to make sure that you choose a width that is adequate for your surface.
Magnets
Magnets are usually located at the bottom of flaps and they ensure proper sealing of the flaps after your dog enters or exits. Not all magnets are created equal, so do your best to choose a door with strong magnets that will get the job done every time.
Installation Tips and Tricks
While window and sliding door installations are a snap, wall and door-mounted installations can be challenging, even for people with good handyman skills. Here are a few considerations to get you started on the right track.
To give you an idea of a typical installation process here's a great video of installation of the Endura Double Flap pet door.
Can you handle this job?
First, be honest with yourself. If you don't own any tools and have never used basic tools, cutting a hole in a door or wall is not a good place to start. If you have the option of a window or sliding-glass doggy door, you may want to choose it. Otherwise, consider which tools you will need and whether you are capable of completing the installation.Make sure you measure everything carefully and that you read all instructions thoroughly before you begin. There are many instructional videos online that can help you as well. Taking the time to do a good job can make the difference between a good-looking door that functions well and a shoddy-looking door that increases your electric bill.
General supplies
Installing a doggy door in a door will require some basic tools and supplies:
Tape measure
Pencil
Drill
Jigsaw
Caulk
If you are installing in a wall, you will also need:
Hammer
Face Mask
Stud sensor
Safety glasses
And if the wall is brick or masonry, you will need
Hammer drill
Reciprocating saw
Masonry drill bit
Diamond saw blade
Contractors
If the list of tools required made your head spin or you just felt like you might be in over your head, call a professional handyman or contractor. Be prepared with the dimensions of your doggy door and the materials and width of the surface you are mounting it into. Get a quote upfront so that you know exactly what to expect, cost-wise.
Training, Acclimation, and Safety
Some dogs have no problem adapting to a doggy door, while others are a bit more hesitant to go through.
Teaching your dog to use it
Many people find that leaving the flap off for a couple of days helps their dog acclimate to the door. During the training period, reward your dog with treats and praise whenever they use the doggy door. It shouldn't take long for your pup to love the newfound freedom the door provides.
Teaching your family safety about the dog door
While a doggy door can make your dog's life immeasurably more free, they are not without risk. Make sure that your gate is securely closed and that there is no breach in your fence before you install a door. Freedom to roam the yard is one thing, but the freedom to roam the streets can be deadly. Additionally, families with children under the age of 5 should be extremely careful with doggy doors, as small children can easily escape through them. Many children drown in backyard pools each year after slipping out of a doggy door unnoticed. (4) Families with toddlers should invest in en electronic door that does not allow access freely.
Link security sensor
If you have any concerns about your pup escaping, you may want to invest in a GPS collar so that you can always find them if they're out roaming. Even though most shelters have chip scanners, if your dog is running amok, one of these collars is a guarantee that you can locate them easily and quickly.
Conclusion
When it comes to doggy doors, there is a lot to consider. Hopefully we've helped to spell out some of the most significant issues that will determine which product you choose. Regardless, you can be sure to enjoy being demoted from dog butler, and your pooch will no doubt love his newfound freedom, too.
Resources:
Feature Image: abcrumley
Now read this: