Best dog harness to support back legs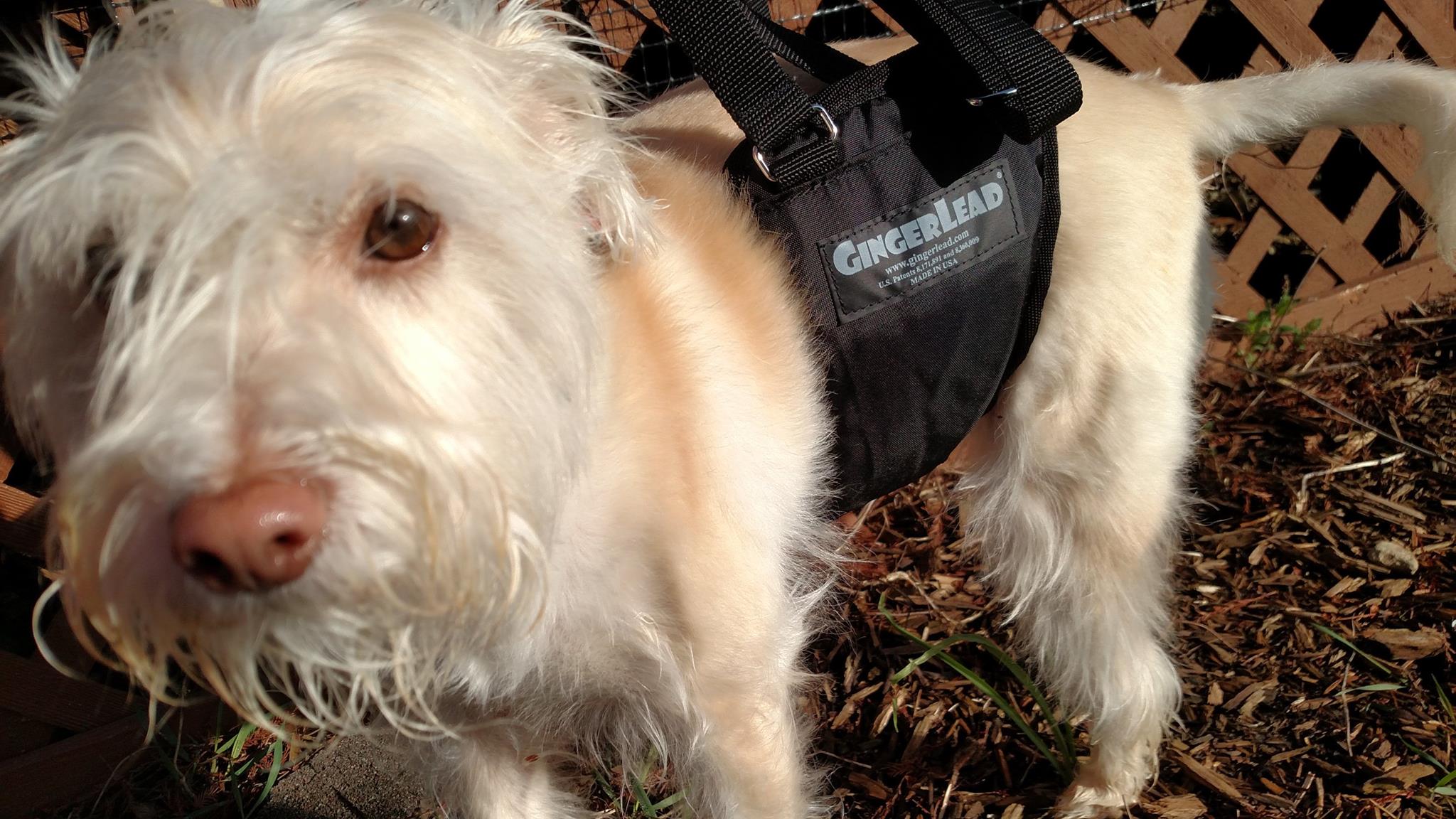 When our dogs get older, they start to change both physically and mentally.
You want your dog to be as healthy, and as active as they were years earlier.
In most situations, that just isn't the case.
While it's unlikely that our aging dogs will revert to their former puppyhood glory, that doesn't mean they have to give up playing and going for walks altogether!
Even young dogs may suffer from illness or injury that makes safe mobility challenging. Dogs in recovery still need to move around.
I've found that by using a harness to support my dog's back legs, they can live a much more active lifestyle.
Without spoiling the whole article we highly recommend the GingerLead Support Harness as the best harness to support your dog's rear legs.
Your dog as they age
Our dogs are part of our family. They're the ones to greet us in the morning and super happy when we return after being out of the house. As our dogs age, we begin to see changes taking place. Our furry friend may seem to tire more quickly.
Going for long walks become a thing of the past. Older dogs might get shakier as the walk progresses, and even if they want to keep going they may not be able to.
As your dog gets older, she will begin to have weakness in her hind end. Standing up and lying down may become more difficult, especially on slick floors. You could find that your older dog has trouble standing and walking on slippery surfaces. She may limit herself to areas with carpet or walk very gingerly from rug to rug.
Since older dogs may fall more often they can aggravate existing injuries or cause new problems. Repeated falls may also make dogs afraid of certain areas where falls often occur.
When the weather gets cooler symptoms may get worse and we notice our older dogs begin to move slower and slower. This process continues, and as a dog owner, it's important to focus on making your dog feel as comfortable as possible through it.
From harnesses that will support your dog's rear legs to diet and orthopedic dog beds, we'll break it all down. In this article, we cover everything you need to know to care for an aging pet.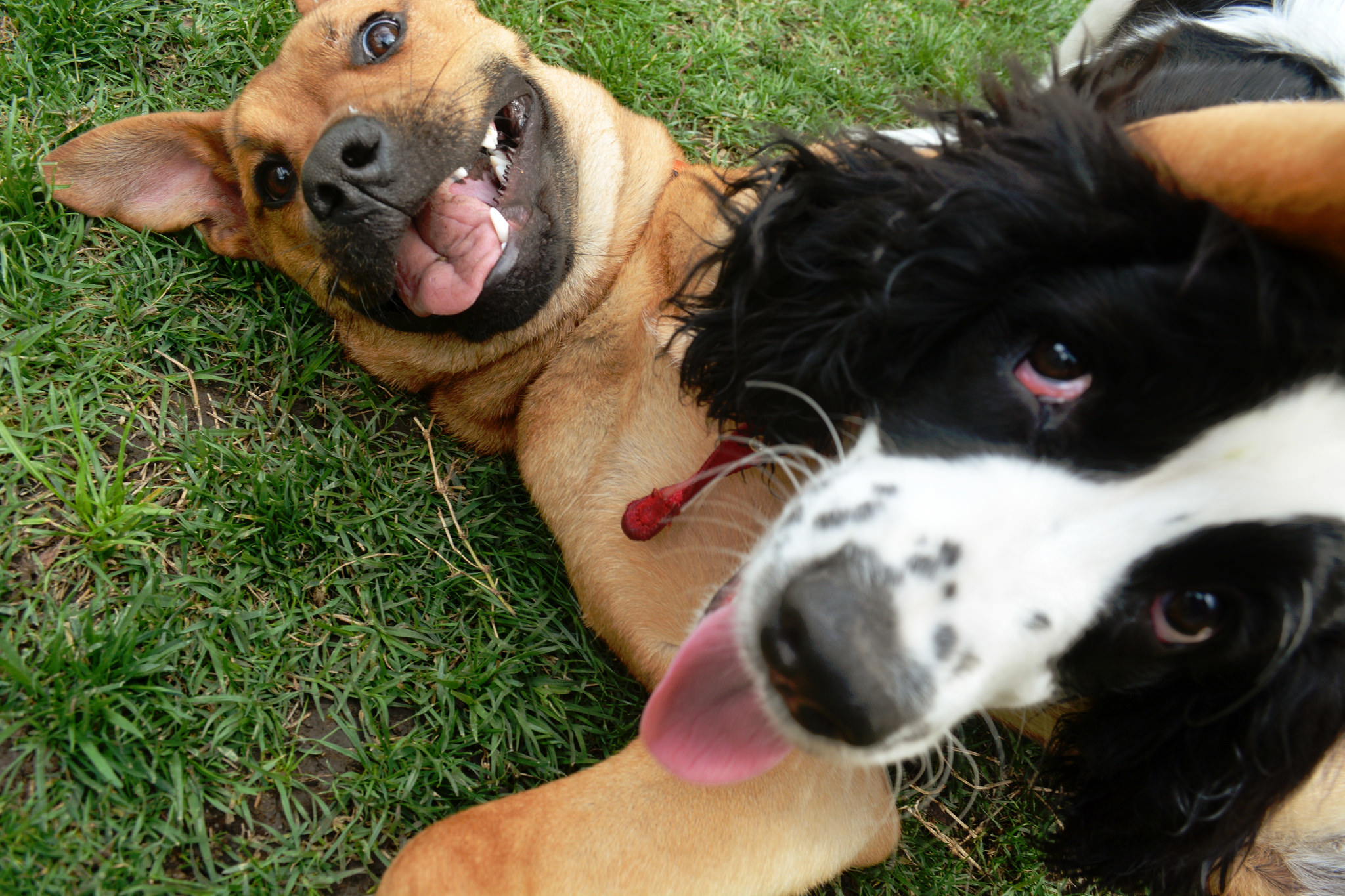 A note on dog aging rates
All dogs age at different rates, but there's a general rule when it comes to how dog's age.
Commonly, larger dogs are known to age much faster than smaller breeds. However, it's important to note the differences in the aging process even among larger breeds.
For example, German Shepherds are considered to be seniors around the age of 10. Compare that to Great Danes who are deemed to be senior dogs when they reach the age of 6 years old.
A smaller dog like a Chihuahua typically reaches middle-age around the 6-year mark. This difference amongst breeds makes age generalizations confusing to navigate.
In this article, we refer to activity level and capability more so than age.
Degenerative disease and arthritis in older dogs
It's not uncommon for your dog to show signs as arthritis begins. Be sure to have special accommodations to keep your dog comfortable.
There are beds available for dogs with arthritis and degenerative diseases. Carpeting on the kitchen floor and hardwood floors will help your dog to get better footing. Just a square of carpeting for the canine to lay on can make a big difference.
Hip Dysplasia and Luxating Patella
Older dogs of a larger breed make up the majority of Hip Dysplasia diagnoses, but it can also affect dogs of smaller stature. According to AKC, genetics is the primary factor in determining if your canine will develop Hip Dysplasia or not. In some cases, younger dogs may also suffer from Hip Dysplasia.
This injury occurs when the ball and socket joint of the hip is malformed or degenerating. Genetics and environmental factors can cause Hip Dysplasia. The malformation of the ball and socket can begin when the pup is young and gets worse with aging.
Symptoms of Hip Dysplasia
Hip Dysplasia in dogs can have the following symptoms:
Not wanting to jump, climb stairs or run.
Trouble standing from lying down.
Their back legs are too close together.
Joint movement causes grating.
Pain in the hip area.
Back legs will "give out."
If you suspect your dog may have hip dysplasia, it is important to get them to a vet.
It's important to properly diagnose hip dysplasia so you can give your dog the proper treatment like the use of a harness that supports the back legs of your aging canine.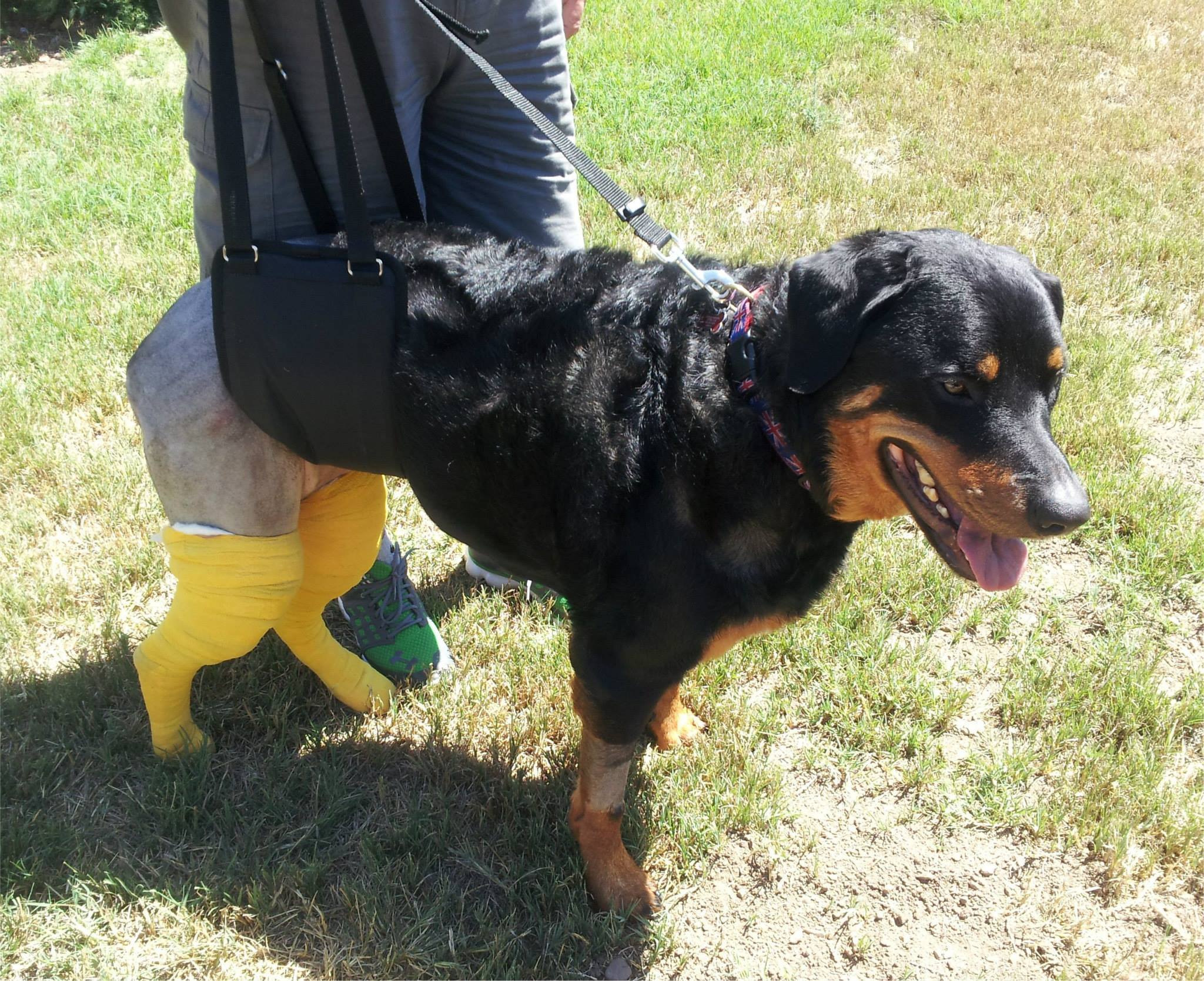 Luxating patella occurs primarily in small breed dogs, usually as they get older, but occasionally in younger dogs as well. The kneecap "pops" out of where it should be, causing pain or lameness. Some dogs with severe luxating patella have a knee cap or both kneecaps permanently out of where they should be in the groove of the femur.
Symptoms of Luxating Patella
Luxating patella in dogs can have the following symptoms:
A popping noise when the dog bends its knee or when the knee is manipulated
"Skipping" or holding up the affected limb, either continuously or for a moment until the joint pops back in
Yelping or other indications of pain while the dog moves or the knee is manipulated
An unnatural gate, either skipping or bowlegged
Why older dogs should use a rear leg support harness
If your older dog is beginning to have trouble climbing stairs and going outside it may be time for a rear leg support harness.
These types of harnesses will help support your dog's quarters. A rear leg support harness makes it possible for a dog with leg weakness or hip dysplasia to continue to go for walks and up and downstairs.
If your dog has fallen in the past due to leg weakness or lack of stability, these types of harnesses can be a great option to help keep your dog mobile.
A harness to support your dog's back legs makes it easier on you also. When it comes time to help your pet into a vehicle for a vet appointment there's no heavy lifting, and it reduces the possibility of hurting your canine or yourself.
Not to mention, canines feel more secure and show excitement when they can go for walks and climb upstairs with the family.
Prevents injury
Without the use of a support harness it's more likely for injury to occur with your canine should a bad fall happen. Falling happens all too often, especially with aging dogs or those with conditions that cause mobility to decrease, and it can leave us pet owners heartbroken.
The worst part is in most cases it's preventable.
If your dog is recovering from surgery, or even if they have a handicap, a support harness to assist them can be a great option to make their everyday life easier.
Also, you can use this harness for helping your dog get up when trying to stand from a sitting or lying position. Standing, in general, can even become a difficult task for older dogs dealing with arthritis.
There are many ways we can help our senior dogs live the best life possible, so let's take advantage of them!
Recovering from injury and surgery
If your dog has been injured and is in recovery, or if she is recovering from surgery, a sling can aid greatly in her recovery. Slings not only make bathroom breaks and getting around easier while your dog is incapacitated, but they also take the weight off of healing limbs, allowing for a gradual increase of pressure as your dog heals.
Your veterinarian will explain when it is appropriate to let your dog begin bearing weight on an injured limb. A sling allows you to completely control how much pressure your dog applies to the limb throughout the recovery process.
Dogs who have had a limb amputated or who need to keep weight off a leg that has been recently broken or operated on will put excess weight on their remaining limbs. If a dog has had an injury or operation to both back legs, she may not be able to move at all without assistance and will put excess strain on their front legs unless the proper support is provided. A sling can allow your dog's injured limb or limbs to heal while preventing injury to the remaining limbs.
Even dogs who have not had injuries or surgeries, but are experiencing general weakness due to a thyroid condition, chemotherapy, or some other reason, can benefit from a sling. A sling can prevent a dog from falling if she is weak and stumbling and help carry some of the weight to make walking easier for a weak dog.
Best dog harness for back leg support
GingerLead Dog Harness
Out of all the rear leg support harnesses on the market, my favorite is the GingerLead.
The durability of this harness separates it from the competition.
The GingerLead has a simple comfortable design.
Pros of the GingerLead Harness
High-quality option
Wide padded support area for your dog
The padded handle provides a comfortable grip
An integrated leash that attaches to a collar or harness for comfortable control
Stay on straps so the sling won't fall off when you let go of the handle
Soft corduroy interior and durable nylon exterior construction are machine washable and dryable
Made in the USA
Adjustable sizing
The negative reviews are mostly for short breeds like corgis, bulldogs stalkier dogs in general. It is generally more difficult to fit and control these shorter dogs with a sling, and users thought the Gingerlead could have done better to make the straps more adjustable. To be fair to Gingerlead, and other manufacturers in this space, it is very challenging to develop a product that works for every type of dog.
The sling moves around more on shorter dogs due to the distance from the person's arm to the dog's back. This tended to move the slot for male urination, causing problems, or it allowed smaller dogs to slip out of the sling.
Since you will be supporting your dog with the harness you want to look for the highest quality materials. The last thing you want is to be supporting your dog up a set of stairs and have the harness break because of poor materials or construction.
The GingerLead harness is made from quality materials and crafted in the USA. A durable nylon exterior holds up to wear and the elements, while the soft corduroy interior is surprisingly durable and soft, even against machine washing and drying.
Its simple design is easy to get on and off your dog, which makes a big difference when you are using the sling frequently throughout the day.
The adjustable clip pairs great with a full front no pull dog harness like one from Ruffwear. We recommend this since it helps to evenly distribute the support you give your dog between their front and back legs. It will also give you greater control while assisting them.
Get the GingerLead Harness from Amazon here.
Labra Lifting Sling Harness
Another great and simple lifting sling is one made by Labra.
This sling is better for dogs who need support in the midsection. It's fleece-lined to provide extra comfort but doesn't have nearly as much padding as the GingerLead.
The fleece lining also has caused some owners to complain the harness slides more to the midsection of their dog. This means there is less support specifically on the back legs of the dog. It also puts more stress on you to carry more weight of your dog not just its rear legs.
However, the Labra is more affordable so for those on a budget this would still be a good usable option.
If you have a dog who suffers from general weakness and needs general support, and not specifically hind end support, this might be a good pick for you.
Check out more reviews and purchase the Labra Sling here.
Walkin' Lift Rear Mobility Harness
The Walkin' Lift Rear Mobility Harness also makes our shortlist of recommended rear support harnesses. This is a popular option for dogs with degenerative myelopathy.
Walkin' Lift Rear Mobility Harness
Pros of the Walkin' Lift Mobility Harness
What we particularly like about this harness is its focus on specific support for the rear area of the dog.
The design is different from the previous two support slings mentioned. With this design your dog steps into each loop of the sling. It then connects over the top of your dog's butt.
This ensures the sling can't slide or move out of place since each loop is secured and that it supports each individual leg.
The Walkin' Lift has built-in padding but for long walks, we wish it had additional padding for our dog and for the handle area where you grip the sling. Both could use upgrades in this area, but overall there is enough to give your dog sufficient comfort.
In the case that your dog requires a wheelchair, you don't need to purchase another harness. The Walkin' Wheels wheelchair can attach to the Walkin' Lift without any issue when you pair it with their front support harness.
For dogs with a degenerative disease that is likely to need a wheelchair in the future, or dog's who currently use a wheelchair part of the time, a harness that moves seamlessly from walk to a wheelchair is invaluable. This harness won't slip off, so dogs who drag themselves when not being helped won't slip out of it.
Drawbacks
This harness can be a slight inconvenience to put on since each loop needs to slide around each leg of your dog. When you're trying to support your dog from a sitting or lying position this can be a bit tricky and takes some time.
Overall this Walkin' Lift is a great option depending on your dog's specific needs and what you feel most comfortable with. It's also in the same price range as the GingerLead.
You can purchase the Walkin' Lift from Amazon here.
Also, check out the Walkin' Lift Front Harness and the Walkin' Wheels wheelchair if your dog requires that extra support.
Conclusion
Your dog's age or health status in most cases shouldn't have to limit their mobility. With a mobility harness like the one we recommend from GingerLead or Walkin' Lift you can safely and effectively help your dog through those tough times!
Goodluck!
Now read this: