West Paw dog toy review: The best choice for active chewers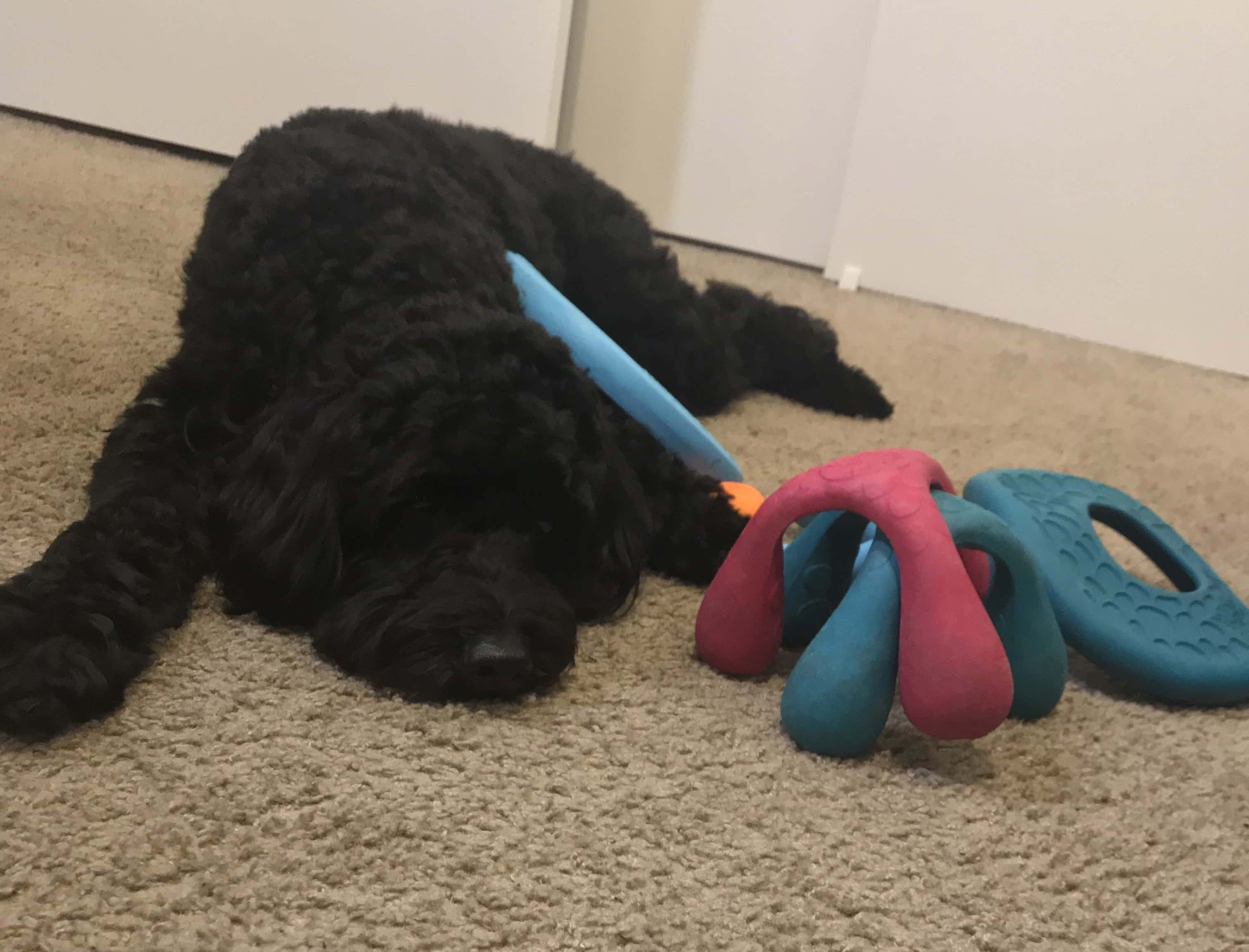 Many people have experience with a dog or a puppy that just seems to be overly destructive. Perhaps the dog chews furniture or tears up the carpet when the owner is away. Sometimes, if a dog is destroying things, it's just a sign the dog needs more attention or a toy.
As a dog owner, you have a responsibility to care for your dog. Part of that responsibility is providing healthy and constructive outlets for some of their more destructive behaviors. Providing the right toys and activities for your dog is crucial.
Choosing the correct toy
If you're less experienced at purchasing dog toys, it can seem a little overwhelming. However, there are just a few, simple criteria to consider when purchasing a toy. The first thing to consider is the purpose of the toy. The Humane Society lists three different types of toys, which fulfill different purposes. These are:
Active toys, such as chewing, tugging, and fetching toys are great for exercise and to help relieve boredom and stress.
Distraction toys, such as feeding toys and treat-keeping toys make your dog work to figure out how to get the food from the toy and are great for times the dog is alone or when a distraction is needed for a longer period of time.
Comfort toys, like stuffed items, are softer items intended to soothe your dog.
Another thing to consider when purchasing a new toy is the size. Be sure to get a size that is appropriate for your dog. A toy that is too large might not be too appealing, and a toy that is too small can be a choking hazard. Of course, with any toy, especially a new toy, you want to ensure that the dog is appropriately monitored, to ensure the dog does not choke or is not harmed.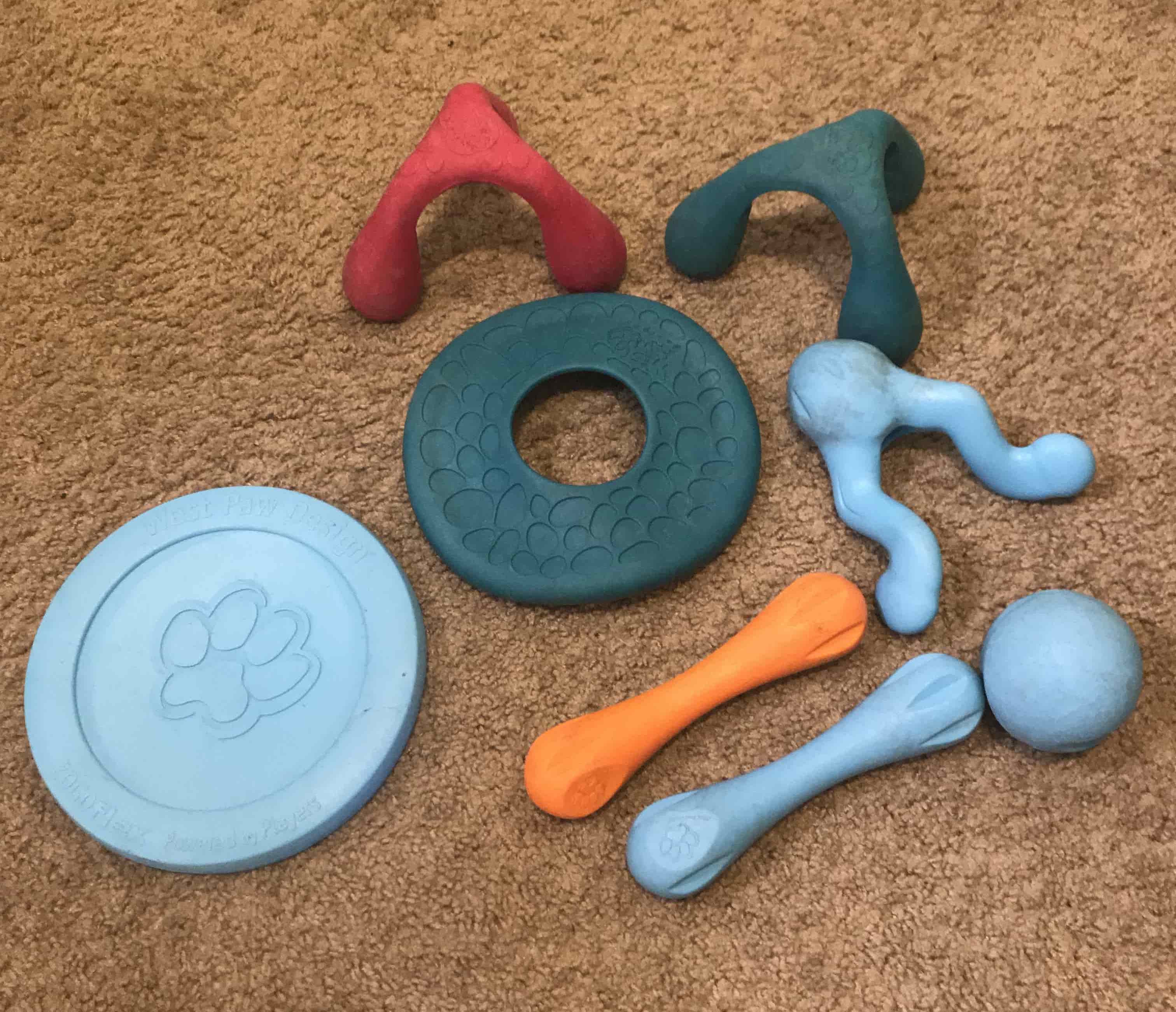 Why West Paw toys?
If you are looking for a durable toy that can last for years, West Paw Toys manufactures toys made from their proprietary Zogoflex material. These toys can be used for years and even have lifetime warranties to minimize the amount of plastic that is being thrown into landfills, which also helps your wallet.
What is Zogoflex?
Many of the toys manufactured by West Paw Toys are constructed of a material the company calls Zogoflex. Zogoflex is a durable plastic the company manufactures. The material is made to be recycled, and it's so durable that if your dog destroys a Zogoflex toy, the company will replace it for free.
When buying plastic chew toys for your dog, you want to ensure that the plastic is strong. This makes it less likely to splinter or to be a choking hazard. It also means the toy lasts longer.
All Zogoflex toys are durable, float, and are dishwasher safe. This makes the toy perfect for many types of activities, like fetch and chewing.
The company also has several "Zogoflex Air" toys. Zogoflex Air is Zogoflex with air infused into the material, making the toy lighter and giving the toys a different texture.
"Zogoflex Echo" is another variation on the toy material that's designed to bounce back. Zogoflex Air and Zogoflex Echo are strong, but standard material is probably the best material for heavy chewers
Popular Zogoflex toys
West Paw Toys offers a variety of Zogoflex toys to choose from. Here's a breakdown of the different types of toys they offer.
Treat saving toys
Qwizl Treat toy is a durable toy that can preserve the life of dog treats or even provide entertainment without a treat.
Toppl Treat toy sits upright and requires dogs to nudge out treats.
Tux Treat toy is a durable treat-saving toy that can be frozen for an even longer distraction time.
Chew toys
Chew toys are also very important for a dog, and it is really important to have a durable chew toy.
Hurley Dog Bone is a chew toy made of Zogoflex. The toy comes in three sizes and is very durable, which makes it safer than less durable toys your dog might chew into pieces or wood or bones, which can splinter and harm your dog. The Hurley Dog Bone also bounces, which makes it a great option for fetch also.
Fetch toys
Jive Dog Ball is designed for throwing longer distances, is brightly colored to be easily found, and comes in three sizes. This ball also has a groove, making its bounce less predictable and more fun for your dog.
Zisc Flying Disk is another great option to play within larger areas. This toy throws like a Frisbee but the material is designed to be softer, for both your hands and your dog's gums. The Zisc Flying Disc is offered in two sizes.
Bumi Tug Toy is another great option for fetch, but its S shape makes it ideal for tugging. This toy gives you two types of uses in one durable toy.
Tizzi Dog Toy is another popular option with multiple uses. The company brags that its shape makes it perfect as a tug toy, for fetch, or as a treat saver.
This eco-friendly company boasts that it has recycled over 15 million bottles in the manufacturing of these toys, and if for some reason your toy does not last a lifetime, you can return it to the company so the plastic can be reused for more toys. West Paw Toys is so committed to recycling that they even store all products in boxes that are able to continually be reused. Furthermore, they ensure that all materials are made in the USA, in their own factory, so they can closely monitor the manufacturing process. This ensures all materials are safe and healthy for your dog.
You can check out more pictures and purchase West Pay Toys on Amazon.
Quick disclaimer, we have not been paid by West Paw Toys for this article, we're just big fans of the company! If you're thinking about buying a new toy for your dog we'd appreciate it if you bought it through our link above. We get a small kickback and it helps us continue to produce better content in the future.
Sources:
Now read this: