The best dog supplies travel bags for owners on the go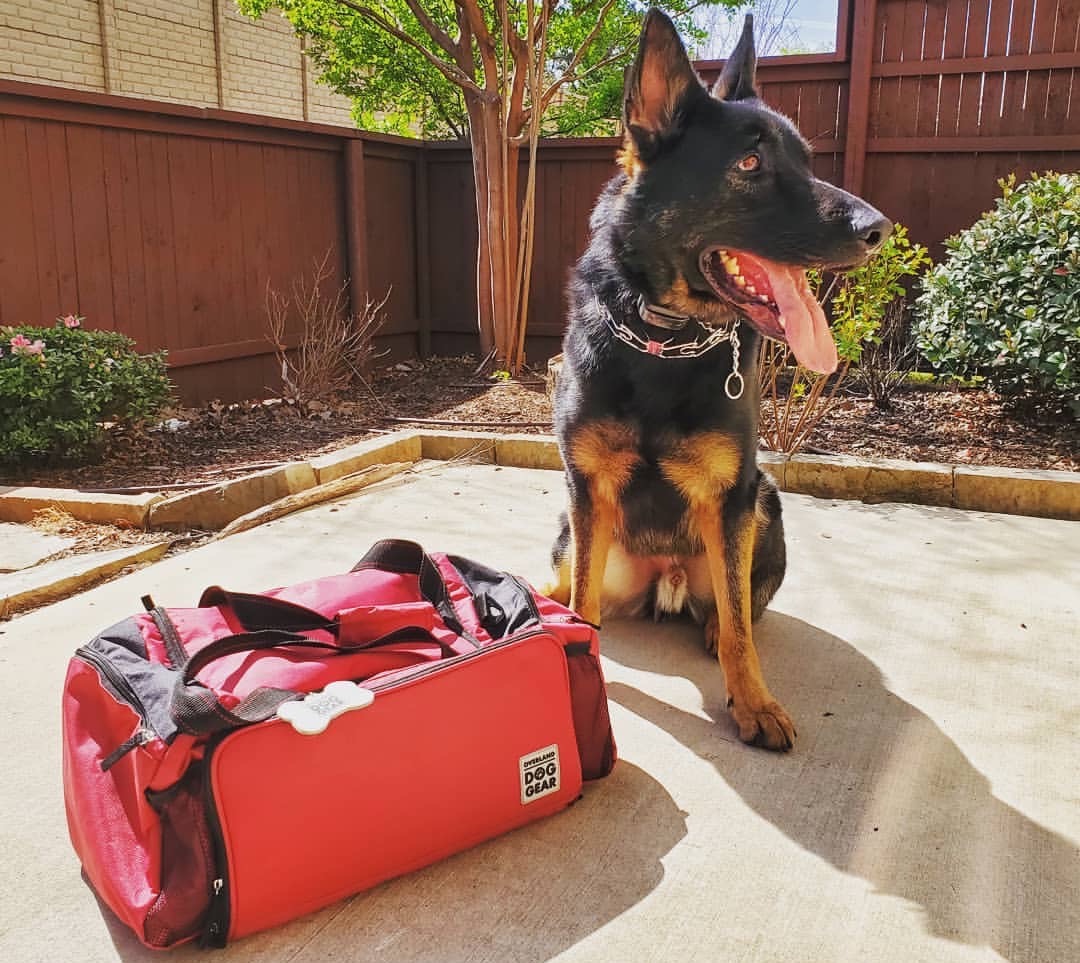 Taking your dog on a trip is a real adventure. Whether you are traveling by plane, by car, or hiking, you should always be prepared with food and water for both yourself and your dog. With a travel bag, you can easily carry the much-needed items and accessories, to provide your canines with whatever they need on a long journey.
What is a dog travel organizer bag?
Pretty much like their human companions, dogs need a lot of stuff to travel with. From food supplies, collars, blankets, water and food bowls, even poop bags, no responsible owners would take their dog on an adventure without having all necessary items with them.
If you know the utility of a baby travel bag (yes, the one holding milk bottles, napkins, and clean diapers), then you can easily understand what a pet supplies travel bag is for. In not so many words, it makes traveling with your dog a lot easier.
This is the Overland Travel Tote Bag, see more pics of it on amazon.
Why do you need one?
It's true that you can use some old piece of luggage or a standard bag to carry your pet supplies, but you're missing out on a bunch of cool features that some of the best dog supply bags have these days. And, if you don't own a dog yourself, this is could be an awesome gift for someone who has a pup.
The reason why having a dog travel bag is a good idea is that it offers a variety of features that make it easier for you to keep all your dog-related items and accessories organized into a single place, which is well compartmented and provides easy access to whatever item you need. Here are a few reasons why supply carriers for dog owners are awesome:
A lot of dog travel bags have special smaller carriers for food. If you buy your dog's food in bulk, you will need to find a way to store smaller quantities of it in a travel bag. If you opt for one with smaller food carriers, you will have a safe storage space, protecting the food from moisture and pests.
Similar to food carriers, most travel bags also have food and water bowl. They are lightweight and collapsible, which means they can be expanded when in use and shrunk when you need to put them back in the back.
Naturally, a good travel bag will have suitable compartments for everything you need to take on your trip.
Yes, there are even travel bags that are sold with toys to keep your dogs amused and distracted whenever you need them.
And, one of the most important features of a good travel bag is that it's machine washable. After all, the chances of a dog's bag getting dirty are way higher compared to the odds of you getting mud on your luggage.
Top 4 travel organizer bags for dog owners
We have always believed that pets deserve the same attention as children. Dogs are devoted to their owners unlike any other animal, so wanting the best for your dog is only natural. However, a travel bag isn't just a dog-oriented item, but something that makes the owner's life a lot easier. If you've ever wondered what the best travel bags for dog owners are, just keep on reading.
| Brand | Dimension | Weight | Contents | Warranty | Amazon |
| --- | --- | --- | --- | --- | --- |
| Hilike | 14.6 x 8.3 x 11.8 in. | 3.4 lbs | 1 travel bag, 2 food carrier bags, 2 silicone bowls | 30 day return, lifetime on parts | See it |
| Overland Dog Gear - Bag | 16 x 13 x 7 in. | 2.5 lbs | 1 travel bag, 2 food & water bowls, 2 food carriers | 10 year limited | See it |
| Overland Dog Gear - Tote | 13.8 x 4.7 x 9.4 in. | 1.8 lbs | 1 travel bag, 1 food carrier | 10 year limited | See it |
| Top Dog Pet Gear | 14 x 7 x 15 in. | 3.2 lbs | 1 travel bag, 2 food carriers, 2 food & water bowls | 100% money back guarantee | See it |
Hilike Pet Travel Bag
Our top choice
Convenient in terms of price, with plenty of storage space and much-needed accessories, the Hilike dog travel bag can be a trustworthy companion for your next adventures with your other trustworthy companion. It features a lot of different pockets and compartments, to make sure you can easily have access to any item you need.
Upon ordering, you will receive two food carrier bags, that can hold up to 30 cups of dog food. These bags are both insulated, keeping the animal's food fresh and crunchy. The bag also comes with two silicone food and water bowls, in two separate colors, so you will always identify them with ease. The bowls can be collapsed and stored in the bag's compartments.
The adjustable shoulder strap makes it easy to carry this bag with your wherever you go, and the size makes sure that airline carry-on requirements are met.
Who should purchase this?
Combining a good price, the accessories your dog needs on a journey, plus an interesting design with plenty of compartments, the Hilike travel bag for dog owners is a winner and today's editor choice.
Pros:
Food carrying bags included
Food bags are insulated
Water and food bowls included
Airplane approved carry-on
Dog bowls made with food-grade silicone
Cons:
Bowls too small for large breed dogs
Overland Dog Gear
Packed with the most features
Here is one dog travel bag that seems to have it all. Let's start off by mentioning that aside from black, this bag is also available in a cool shade of pink. That's right: for dogs and owners with personality!
Let's move on to the included accessories. You get two food carriers, both of them with inner insulated liners, so that food stays fresh for as long as possible. Then, you have two collapsible bowls, one for food and one for water. There's also a place mat which can hold the bowls to avoid making a mess.
The travel bag comes with its very own waste bag dispenser, which is a pretty awesome feature to have. There's a mesh pocket on the side, for you to carry a bottle of water for yourself or your dog, and also a secure zipper, to place your valuables like your cell phone.
The backpack is water resistant so if you spill anything it's a quick clean-up. It also includes a luggage ID tag, and meets airline carry on requirements.
Who should purchase this?
If you're interested in a pet carrier in a backpack style with many features and travel accessories, you are going to love this Overland Dog Gear option. This is the best option for those looking to carry on their pooches supplies or for the right size bag for a weekend getaway.
Pros:
Insulated food carrier bags included.
Exterior pockets
Water and food bowls included
Airplane carry-on compatible
Placemat included
Integrated waste bag dispenser
Luggage ID tag
Cons:
Overland Travel Dog Tote Bag
Bargain buy
On the more affordable side of things, we have this Overland Travel bag. It features an adjustable padded shoulder strap, a zippered front pocket to place your most important items (such as keys or phone), a side mesh pocket, one more exterior storage pocket on the back, plus a luggage sleeve that makes it easy to secure the bag over a suitcase handle when traveling.
The bag also comes with a lined carrier bag, but with a lower capacity compared to other ones we've seen today (this one can only hold about three cups of dog food). Since this is a cheaper option, it lacks some of the other accessories, such as food or water bowls.
Who should purchase this?
Need a dog travel bag that won't break the bank? This Overland Travel model is available at a really good price, and still has the basic features you want such a product to have.
Pros:
Food carrier included
Secure pocket on the front
Adjustable shoulder strap
Side mesh pocket
Convenient price
Airline approved
Cons:
No food/water bowl included
Food carrier is small
Top Dog Pet Gear
Best overall
Last, but not least, we have the crème de la crème of dog travel bags. This one has plenty of storage space, and the accessories you must always have with you when traveling with your furry companion. The travel bag includes two food carriers, as well as two collapsible food and water bowls.
The front pocket is magnetic, while the back pocket is made from mesh. There are also two side pockets, one on each side. One of them is a water bottle holder, while the other one features a zipper, for storing waste bags, for instance.
Each of the food carrier bags measure 7 x 5 inches, and have a capacity of holding 15 cups of dog food each. The bowls measure 3 x 7 inches per piece.
Who should purchase this?
The Top Dog Pet Gear travel bag has it all: food and water bowls, storage food carriers, a good price, durability, and plenty of storage space. It's for people that want the best.
Pros:
Two food carriers included
Food and water bowls included
Plenty of storage space
Airline Carry-on compliant
Features water bottle pocket
Removable central divider
Food containers are insulated
Cons:
Too big for small dog needs
Bottom line
Planning a trip with your pet is basically the same as planning a trip with a child. Aside from the responsibility of taking care of your dog during the actual trip, you also need to prepare for it beforehand. And since parents are the ones who pack the kid's luggage, owners are responsible with taking the dog's travel bag.
Consequently, it's important that you find a travel bag that can easily hold all the accessories need for travel: from food and water bowls and actual food and water, to litter bags, toys, collars, leashes, and even blankets.
Feature image by: @lifewithbacardi
Now read this: