5 tips for leaving your dog home alone while you're at work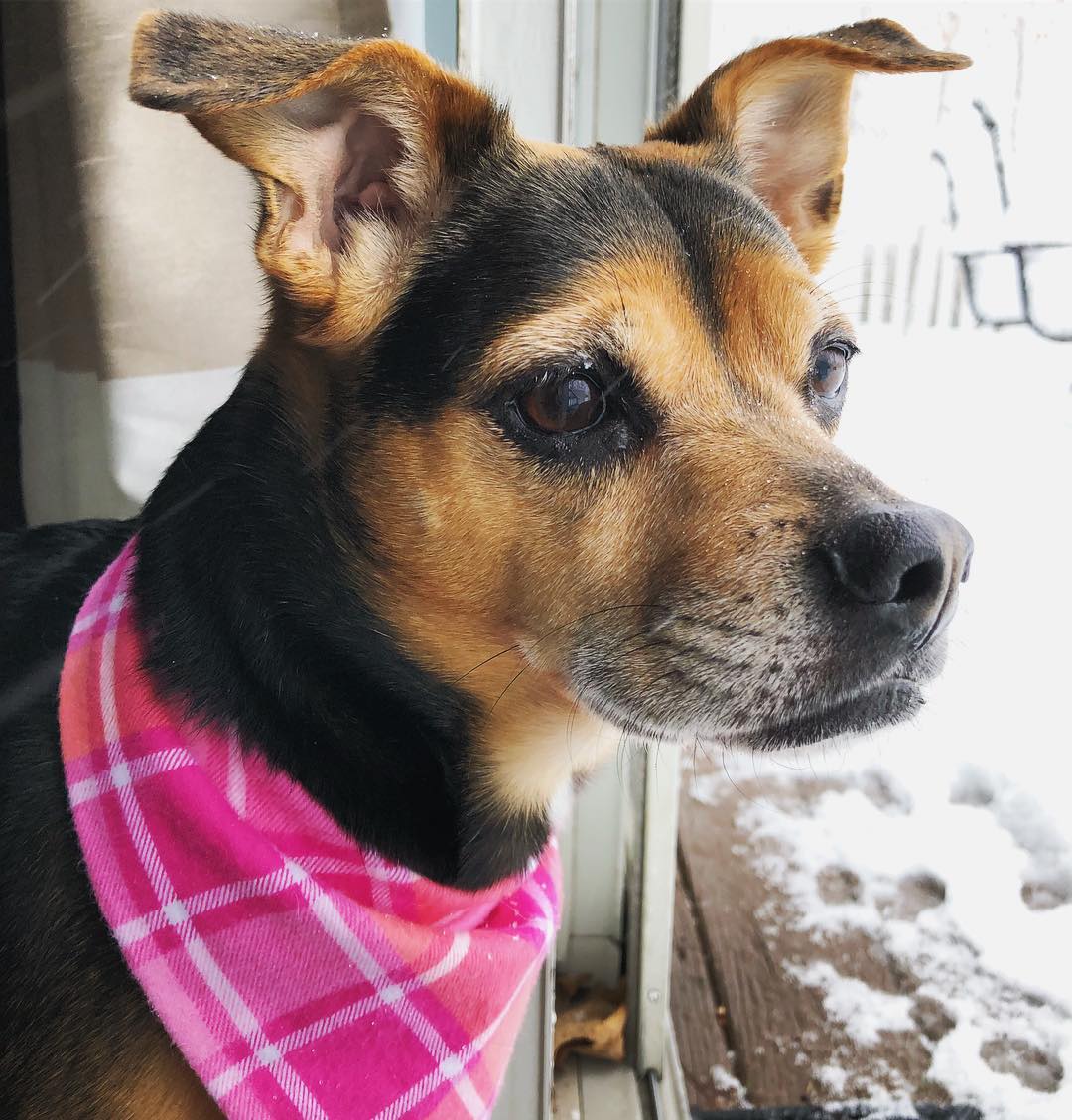 Pet parents often feel guilty leaving their dogs home alone while they're at work.
Our minds can wander and we'll often fear the worse for our little pup.
The opposite can also be true.
We think everything is just fine with our pooch only to come home to a giant mess!
If you're one of these owners, chances are you've thought about a million different ways to make the situation better.
Unfortunately, quitting your job to stay home with your pup probably isn't going to be a good idea.
That's why we've compiled this list of helpful tips for leaving your dog home alone while you're working. We'll also cover the best way to monitor your cute canine right from your desk at work.
1. Provide easy access to food and water
Your dog needs to eat and drink throughout the day, right? Providing your dog with nutritious food and plenty of fresh water is essential to their well-being.
If you crate your dog, make sure you purchase a dog crate that is large enough to comfortably fit your dog and has extra room for food and water bowls.
If you allow your dog to roam free in the house while you are out, make sure you place their food and water bowls where it's easily accessible.
2. Keep your pup active
Dogs are intelligent and need mental stimulation to keep them occupied.
If you don't provide entertainment they will find their own. This could be a negative situation if they decide to rummage through the trash or chew up your furniture.
Before your dog trashes your house, try the following tips:
Leave the television on
Play classical music
Leave the window treatments (curtains, blinds) open so they can see outside the window
Provide toys that have treats inside
Invest in interactive toys that encourage your dog to slide or move objects in order to reach the treat hidden inside
Get another dog to keep them company
3. Provide a place for your canine to go to the bathroom
The last thing you want to do is allow your dog to choose any place they want to relieve themselves. After a long day of work coming home to a house full of messes and hidden surprises is quite unpleasant.
Instead, create a designated area in your house for your dog to go to the bathroom.
The most common items used to create this space is a pee pads, and grass pads.
Grass pads are becoming increasingly popular in households especially in urban environments. They are available in a variety of sizes and suitable for all dog breeds. You can also choose synthetic grass or real grass.
We've written a complete guide to help you select the right grass pad for your situation here.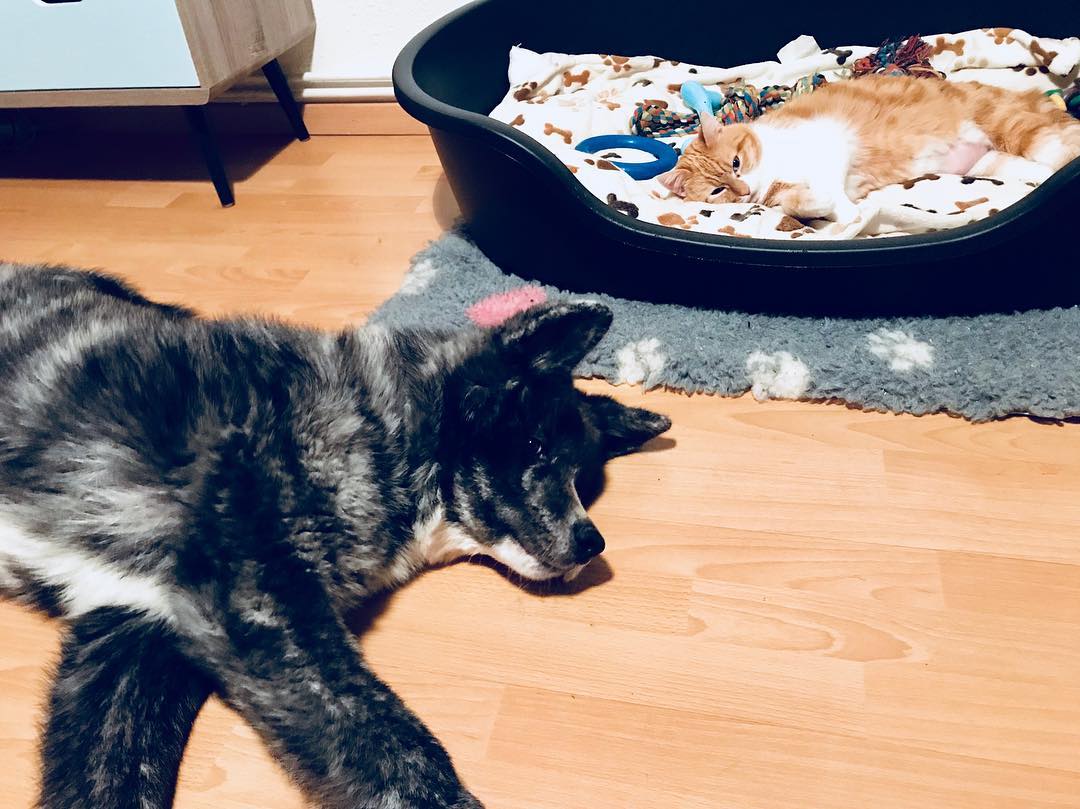 4. Tire your pup out
Schedule taking your dog out for exercise prior to leaving the house. The amount of exercise depends on dog breed, current health status, body type, and weather.
Generally, taking your dog for a walk in the morning and playing fetch usually helps them get out a lot of energy so they don't feel cooped up in the house all day.
Providing an outlet to allow your canine to drain their energy levels prior to leaving the house also helps prevent them from destroying your furniture and home. Otherwise, your dog might focus all their energy on chewing on furniture and destroying your house.
5. Use a dog monitor
Tons of pet parents wish they could see what their dog is doing while they're at work. Thoughts of your dog peacefully sleeping all day is a common scenario, but chances are they stay quite busy roaming around the house while you're away.
Luckily, a dog monitor allows you to see exactly what your pup is up to while you're out.
What are pet cams and why should you consider one?
Pet cams are devices that you install in your home to keep an eye on your pet when you're not at home.
Most pet cameras connect to an app to allow you to see your pooch right from your phone or computer. Some models even dispense treats, allow you to talk to your dog and more.
If you spend your day wondering what your dog is doing and if they miss you, a pet cam is a great solution for you.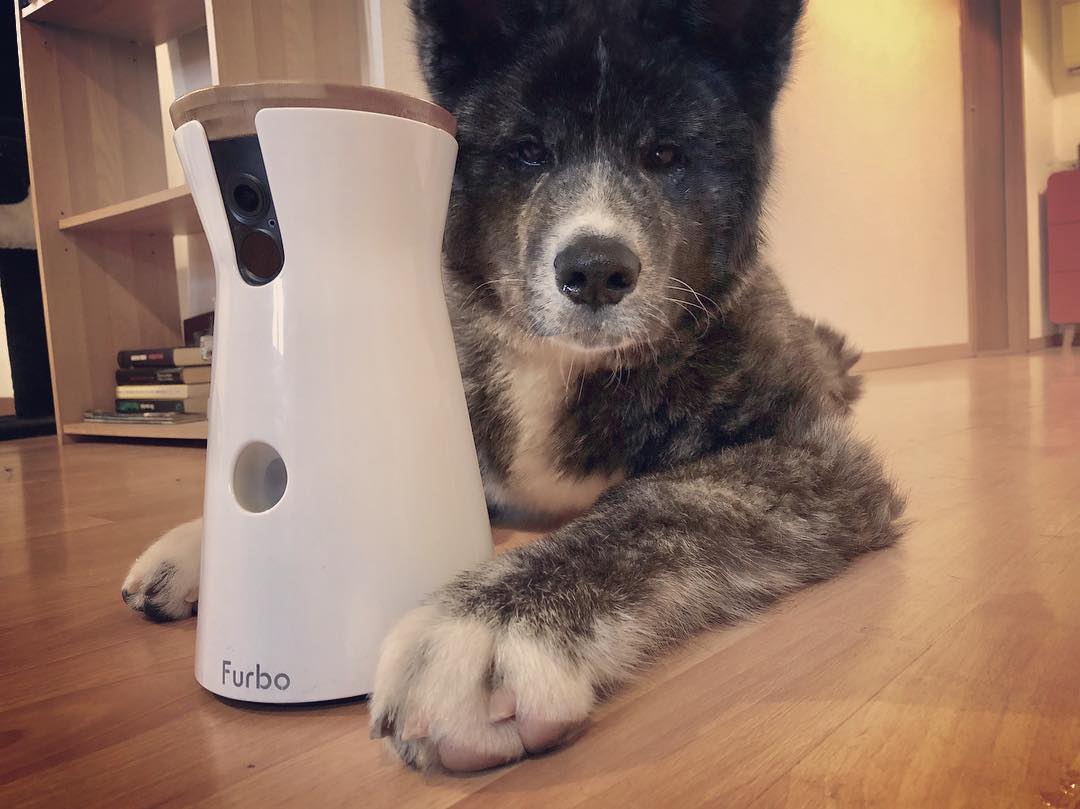 Two-way audio and video
Most pet cams have the option of a two-way audio and video display. This means you can sneak a peak of your furball any time of the day or at night. Your dog can also see you on a video screen.
This is extremely helpful for dogs who are scared of thunderstorms. Your dog might be home alone during a loud thunderstorm, but they can hear your voice and see your face which helps to soothe his anxiety. It's also great for separation anxiety.
Built-in games and features
If you see your dog is bored, you can help keep them occupied with built-in games and features such as a treat dispenser.
Pet cams give you the opportunity to interact with them by encouraging tasks or games where they're rewarded by a treat dispensed by the monitor.
Doubles as a security cam
Dog owners who hire pet sitters can have peace of mind knowing you have the opportunity to observe the way your pet is being treated.
Unfortunately, there have been reports that some pet sitters mistreat the dogs they care for when they're unaware they're being watched. Ideally, you should hire a dog sitter you trust completely and who has good reviews on a site like Rover.
However, you never can be to sure when it comes to the care of your furry family member.
If you want to learn more about selecting an in home dog sitter then check out our full boarding guide written by an expert here.
A pet cam also doubles as a security cam. It allows you to see if burglars have entered your home and gives you the opportunity to contact the police as the crime is happening. Taking quick action while the crime is being committed increases the possibility of the police catching them in action.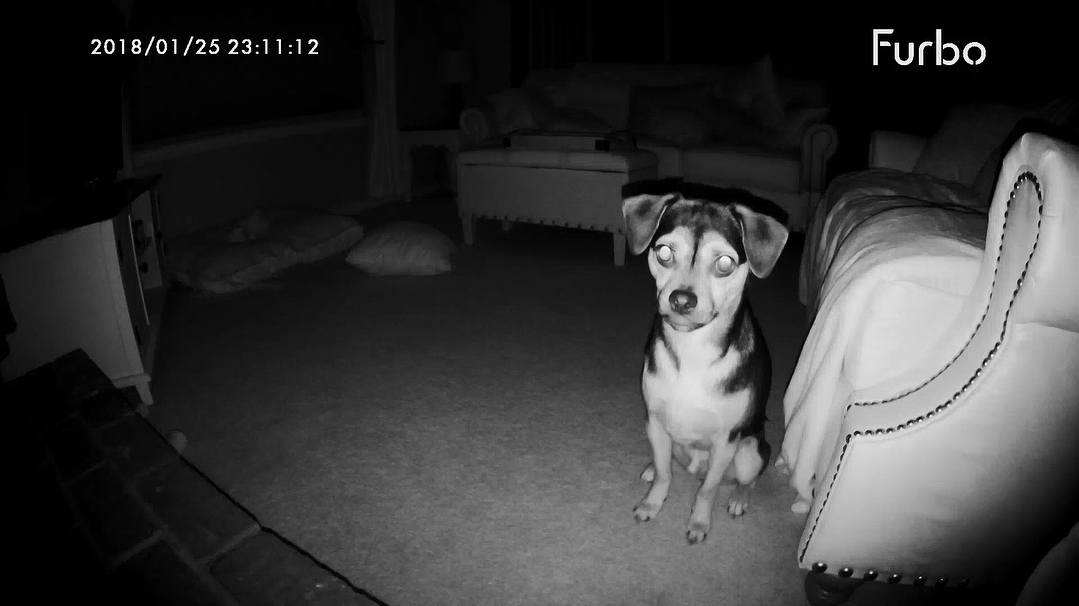 Why it's important to keep an eye on your dog
As you know by now dogs can be mischievous when left alone. If you've ever arrived home to find your kitchen trash thrown all over your house, chances are your dog is a bit of a troublemaker.
Wouldn't it be nice to observe this action through a dog cam and shout out to your dog to stop? Just hearing your voice will get their attention and help deter them from digging any further into the trash or creating another mess.
You can also monitor behavior over time and see if your training methods work. Or if you need to spend more time working on correcting a certain bad behavior.
Separation anxiety
Dogs often suffer from separation anxiety when their owners leave the house. This is natural since dogs run in packs and you are the leader of their pack.
A pet cam is a win-win in this situation. You'll have peace of mind knowing you can check-in on your dog and your dog can hear your voice and receive treats from you to help soothe their anxiety.
Non-stop barking
If you have ever received a notice from your HOA, condominium association, apartment complex or neighbor about your dog barking non-stop, a dog monitor will help fix the situation.
A pet monitor often reveals something you can't see while you're away from home. It might be true that your dog barks due to separation anxiety, but watching their behavior through a monitor can also reveal another trigger that causes your canine to bark.
Most monitors can pick up noise in the distance such as another dog barking, noisy neighbors, delivery personnel knocking on the door, unusual noises and more. This will allow you to pinpoint the behavior you need to correct in your training.
Tips for using a dog monitor
Place the pet cam in a convenient place that covers the area where your pooch is most active while you're away from home.
Also, make sure you place it in a safe and secure place where your pooch can't easily reach it. If they do happen to knock it over make sure it won't destroy anything else around it if it does fall off its perch.
If you use a dog gate to isolate them to one room, place the camera in a spot where you can see the entire area. If you allow your dog to roam around the entire house, place the camera where they spend the most time. If there are multiple rooms, you might need to purchase more than one pet cam.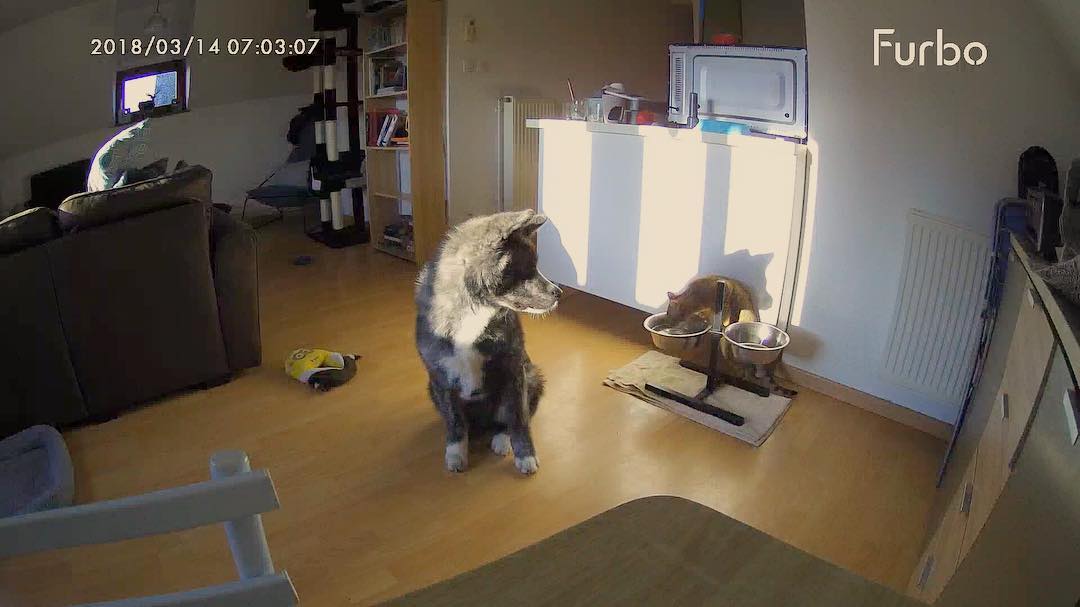 When to use a pet cam
Once you've properly set up your dog monitor and connected it to your phone you can use it every time you leave your house, not just while you're at work.
A night out on the town, grocery shopping, Sunday errands or sporting event will all become more comfortable for you and your pet knowing you're always connected.
Frequently asked questions about dog cams
One of the most frequently asked questions about pet cameras is, are they safe? Pet parents find themselves worried about exposing their pet to an electronic device like a camera.
Generally, these cameras are a convenient size and designed with safety and your animal in mind. They don't contain any hazardous materials or small parts that could cause harm to your dog.
When setup and used properly they're helpful and safe devices. However, always check with the manufacturer if you have any specific concerns or feel like something about the device maybe a problem. Above all else, always use your best judgement.
Here's a great general overview of the Furbo Dog Camera to help you become more familiar with what these cameras can do for you:
Now let's take a look at the two monitoring options we recommend the most.
Furbo Dog Camera
This state-of-the-art pet cam was designed specifically for dogs. The creator of the pet cam took into consideration the input of professional dog trainers, more than 5,000 veterinarians and pet parents to build the ultimate interactive monitor. You can see and interact with your dog every time you are away from home.
Features
This pet cam features 1080HD streaming, audio, video, 160-degree angle view, easy setup process, dog selfie mode, treat dispenser, compatibility with Alexa, has the ability to tell the difference between a dog and human motion, allows for two devices to watch at once, and 2-way calling.
The cool thing about the Furbo is it links to an app that allows you to send push notifications, dispense treats, and talk to your dog.
Person alert feature
According to Furbo, the person alert feature is especially helpful for pet parents who have dog walkers that enter the home every day. The device lets you know when a human has come into view.
This allows you to identify the human and confirm it is the pet sitter and not a burglar.
Dog selfie alert
The device also senses when your dog is facing the camera and automatically takes a selfie! Then it sends you a notification and the selfie of your dog.
This means throughout the day, you will receive cute snapshots of your dog which gives you peace of mind they're doing well.
Dog activity alert
This feature is especially helpful if you have a dog that suffers from anxiety. The pet cam picks up continuous activity and keeps you alert.
Common types of activity include jumping on furniture, running around, chewing objects, and licking feet. Observing these patterns can help you determine the cause of their anxiety or unusual behavior.
You can read more reviews of the Furbo Dog Camera on Amazon.
Wyze Cam
Pet parents who enjoy the most advanced technological gadgets will prefer the Wyze cam. While it's not specifically a pet cam, it gets the job done in a more advanced way compared to other pet cam models. This option provides the opportunity to view your dog, talk to your dog and record.
It's specifically designed to be a home security camera, so you get two benefits for the price of one. This affordable camera is made of high-quality materials and features 1080HD streaming, audio, video, options to record a video to an SD card or the cloud.
If you're looking for an option to check on your dog at a more affordable price point and without the rich features of the Furbo then this is the option for you.
Connects to the Wyze App
Whether you are using the Wyze cam for your dog or as a security system for your home, it provides you access to your home day or night. The system delivers clear, fast footage to your smartphone through the Wyze app on Android or iOS phones.
The Wyze app is easy to use and manage. You can view multiple cameras and share them with other users. Overall this pet cam is highly useful, comes in a small size with a magnetic base and features a 3-axis flexible design.
You can read more reviews and check out the Wyze Cam on Amazon.
Final thoughts
Leaving your dog home alone isn't always easy for pet parents. Whether you just brought home a new puppy or you're concerned about your family member being home alone while you suffer from pet parent guilt. Pet cams are an excellent option that allow you to stay connected to your dog day and night.
Leaving your pup alone while you're working hard doesn't have to be uncomforting. Using these tips will ensure your pooch is comfortable, safe and greet you with excitement at the end of a long day!
-Nick B.
Now read this: