Which Type of Dog Grass Pad is Best for Your Balcony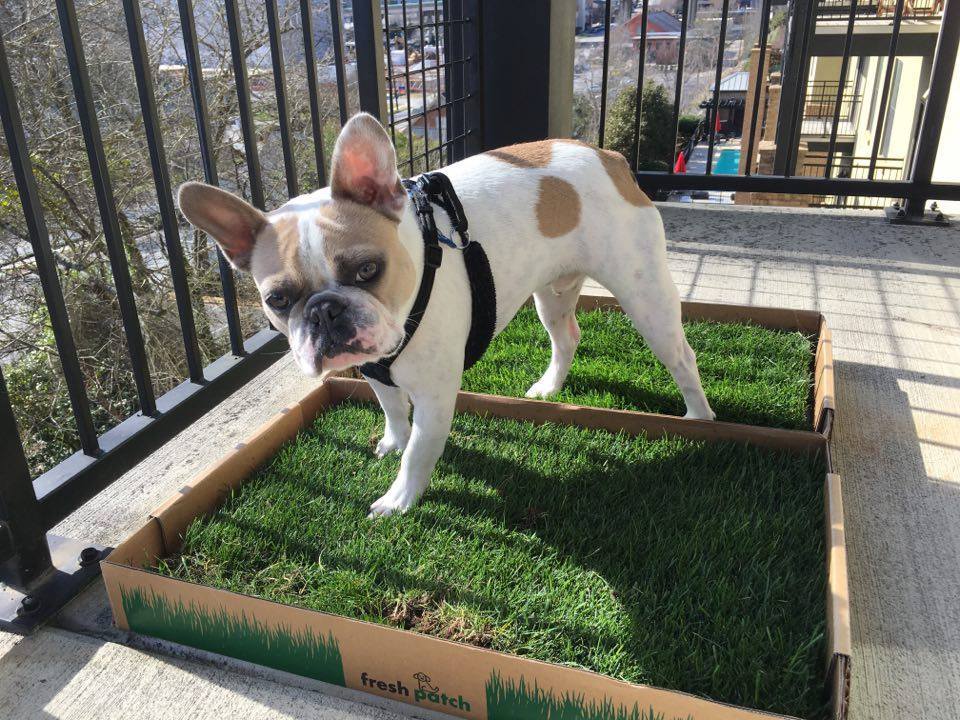 More and more pet owners live in urban areas, and sometimes those areas just weren't designed with dog life in mind.
This trend is in part due to apartment and condo complexes allowing dogs in their pet policies, and the general shift towards people residing in urban areas.
While it's fantastic that pet owners now have this freedom, but there's still one significant inconvenience when it comes to owning a dog in a city residence – potty time.
If your complex has a lot of lush, green grass and areas to walk, it can be an excellent exercise for both you and your dog. However, in urban areas, finding patches of grass may be a bit more difficult.
Also, as you know, life gets busy, and you may not always have the time to walk your dog every day. Another big factor that can come into play is the weather. No matter how much time you may have, if it's raining or snowing all day, a walk might not be feasible. Luckily, with the invention of dog grass pads, a potty break could be as easy as opening your balcony door.
In this article, we'll explore the different types of grass pads, real vs synthetic, how to train your dog to use one, and our top 4 grass pads to put on your patio.
If you're in a hurry our top choice for real grass is the Fresh Patch and our top synthetic turf pick is the Porch Potty.
What's a dog grass pad?
Dog grass pads, also known as potty pads or even grass pee pads, are typically square or rectangular shaped patches of grass, either made of real grass or synthetic materials, and the grass often sits in a tray or base.
They come in various sizes, and you can place them on your balcony or patio giving your pup easy access. They provide a surface area that your dog can use to go to the bathroom without having to leave your apartment.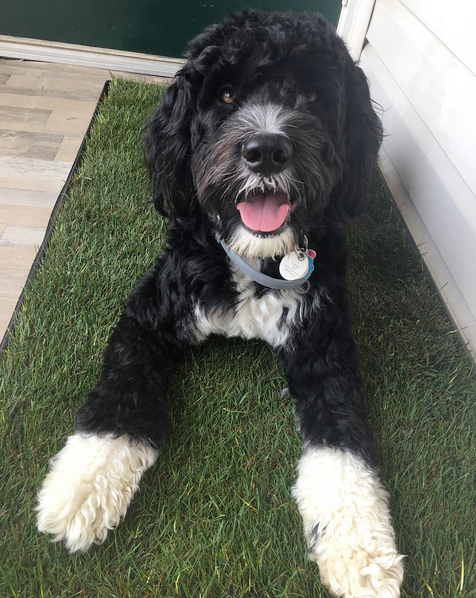 Are grass pads right for my dog and me?
While not all dogs will take to grass pads, many types of dogs will greatly benefit from having them available.
Small dog breeds
Small dog breeds will especially appreciate a grass pad in freezing weather as the cold ground can be painful for their paws. They're an excellent alternative for puppies that haven't been vaccinated yet to avoid exposing them to potential risks in areas where other dogs have been.
House training puppies
Also, they can come in handy when trying to housebreak a puppy. At 2:00 a.m., by the time you get out of bed and ready to take your new puppy outside, they may have already had an accident on the floor. With a grass pad on your balcony, you can quickly open the door and let them do their business.
Mobility limited or senior dogs
Grass pads are also excellent for senior dogs that cannot get around as well as they used to, or dogs who are sick or disabled. Also, they can be used indoors if you work long hours and cannot get home at a reasonable time to let your dog out.
Things to check before purchasing
Before purchasing a grass pad, you may want to make sure that your management company or HOA does not have a rule against your pets doing their business on your balcony.
If no such rule exists, make sure you have a place on your terrace that would be suitable for the grass patch in case any urine drains out of the tray. You want to avoid it flowing back into your unit or flowing over your balcony ledge onto the units below.
Other factors to consider are privacy and distractions. Some dogs like to have privacy when they do their business. If your dog prefers solitude, be sure to place the grass pad in a position where they'll have the most privacy.
When it comes to distractions, does your unit face a heavily-trafficked area?
If it does, and dogs and people are walking by consistently, they may not pay much attention to their grass pad when they're too busy barking at all the distractions. A partition may help alleviate some disturbances and provide privacy for your dog if necessary.
What size dog grass pad do I need?
It may come as no surprise that bigger dogs will need a bigger patch of grass. A standard-sized pad is approximately 25 inches long and anywhere from 15 to 20 inches wide. While this size would be sufficient for a small dog, it wouldn't work for medium to larger breeds.
Small Dogs- One 24" x 15-20"pads.
Medium and Large Dogs- Two or more 24" x 15-20" pads.
Dogs like to move around and sniff out the best spot before they decide to go. You want to make sure they have enough room to be able to move around.
If you have a larger dog, be sure to look for brands of grass pads that can place multiple pads side by side to make a larger surface area for your dog. Two, possibly three, standard-sized pads will do the trick depending on how large your dog is.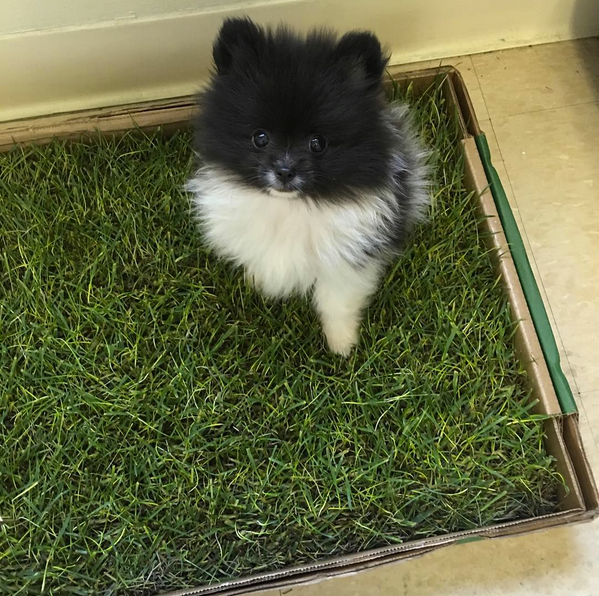 Real Vs. synthetic grass pads
Real grass pads
Real grass pads are typically grown hydroponically, meaning that they grow without the use of soil, so there's no chance of your dog tracking mud into your place.
While there is no dirt, a thick root structure below the grass provides absorbency of both urine and odors. These pads are disposable and environmentally friendly.
There's very little maintenance necessary when it comes to real grass pads since they absorb liquids. Solids will need to be collected and disposed of regularly. Many dogs may prefer real over synthetic grass.
On the downside, they only last a couple of weeks to a month at the most. You need to replace them frequently. The grass will also die more rapidly in severe weather during harsh winter months. The cost to continue to replace them can add up over time. However, some companies offer discounts and monthly replacement plans.
Synthetic grass pads
Synthetic grass pads are made out of plastic materials designed to look very similar to grass. Turf grass is designed to let liquid flow through the material, often to a collection tray below. You will need to empty the collection bin daily. The pad will need to be rinsed with soapy water or hosed off frequently. However, these patches will hold up over time.
Real pads may appeal to your dog more as they would naturally gravitate toward grass since that's what they're already used to if they're housebroken. Synthetic grass, in some cases, could confuse them.
If you're housebreaking a new puppy, using synthetic grass wouldn't be a problem. There's much less maintenance when it comes to real grass as opposed to synthetic grass.
Real grass pads are entirely disposable. Once the grass dies, you will throw out the entire unit and replace it. With synthetic turf, you will continually need to empty the collection tray and clean the grass pad.
Organic grass will cost you more money in the long run because you'll be replacing them every couple of weeks. However, it will save you the time and cleaning that synthetic turf requires.
Keep in mind, if you have a large breed, you will need to replace them in pairs. If you choose the synthetic grass option, you probably won't have to replace the unit for several years.
Best real grass pads available
Now let's take a look at the best grass and turf brands for your dog in each category. First, we'll start with real grass patches.
Comparison table
| Brand | Grass Type | Size | Amazon Link |
| --- | --- | --- | --- |
| Doggie Lawn | Real | 24" x 20" | See It |
| Fresh Patch | Real | 24" x 16" | See It |
| PetZen Garden | Synthetic | 24" x 20" | See It |
| Porch Potty | Synthetic | 50" x 26" | See it |
DoggieLawn
This real grass pad comes with a lined cardboard tray to prevent leakage. The entire unit is disposable.
The product dimensions are 20" x 24" x 2.8" and it weighs 10 pounds.
The real grass absorbs liquids and odors. The seller offers free dog training over the phone if needed to get your dog use to using the box.
Set up for this is easy; simply take the lid off of the cardboard box and set down the unit in the designated potty area. Replacement depends on the size of your dog and how often your dog uses the pad. Typically, 2-4 weeks is the average replacement time.
Frequent watering or spraying the pad with water may prolong the life of the pad. The downside to buying a live plant is that you run the risk of receiving a patch of dying grass or grass that is infested with bugs however this is rare.
Check out DoggieLawn on Amazon.
Fresh Patch
The Fresh Patch is hydroponically grown grass that's lightweight and dirt-free.
The product dimensions are 16"x 24" x 3" and it weighs 9 pounds.
One unit is ideal for dogs up to 25 pounds. For larger canines, the seller recommends joining multiple pads together.
The seller offers training tips on their website. The real grass absorbs liquids and odors, and the natural grass scent attracts dogs.
Replacement depends on the size of your dog and how often your dog uses the pad. Typically, 2-4 weeks is the average replacement time. Frequent watering or spraying the pad with water may prolong the life of the pad. It's possible that the product you receive may not be the freshest grass, or it could contain fruit flies.
Check out Fresh Patch on Amazon.
Best synthetic grass pads available
PetZen Garden
PetZen synthetic grass pads are designed out of UV-resistant polyethylene and polypropylene to withstand sunlight and dog urine. Each pad has conveniently-placed holes to allow for drainage. Pads can be hosed off for easy cleaning.
The seller offers pads in many different sizes, and you can customize them to fit your balcony or patio based on its dimensions. However the standard size that compares in terms of price to the other pads is 24" x 20" x 1.7".
The product can easily be trimmed with a box cutter if necessary, so it's better to order larger than you need and trim down to size. These pads can be placed on top of a tray or lay directly on concrete or dirt. The drainage holes built into the pad will work well to allow dog urine to flow below the pad. These pads are non-toxic and lead-free.
Check out PetZen Garden on Amazon.
The Porch Potty
Porch Potty provides a slightly different option for dog owners interested in a synthetic grass pad option. As a company, they have a full suite of innovative products ranging from their Porch Potty Standard to an updated Premium version, and they even offer a higher-end product equipped with a canopy for shade.
Porch Potty Standard vs Porch Potty Premium
The Standard and Premium options from Porch Potty have the same size, shape, and overall purpose. The grass pad of your choosing is housed in an all-weather-resin wicker casing surrounding a sturdy steel frame for added durability.
The only differentiating factor between the two base models is the fact that the Premium has the ability to connect to a source of running water for easier cleaning, and better overall cleanliness.
The Standard version has its own drainage basin and that is part of what makes it so easy to maintain with regular cleaning and spraying. Instead of having to worry about where the waste liquids are being deposited, the Porch Potty comes equipped with an ultra-flexible 14-foot drainage hose that puts the control into your hands.
Both models can be equipped with their synthetic grass pad, or an option they call "training sod" which is used to mimic the smell of real grass to help with the potty training process.
As a brand Porch Potty separates itself with high-quality products that are generally more expensive than other alternatives that we have researched.
You can see pictures, read more, and purchase the porch potty here.
Puppy potty training tips
Housebreaking can be a frustrating time for any dog owner. When you decide to introduce your dog to a grass space on your balcony, you may have to housebreak them all over again. Here are a few training tips to help you through the process.
Regular potty times
Bring them to the grass pad at their regular potty times. Dogs get used to their potty break schedule, and when you start to show them the grass patch during their regular potty break times, they'll begin to correlate the pad with potty time.
Positive reinforcement
Provide positive reinforcement. Give your dog plenty of praise when they use the turf at the beginning of training, to let them know they're doing the right thing. You could also reward them with a training treat.
Be careful not to yell or show frustration with them near the area if they aren't using it for its intended purpose. If your dog senses your anger, this can confuse them, and they may correlate fear with the pad because that's the emotion they felt when you were angry with them.
Repeat process
Be sure to take regular trips to the area so your pet can get used to going over it. A good rule of thumb would be to go often after they nap and after they eat.
Patience
Be patient! It can take a little while before your dog gets the hang of it. Don't give up. Be persistent and keep trying.
Final thoughts
When it comes to grass pads for your home, you'll have to decide if real or synthetic pads are right for you. They both have their advantages and disadvantages. If low maintenance is your priority, then a real grass patch is your best bet. If cost is your most significant factor, then synthetic is the way to go.
Of course, your dog may be finicky and decide for you. You may have to try a couple of different options before you find the right fit.
Another thing to keep in mind is that grass pads shouldn't entirely replace your dog's means of exercise. Walking outside and getting exercise in the fresh air is still the best option!
Grass pads shouldn't be used as the only means of potty breaks unless your dog is disabled or ill. Dogs need exercise, and you should give them the opportunity to go on walks as much as possible. Walks are great exercise – and great bonding – for you and your dog.
However, on occasion, when walks are not possible, balcony grass areas are a great alternative to allow your dog to go to the bathroom. It can save you time and provide your dog with the ease and comfort of not having to walk in inclement weather.
Till next time!
Now read this: