10 Questions to Ask Before Taking a Dog Agility Training Class
You've done it!
You've made the decision to take a dog agility training class and develop a working partnership with your dog.
You've found a class near you and are ready to phone them up.
Good for you!
Naturally, this class will ask you a multitude of questions before you arrive, but have you ever thought about what you should ask them?
Here are a couple key questions to ask before your dog agility training debut. These questions will help to ensure sure you and your canine pal have found the right fit.
Preparing For a Dog Agility Training Class
1. When is The Class?
This might be an obvious question but it's important to know the class schedule before you sign up. The last thing you want to do is sign up for a class only to find out it's on a Thursday night during your favorite TV show.
Also, don't forget to factor in drive time. If the class finishes at 10:00pm and you have a 45-minute drive home, do you really want to be up that late when you have work early the next day?
Classes typically run during the day, in the evenings or on weekends. Find a class to fit your schedule. It will save you time, money and hassle in the long run.
2. Where is the Training Venue?
It's not uncommon for the location of the training venue to be further away than you might expect.
You also want to find out if training is indoor or outdoors. Outdoor venues may become muddy in winter, so don't forget to pack your boots!
If the location is a farm, the flock of sheep in the neighbouring field could be too much of a distraction for your dog.
Many agility clubs hire indoor riding schools for training classes. These venues are perfect if your dog is easily distracted or likes to run around a lot.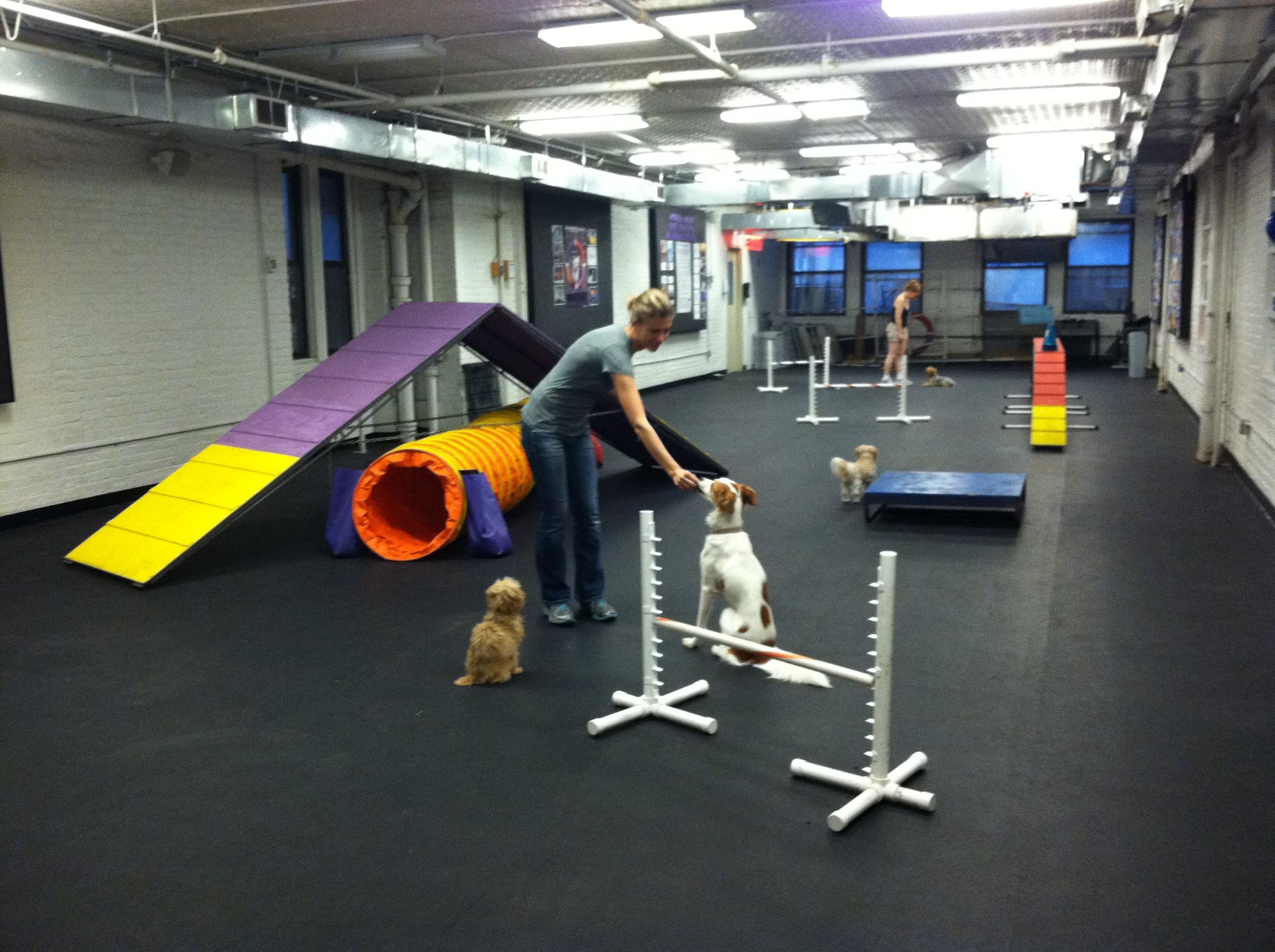 Indoor Dog Agility Training Class. Image By: Andrea Arden
3. Is There Parking Available?
It's important to ask where to park before showing up to the class.
This is especially true if a venue is located downtown where parking is expensive. Make sure to factor this into your costs when deciding between two classes.
On the other hand, parking in the middle of a field will mean a few more trips to the car wash. Not to mention, you should prepare to get stuck in the mud at least once.
4. Are There Restrooms?
Better to know before you really need it! If the class takes place in a remote location then it's a good idea to take care of business before you head out there.
5. How Many Dogs Are in the Class?
Usually the fewer dogs in a class, the better. You'll usually end up getting more individual attention.
Class size will vary, but I recommend taking a class with no more than 8 other dogs. Any more than this and you'll spend more time watching rather than practicing your dog's agility.
It's also worth thinking about who else is in the group. Don't be afraid to ask about the size of the other dogs in the class.
If you have a little Pomeranian, you may feel happier in a class composed of other small breeds. It's not uncommon for clubs to offer 'mini' dog classes.
6. Are There Other Classes to Take After?
Very few people give up agility training once they've started. When you've finished your introduction course, where to next? Does the club have a system of progression?
The larger the club, the more likely you'll have a choice of different classes and a greater number of instructors, but size isn't everything.
Smaller clubs tend to be more relaxing and have a more intimate community. They may even be able to customize a program for you and your furry friend.
7. Are the Instructors Qualified?
An instructor may be Agility Club Approved, a member of the Association of Pet Dog Trainers or a Cruft's Agility Finalists. That doesn't mean they're a good fit for you and your dog.
I prefer to personally meet the instructor with my dog before signing up for their class. I like to see how the instructor interacts with not only my dog but myself as well.
Communication is the most important thing when looking for a qualified instructor. They could have all the knowledge and training in the world, but if they don't have the patience and ability to communicate that knowledge properly it's pretty much useless.
Your instructor may be another club member who started in the beginners class just like you. Qualifications and experience count for a lot, but they're not the end all.
What's important is your instructor's ability to communicate the fun of agility training to you and your dog.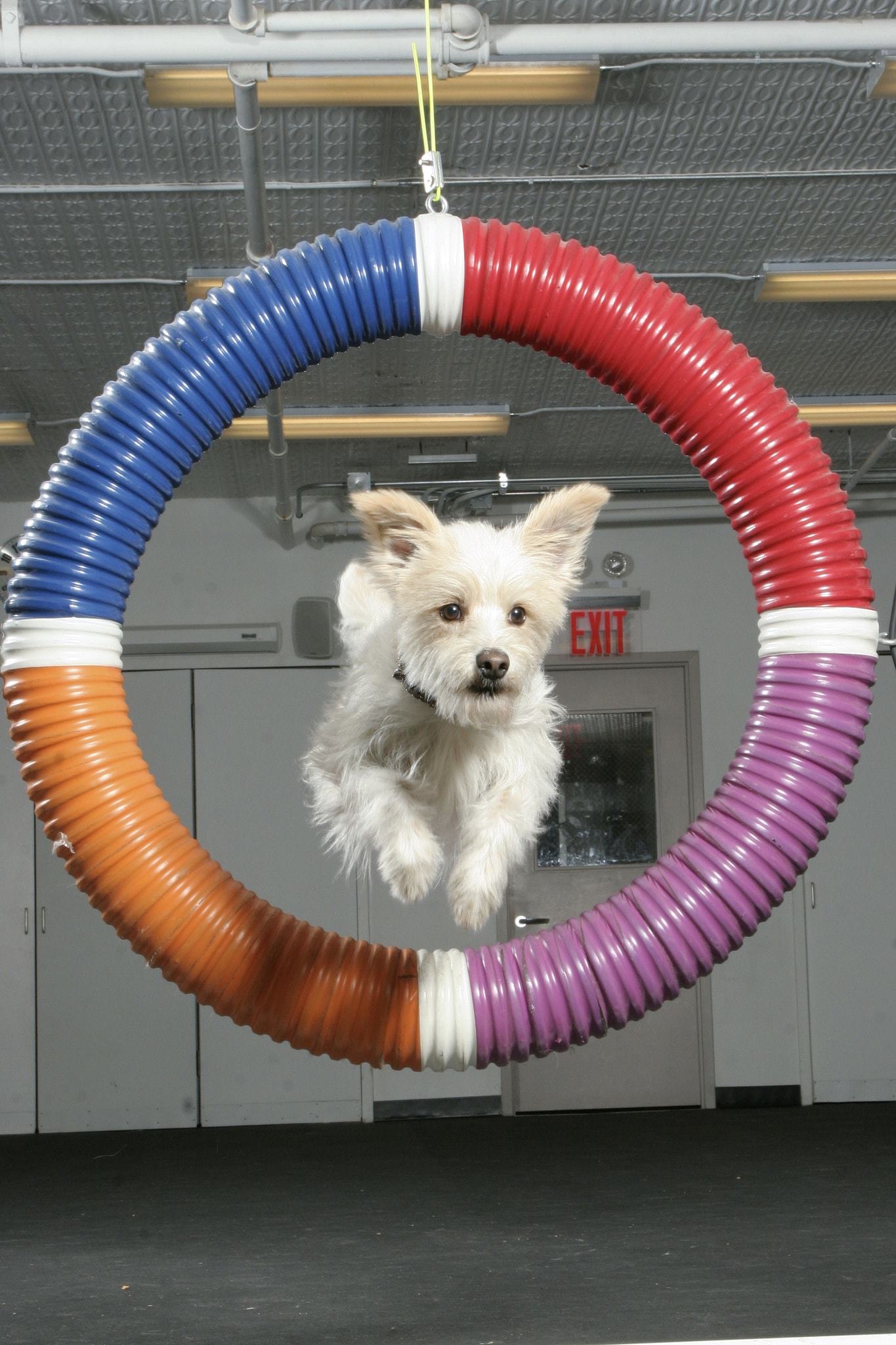 Image By: Andrea Arden
8. Is the Club Registered With the Kennel Club?
If it is, it will be subject to the rules and regulations of the Kennel Club (KC).
There's a committee who will make all the important decisions, and it's likely that they'll hold a KC licensed agility show each year. Members of these clubs can expect to help run things, such as working a ring.
On the other hand, there are private clubs. These clubs are the responsibility of whoever started them. Usually they'll be more informal, such as an agility handler who rents a field for their own use. They may also only run classes on the weekend as a hobby.
Either way, it's best to know which tribe you're joining. This will give you a better idea of what you can expect from the club and what they expect from you.
9. Is the Club Competitive or Recreational?
All agility clubs can be fun, but some have a specialized membership.
Some clubs only admit competing dogs. They tend to concentrate on more advanced training skills, league competitions, and the all important finals.
These clubs are great for owners and dogs with intermediate and advanced agility skills.
Other clubs focus on recreational agility and staging agility displays as local events. I've always found these clubs to be more approachable for a beginning trainer.
Like anything else in life some clubs will fall in the middle and have a healthy mix of beginner classes through advanced competitions.
10. How Much Will It Cost?
The all important question for any new hobby. Agility training classes vary greatly in price. Pick one that suits your pocket, and remember price does not always reflect quality.
This is especially when your class choice is very personal to you and your dog. Pay structures will vary from pay as you go, a single lump sum for the year or pay for a course of six lessons.
Some courses require you to join the club and pay a membership fee. Always double check whether or not this is the case with your class.
Also, be sure to ask for their refund policy. It's good to know you can receive a refund if you feel uncomfortable after the first class.
Bonus Question
Be sure to ask what you should bring to the class. Often times you'll have to bring your dogs favorite training treats, poop bags, and a collar & leash.
I hope this list of 10 questions to ask before you take your first agility dog training course helped you! Make sure to shop around and if something doesn't feel right speak up or leave. The safety of your dog is always the most important thing.
Goodluck!
-Jordan
Feature Image by: Dmitriy K.
Now read this: