Your ultimate guide to the best dog sling carriers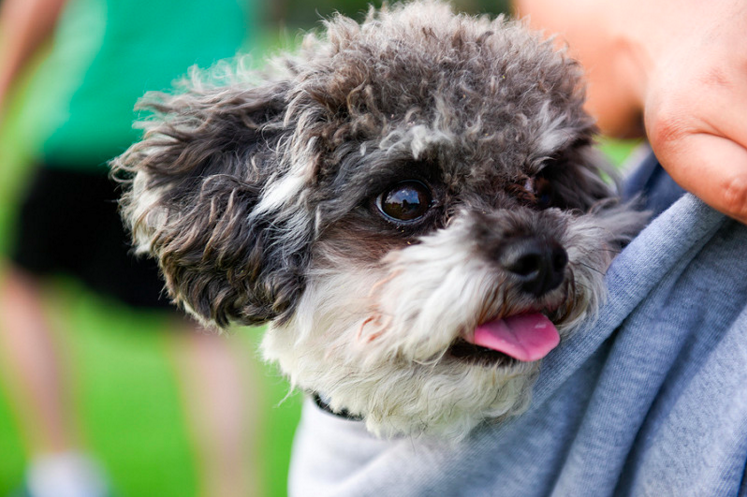 If you're looking to take your small to medium sized dog with you with easy when you travel, shop, hike, or just a casual walk outdoors, then read on for our review of the best dog sling carriers.
Not only does a sling carrier protect your dog in certain situations it also frees up your hands making it easier on you. Points to note when choosing a dog sling: local climate, usage, size of your dog, strap size (for your height) and storage for your personal belongings.
Why a dog sling carrier?
There are multiple reasons to use a dog sling carrier, whether you're in a hurry or just want to keep your dog comfortable. Here's a few of them.
You're on the go
One of the main benefits to having a small pet is that you can take them with you wherever you go. Whether you're running errands, going to the office or simply hanging out at a local coffee shop, your pup can accompany you on your daily routine.
If you're a small-pup owner, however, you know that your dog is eerily similar to a small child: after a few hours trotting around, they'll want (or need) to be carried. An added benefit to a dog sling is the ability to keep your dog with you after they're too tired to walk.
You won't need to head home after a few hours on the go; simply put them in the sling to rest and carry on with your day as usual.
Side note if you do have to leave your dog at home then check out our easy tips to keep them entertained and safe while you're out.
Health
The benefits of spending more time with your pup are mutual: Your dog's health is improved from time with you and your health is improved by time with your dog.
A Harvard Health study shows that having your canine pal with you lowers blood pressure, reduces cholesterol and contributes to overall cardiovascular health. Having a dog sling enables you not only to keep your dog with you, but to keep them close. In fact, individuals that suffer from stress or anxiety report that having their pup in a sling has improved their overall quality of life.
Likewise, a naturally anxious or timid pup will benefit from the womb-like securities of a sling. The sling not only keeps them safe and secure but offers them a den-like shelter that dogs naturally seek for comfort.
Hands-free is the way to be
Every small dog owner has had to carry their dog, it's inevitable. A dog sling offers the added functionality of keeping your hands free. This means you can take that call from mom, continue sipping your latte or fill your cart with goodies without having to worry about shifting your pup from arm to arm.
Dog sling carrier vs. other backpack carriers
There are a lot of different dog carrier products on the market today. With a quick search you'll find an assortment of dog strollers, crates, trailers and a variety of small handbag-style carriers for you to choose from. So, why a sling?
Convenience
Well for starters, let's consider convenience. Have you ever had to deal with a stroller or a dog crate? A lot of the dog sling alternatives are big, bulky and require more preparation. If the goal is to get out of the house without too much consideration or hassle, a sling is for you.
Storing and/or carrying a stroller, bike trailer or larger soft-sided crate while you're on the go will present logistical challenges. Where will it be stored if your pup wants to walk or when you are inside a store? Will you carry it when it's not being used by your dog?
A sling for your dog is super convenient. It's easy to pack, store and use, and for a dog owner, easier is always better!
Comfort
The second thing to consider is comfort. The closest alternatives to a dog sling are dog backpacks and handbags. Unfortunately, both of these options put a lot of strain on your body.
Many people already put a great deal of strain on our shoulders and hips by slinging a heavy purse over our shoulder for hours at a time. Can you imagine carrying two? Ouch!
If you're nodding your head in agreement, I'd recommend a dog sling carrier over a complex carrier counterpart. Why? Because sling carriers are constructed specifically to tackle this dilemma.
Dog slings are constructed to support your pup and keep them comfortable without adding strain to your shoulders, neck or hips. They do this by distributing the dog's weight evenly so you aren't carrying their weight with one arm or shoulder.
In other words, you get the benefits of a handbag or purse without the neck pain or discomfort. Bonus tip, some studies suggest you should regularly switch the side of hip you carry weight on. (1)
Things to look for in a dog sling carrier
Not all dog slings are created equal. There are a few things to consider when finding the best dog sling carrier for you and your pup.
Safety
When looking at the following categories, keep in mind that all of the qualities that you're looking for in a dog sling carrier relate back to keeping your dog safe. Whether it is a durable material to keep your sling carrier in dog worthy condition or the strong collar clips that keep your small dog in place. Safety is extremely important when considering which dog sling carrier is best for you and your dog's needs!
Materials
Comfort is key when considering materials for a dog sling. Not only is this important for your dog, because they will be lounging around in the sling for extended periods of time, but it's also important for you, the carrier.
Popular dog slings are made of breathable but durable materials (e.g., cotton material, fleece or polyester). However, it's important to consider the weather and/or climate when finding the right dog sling. Some materials, like fleece, will offer more warmth and comfort but may not be appropriate for warmer temperatures.
Several companies have solved this problem by offering reversible designs with interchangeable materials so they are functional in varying climates or circumstances.
It is also recommended that you find material that is machine-washable so you can keep the sling free of pet hair and dirt.
Adjustable straps
Every dog and dog owner is different, so it's important to have flexibility in how you want to carry your pup. Some consumers reported that they would periodically change the height of straps after a few hours, to shift their pet's weight and prevent fatigue.
Not all brands offer adjustable straps, so if you want more options while carrying your pup, you'll want to look for brands that offer plastic buckles or metal rings that allow for adjustable length or height.
Collar clips
Arguably the most important factor when carrying your pet with you is safety. Collar clips are metal or plastic clips that fasten your pet to the pet sling to keep them from sliding or falling from the sling.
Most companies have addressed safety concerns by designing their products to keep pets from jumping, falling or sliding from the sling. However, collar clips offer added piece of mind, especially if you have a rambunctious, spirited pup.
Closures
In addition to collar clips, some dog slings offer Velcro, zippers or buttons to partially enclose the sling and keep your dog from falling or jumping out. In order for these to be effective, they should be functional, so reading reviews on the type of enclosure will help you decide if this is the type of closure you're looking for.
Some consumers have reported that zipper closures may pull or get snagged on longer dog hair, whereas snaps may not keep more high-spirited pups from breaking free from the enclosure. You'll want to consider closures that are both sturdy and flexible so your dog can still peek their head out and experience their surroundings.
Comfort pads
Some slings have enough space for you to add a comfort item or blanket, while others include "comfort pads." These pads will provide your pet with support, similar to a bed on the go.
One of the main benefits to comfort pads is that they are not only durable, but removable. So, on days where you don't need the extra padding, you can ditch the pad or replace it with a small blanket or toy.
Top 3 dog sling carriers
Here are our picks for the three best options to choose from when buying a dog sling carrier.
Alfie Pet Chico 2.0
Petoga Couture (parent brand for Alfie Pet is a reputable pet brand from Seattle, Washington, that aspires to provide pet lovers a means to pamper their pets. They boast a meaningful mission: to support nonprofit organizations that help animals in need by donating pet supplies and facilitating their daily activities and operations.
So, it doesn't come as a surprise that they market their Alfie Pet Sling as a means to keep your pup closer to your heart. The Chico 2.0 is a trendy 9-inch sling with adjustable shoulder straps.
The Chico 2.0 can carry a pup that weighs up to 12 pounds and offers a safety collar hook for added security. As an added bonus, the Alfie Pet also comes in four different colors: pink, gray, blue and denim. So, if you're interested in functionality but don't want to sacrifice fashion, this is the sling for you.
Here's we gathered about Petoga Couture's Alfie Pet Sling:
Pros:
Adjustable straps help with comfort
Plenty of room
Thick, sturdy and comfortable material
Machine washable
Safety collar hook
Cons:
No storage pockets for personal objects (i.e. phone, wallet, etc…)
Too large for tiny and toy size dogs
No partial closure (zipper or Velcro) to keep active dogs from jumping out
You can read more reviews and buy the Alfie Pet Chico 2.0 at Amazon.
FurryFido Adjustable Pet Sling
FurryFido is a company founded relatively recently by a group of pet parents in New York City. They place pet wellness and happiness as a top priority of their brand. After looking into their products, it's clear that their values translate to very high-quality pet sling carrier
The FurryFido Pet Sling can comfortably accommodate small pets up to 13 pounds. Keep in mind that different breeds hold their weight differently, so depending on their size and shapes this weight limit may be slightly different.
Pros:
Soft cotton material
Adjustable straps
Durable and well constructed
Reversible design
Machine Washable
Cons:
A shallow pouch for some breeds
Some stretching in the pouch area
You can purchase the FurryFido at Amazon.
BreaDeep Pet Carrier
The BreaDeep Pet Carrier is a breathable mesh small-dog sling equipped with collar hooks and an adjustable contraction rope to keep your dog safely tucked inside.
Unlike the other two slings mentioned, the BreaDeep offers two different sizes. The small is equipped to carry dogs up to 6.6 pounds, while the medium can carry dogs up to 13.2 pounds. Make sure to measure your dog's back length (tail-to-neck distance) to make sure you get the right size.
Something also worth noting because the BreaDeep Carrier offers varying sizes is that it does not offer adjustable straps, so you'll want to review the specs for the size you purchase to make sure it is best suited for you and your pet. It does, however, offer a small storage compartment for personal items and is considered ideal for the smallest breeds.
Here's what customers have to say about the BreaDeep Pet Carrier:
Pros:
Not too large
Durable zippers
Comfortable for longer periods
Works as advertised
12 month warranty
Cons:
May be too small for some breeds
Hangs awkwardly
Not adjustable
You can read more reviews and buy the BreaDeep Pet Carrier at Amazon.
Ideas to get the most out of your sling
Your imagination is really your only limit with a dog sling. Here are a few ideas for when to get the most out of your sling.
Travel
Near or far, the best part about having a dog sling is that your dog can go wherever you go. Whether you're heading to the grocery store or planning a hike in the mountains, you'll never need to leave your pup at home.
People traveling with smaller dogs often worry about their dog's size. Putting a dog that weighs only 8 pounds on the ground in a high-traffic area can be dangerous and nerve-wracking for a pet parent. The dog sling carrier helps solve this problem by offering a quick and convenient way to keep a small pup safe from the elements and environment.
Shopping
As mentioned before, one of the main benefits to having a dog sling carrier is that your dog can accompany you on your errands. Many people that have small dogs are looking for the ability to take their pup with them when they leave home.
Whether it be to the mall or a quick trip to the store, the dog sling is conveniently assembled and carried, which means it's the ideal candidate for shopping. Not to mention, the hands-free functionality is also an added bonus for shopping because it frees up your hands to carry bags or push a shopping cart.
Trips to the vet
Let's face it, the vet is a scary place. This can be especially true for a small pet that weighs less than the average house cat. Offering your dog refuge from the chaos of a veterinary office can be helpful in adjusting them to an intimidating environment.
Also, in the unfortunate event that your dog is injured and needs to visit the vet, a dog sling carrier is a great way to keep your pet safe and secure and to prevent future injury.
Bonding
There is nothing more exciting than bringing a new puppy into your family. Unfortunately for the pup, this means they had to be separated from their siblings and their mom at a very young age.
Bonding with your dog is fundamental in building a healthy relationship between you and your newest family member. It is also critical to the development of future behaviors as an adult dog.
The more time you spend together, the stronger your bond will be. Having a dog sling will not only allow your dog to spend quality time with you on daily adventures but will also allow them to stay close by your side so you can form an unbreakable bond.
Socialize
You're not the only one who benefits from time with friends. When you are trying to acclimate a new pup to a life with you, you'll want to find ways to expose them to other dogs. Dog owners often fear placing their small dogs on the ground in unfamiliar territory, especially in areas with much larger dogs.
A dog sling carrier offers you the flexibility of getting your dog comfortable and familiar with new places, without putting them in harm's way. They can see, smell and experience new things, people or dogs from the comforts of your side.
Whether you need to take a quick trip to the store or you're trying to bond with your beloved new family member, there are convenient alternatives to hauling around a stroller or backpack for your pup. Dog slings offer a lot of the same benefits as other carriers with the added perk of comfort and convenience.
Gone are the days of sad puppy eyes and leaving your pint-sized best friend alone in the car.
Sources
Stefan Schmid, Michèle Stauffer, Judit Jäger, Renate List, Silvio Lorenzetti.
Sling-based infant carrying affects lumbar and thoracic spine neuromechanics during standing and walking. Gait & Posture. https://doi.org/10.1016/j.gaitpost.2018.10.013.
Now read this: