Discover how a dog harness for pullers can rein in your pup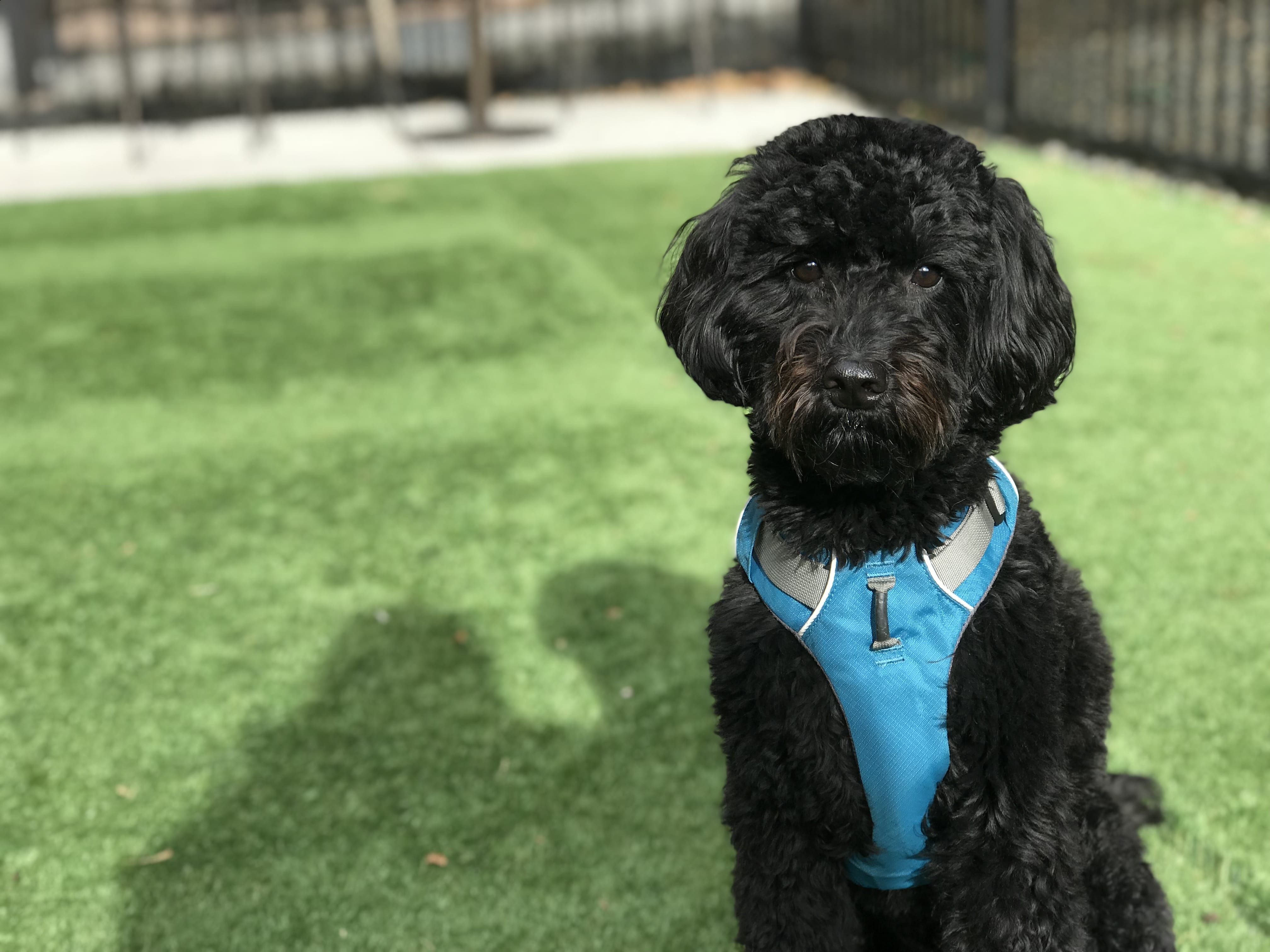 As a dog owner, you may already be well aware of how important it is to take your pup out for a walk.
However, if your dog is a puller, those morning and afternoon walks could be more of a hassle than they should be.
There's some important reasons why you should want to train your dog to show them you're in charge and pulling is not an acceptable behavior. We'll also give you some tips on how to train your dog to stop pulling and discuss how a dog harness for pullers would be a valuable tool during this time.
Of course, we will also provide you with a few options for harnesses that work best with dogs that pull, and give you a brief rundown of the features and why we like them.
If you're in a hurry though you can check out our top choice for pullers, which is the Ruffwear All Day Adventure Harness.
Is pulling that bad?
Think back to all the times that you've hooked the leash to your dog's collar and the moment you walk out the door, your dog is running off somewhere, pulling hard on the leash and your arm! It's probably happened more times than you'd like, especially if you have a high energy dog.
Leash-pulling is a problem many people face that, if left unresolved, it could lead to aggression toward the dog out of sheer frustration. Not only will it stress you out, but it could also cause serious physical damage to your dog's neck. This is especially true if the dog owner tries to correct the pulling by yanking back on the leash, which in turn, yanks back on the dog's neck. You can see how this only intensifies the potential of hurting the dog, right?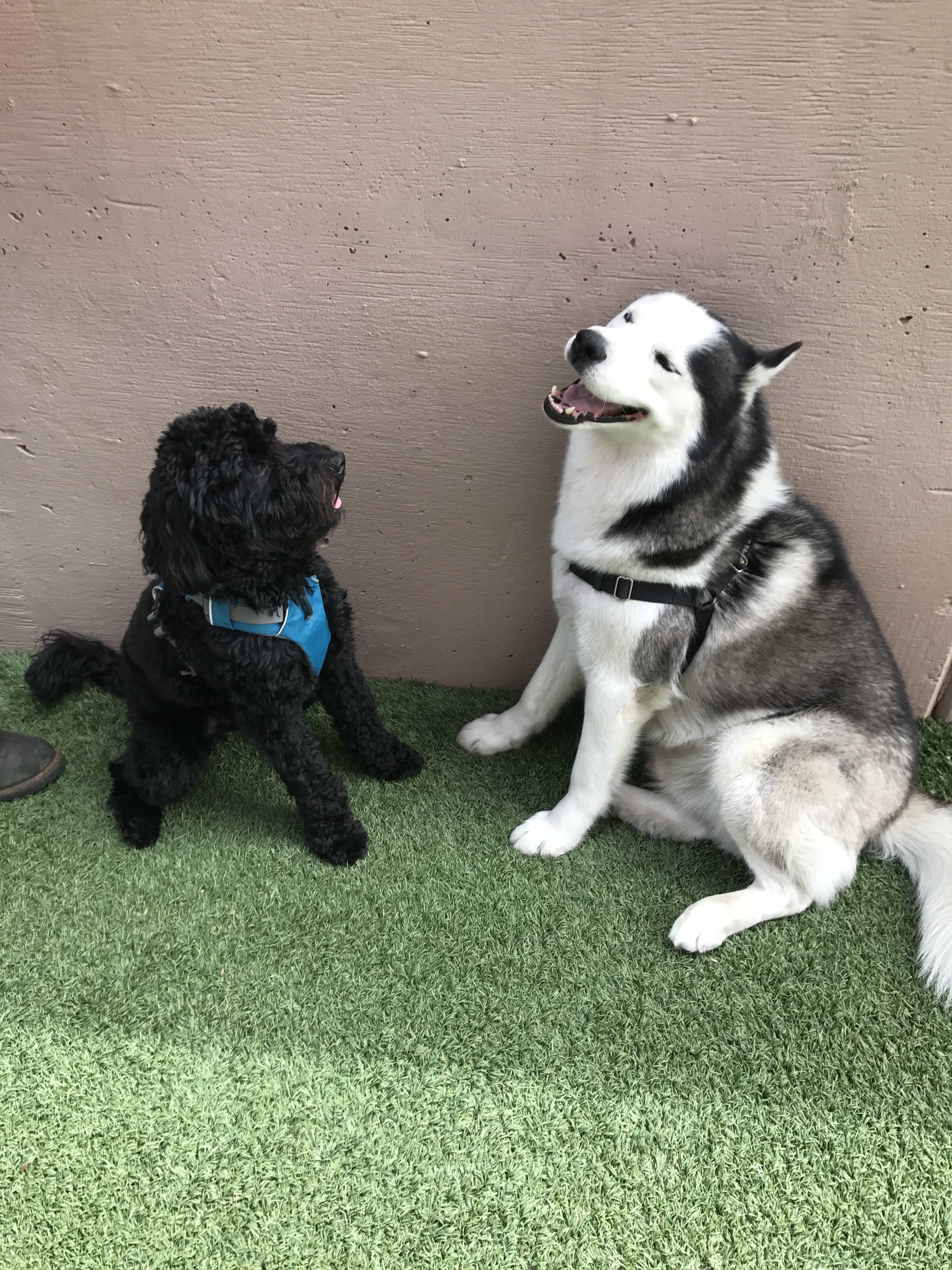 Not only does your tugging back on the dog hurt the dog, but it also doesn't correct the problem – it only intensifies it. Your dog will not stop pulling, they will only yank harder, which causes the collar to draw back against their throat. This usually results in the dog coughing, gagging, or even choking. Even still, the little ball of energy will continue to pull.
But, why?
Why do dogs pull while on their leashes?
Dog's will pull on their leash for a variety of reasons, but the most common problem is that they're excited or overly aroused. They have a chance to get out of the house, explore, see and smell new things! Even if you go the same route every day, it's still exciting for them. They want to see everything and all the stimuli are just too much for them. Often they don't know where to go first, and they can't get there fast enough. So, this results in them tugging wildly on the leash.
For some people, this is just too much for them to handle. Maybe it's because they are elderly and the dog easily walks the human rather than it being the other way around. Maybe the owner doesn't have the patience to train the dog so that they behave while on the walk. Maybe the dog has too much energy and is too excitable.
Then again, the pet owner may not even want to walk the dog because no matter what they try, nothing seems to work.
We've all been there before. Trying to tame the wild beast that is your pup can be downright frustrating if you're a first-time dog owner, or if your dog is particularly high energy.
The most important thing that you need to remember is that despite how challenging or frustrating it may be to walk your dog, you have to do it. It's as simple as that. Your dog needs to exercise, and they need to burn off some of that energy. And guess what? When you train them properly and have the proper tools, walking them regularly is the best way to get them to behave, both on and off the leash!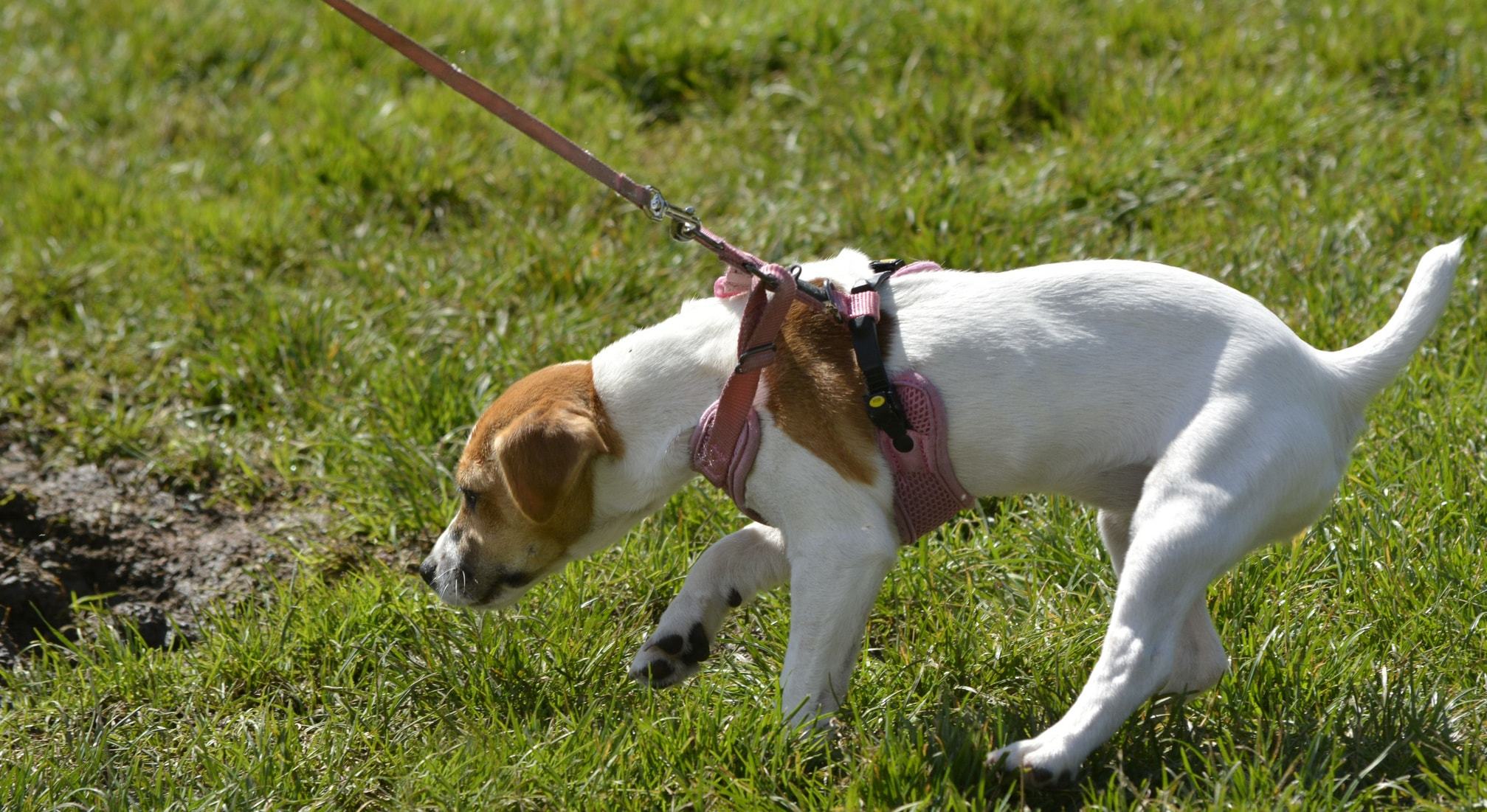 How do I get my dog to stop pulling?
Many people will ask, "How do I get my dog to stop pulling?" To that, we say there's a direct answer. Play with your dog first before taking them for a walk.
This playtime lets them burn some of that energy, so they aren't going to be brimming with it when it comes time to go out. There are other ways you can get your dog to stop pulling if your dog never seems to run out of energy.
Leading
One factor that plays into how your dog behaves on the leash depends largely on how you hold the leash. If there is a lot of slack in the leash, your pup is going to think they have free reign. However, we've found that the most effective way to walk the dog is by holding the least in one hand. Let the leash cross over your body so that the dog is walking on the other side, with your other hand holding the leash.
We've also found that it's better to have your dog walking slightly behind you. This reinforces the notion that they're not the leader of the "pack," and that they need to obey you.
Positive reinforcement
We also like to use positive reinforcement. Zak George has a great YouTube video that explains why (and how) positive reinforcement works!
To sum up, the video, want to use positive reinforcement to keep their attention while outdoors and you can do that with training treats.
For this to truly work, you'll want to practice indoors until they master your commands.
Using a harness or head collar
Another way to try to get your dog to stop yanking while on the leash is by using a harness or a head collar. These devices will help you guide your dog without causing direct harm to their neck.
However, avoid using pronged collars!
You may see some people using a pronged collar or a choke chain on larger dogs to keep them from pulling. We can't stress this enough, but you don't want to use these devices.
A choke chain is designed to tighten around your dog's neck rather than just applying pressure. Also, the sound and the pressure is supposed to be enough to "startle" your dog into stop pulling. In most cases though, people don't always release the chains fast enough, causing the dog more pain than necessary.
A pronged collar is quite dangerous because the prongs could puncture the skin of your dog if the collar isn't used correctly. Sure, the pressure is going to be distributed around the dog's neck, but the positioning of the prongs could line up directly on the thyroid or the larynx. As you can imagine, these devices will hurt them even more than a little pulling, especially if you don't use the collars correctly (scary thought: using a choke chain or a pronged collar correctly, right?).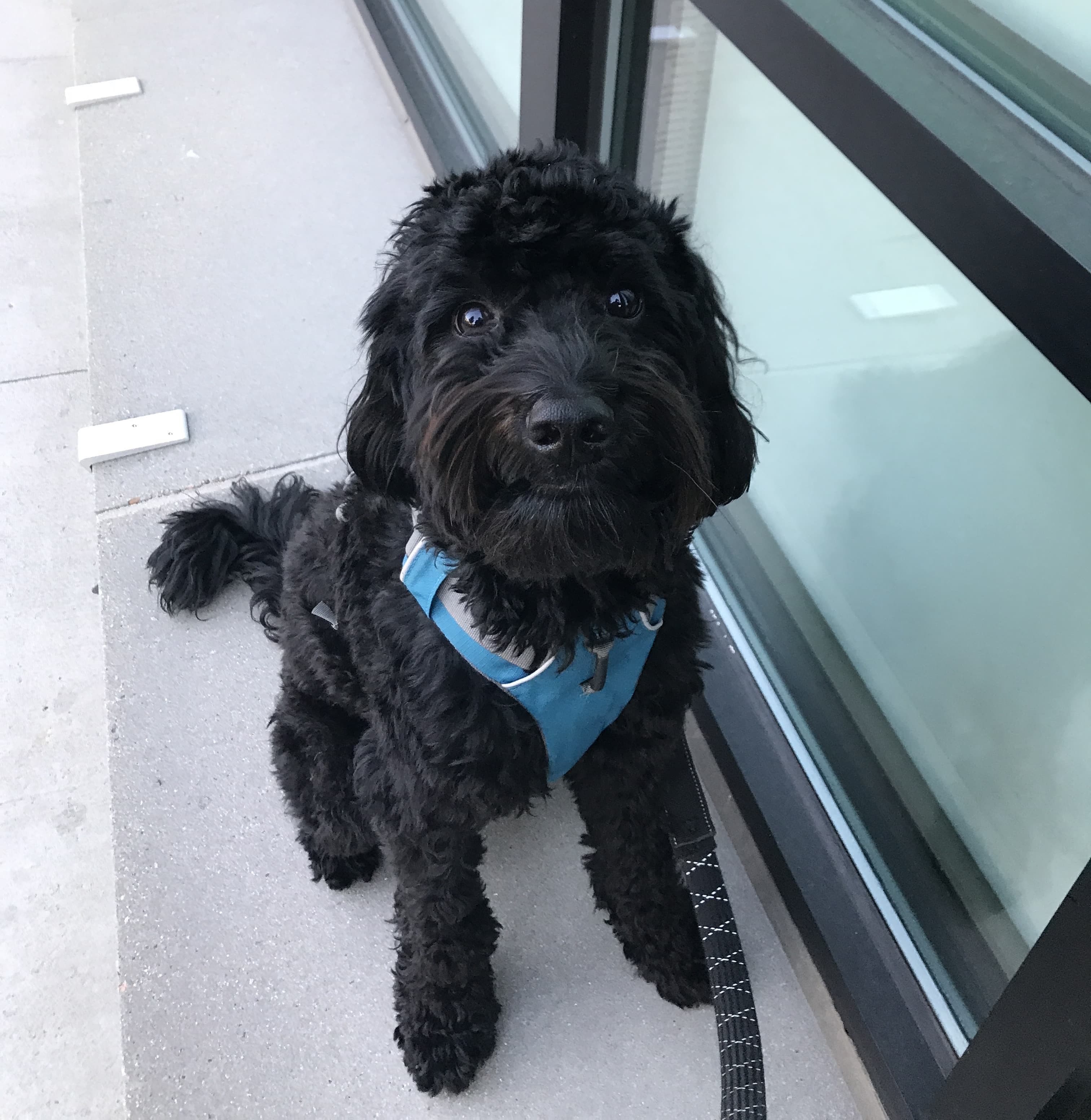 How to find the right harness for your dog?
To choose the best equipment, you'll want to choose one that is made from a sturdy material such as nylon, polyester, or another type of heavy-duty fabric. The harness is going to need to be easy to clean because it's going to get dirty eventually.
You'll also want to find one that is going to be easy to adjust. Having the ability to adjust the harness is going to let your dog be comfortable and the material won't dig into their body, but also tight enough so that they aren't going to slip out, either.
Another feature to look for is a sturdy D-ring made from stainless steel. This is where your leash is going to be attached, and if you've got a strong dog that likes pulling, the stainless steel is going to be your best bet that your dog won't be able to break free and run away.
With these things in mind, let's take a look at our top choices of dog harnesses for pulling pooches:
| Name | Adjustable | Handle | Leash Included | Price | Amazon Link |
| --- | --- | --- | --- | --- | --- |
| Ruffwear All Day Adventure | Yes | No | No | $$ | Learn More |
| EzyDog Convert Trail-Ready | Yes | Yes | No | $$$ | Learn More |
| Wiggles Wags & Whiskers Freedom | Yes | No | No | $$ | Learn More |
| 2 Hounds Design Freedom Kit | Yes | No | Yes | $$ | Learn More |
| PetBABA with Martingale Handle | Yes | Yes | No | $ | Learn More |
Top Choice: Ruffwear Front Range All Day Adventure Harness
The Ruffwear Front Range All Day Adventure Harness is an everyday harness that is going to be comfortable for your dog to wear, but also easy for you to put on.
There are two attachment points for the leash, giving you the ability use the equipment for general walks (the V-ring centered on the back of the harness). You may also to use it as a training tool or for more control via the reinforced webbing on the front of the strap.
We find this to be the best because it features:
4 points of adjustability for a customizable fit
Padded chest and belly panels for optimal pressure dispersion and comfort
Two leash attachment points
Reflective trim for low-light visibility
ID pockets for storing dog tags
Multiple sizes and colors to choose from
You can read more user reviews and buy the Ruffwear All Day Adventure Harness on Amazon
Runner Up: EzyDog Convert Trail-Ready Harness
The EzyDog Convert Trail-Ready Harness is designed to be used for any activity – be it training, a walk, or travel. For those who live an active lifestyle and want to bring their dog's with them, this is a great option.
The harness is made from a durable polyester outer material with a soft cotton inner lining. The harness is fully adjustable, ensuring that you'll be able to get the perfect fit. There's also a soft touch traffic handle that will give you the additional peace of mind and security when situations warrant.
We like this harness because it features:
Durable polyester outer layer with a vented rear section for breathability
Secure side release buckles to make putting the harness on and off a breeze
Reflective piping on the front and back of the harness for nighttime walks
Softly contoured webbing that ensures your dog is comfortable and cool
A handle to get immediate control of your dog when you need extra security
You can read more user reviews and purchase the EzyDog Trail-Ready Harness on Amazon.
Wiggles Wags & Whiskers Freedom
The Wiggles Wags & Whiskers Freedom No Pull Harness Training Package by 2 Hounds Design is said to be the "Ferrari of dog walking harnesses," as it features a martingale loop on the back of the harness. The loop tightens gently around your dog's chest so that it discourages pulling.
There's also a front loop that you can use for maximum control. The harness comes in a variety of sizes, ranging from small to xx-large. The harness is made from double-ended nylon, and it comes with a lifetime chewing warranty.
We feel this is a good harness option because it features:
Can be used for daily walks or training purposes
Uses Swiss velvet lining that goes behind the legs for ultimate comfort
Double ended leash is included and can be attached to the front or the back
Patented action loop sits between the dog's shoulders to prevent twisting, straining, and pulling
Lifetime Chewing Warranty – you can replace it twice with this warranty
You can purchase the Wiggle Wags & Wiskers Freedom on Amazon.
2 Hounds Design Freedom Kit
The 2 Hounds Design Freedom Harness and Leash Training Kit is a no-frills harness kit that is designed to be functional, not a fashion statement. The harness is made from industrial strength nylon webbing and uses Swiss velvet lining on the strap that goes behind your dog's legs. The velvet prevents chafing and rubbing, keeping your pup comfortable during the walk. It also features solid stainless steel hardware, and it comes with a durable leash.
We like this harness kit because it features:
4 points of adjustment
Utilizes a patented no pull design
Uses stainless steel hardware and industrial strength nylon – making the harness very durable!
Includes a leash
Velvet lining to prevent chafing and rubbing
You can read more user reviews of the 2 Hounds Design Freedom Kit on Amazon.
PetBABA with Martingale Handle
The PetBABA No Pull Harness with Martingale Handle is available in three sizes: 20" – 25" chest, 21" – 31" chest, 25" – 35" chest. The straps of the harness are adjustable so that you can get the best fit for your pup, although it's recommended that you measure your dog's chest before purchasing.
The harness uses two metal rings, which allows you to attach a leash, use for ID tag placement, or even use as a seatbelt when traveling in the car. The front clip is great for reducing pulling, while the top handle allows you to get quick control when the need arises.
We like this harness because it features:
Martingale design that allows you to control your dog in a pinch, but does not choke the dog
The harness features built-in reflectors that allow for great visibility at night
Step in harness is made from durable nylon, sturdy hardware, and strong plastic buckles
Two metal rings ideal for leash attachment and other uses
Learn more about the PetBABA Harness on Amazon.
Conclusion
Taking your dog for a walk is a great way to burn off some pent-up energy. However, if your dog pulls a lot while on the leash, your pleasant walks won't be as enjoyable as you'd like. With proper training and the right dog harness for pulling, we're certain your walks will be a little more enjoyable – both for you and Fido!
Till next time!
-Evette C.
Now read this: