Your guide to choosing the best dog crate furniture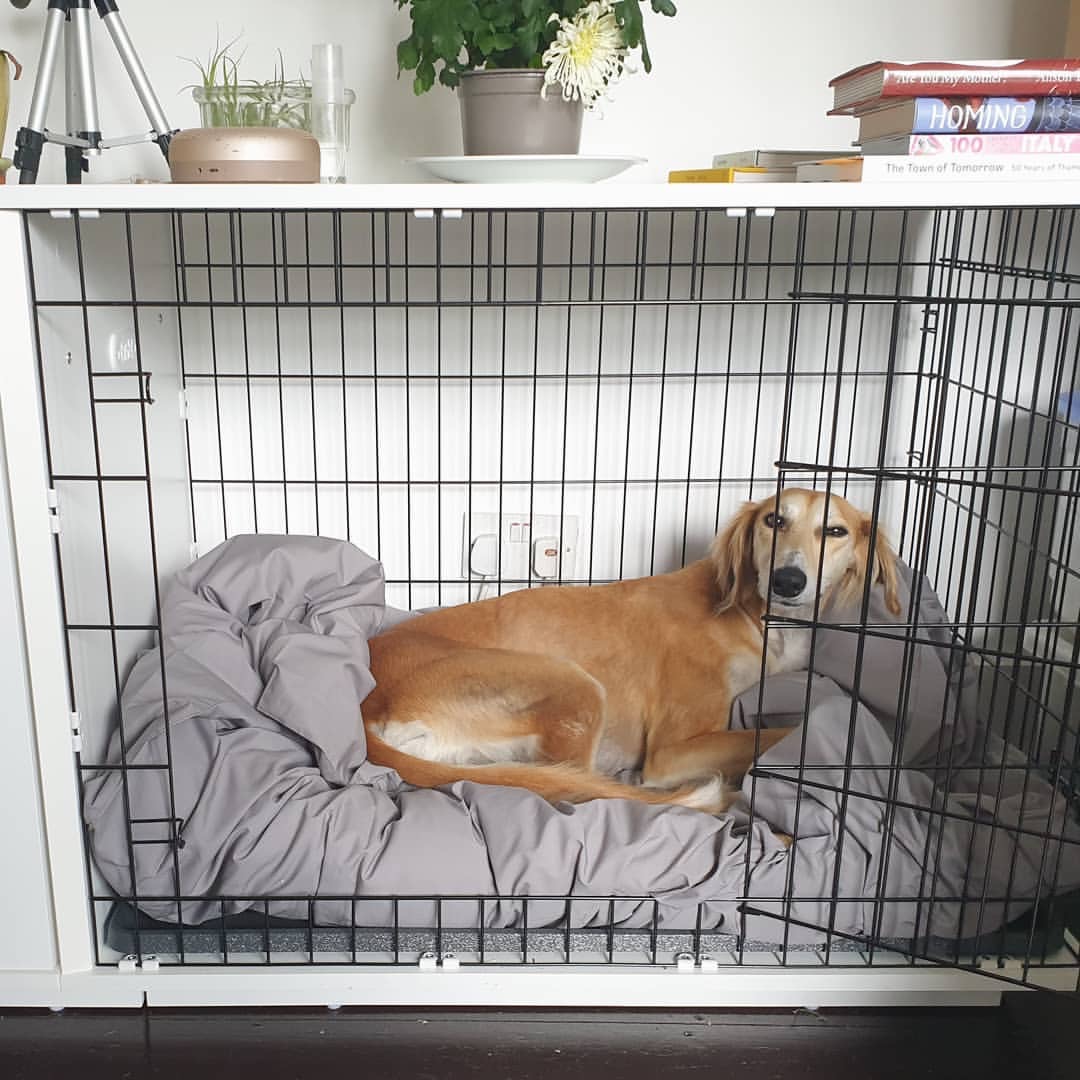 The right dog crate is instrumental in owning a dog. It gives dogs a place they can call their own and feel safe in, while also affording peace of mind to their owner.
The endless utility and convenience of a good dog kennel can go a long way. Furniture dog crates, however, go even further. With dog crate furniture, you can eliminate that unseemly stainless-steel dog crate and embrace a new side table, end table, or nightstand. Whether it looks best in the living room or the office, these new age dog crates will significantly complement your home decor.
If you're looking for our top overall pick for the best furniture dog crate to keep your home looking great and your pup happy, then it's the Casual Home wooden pet crate at Amazon. For the full review of our top 4 picks read on!
What is dog crate furniture?
A pet bed, dog crate, and end table in one
A durable wooden dog kennel, or another high-quality material that doubles as stunning home decor
A wooden dog crate available in many useful shapes and sizes
The ultimate new age pet upgrade from the age-old stainless-steel dog crate
Premium products come built with EcoFlex materials for ultimate safety and beauty
What do furniture dog crates do?
Regular dog crates take up much room. Whether it's for an extra-large dog or petite pooch, they make a ton of dead space. You can't put anything on top of them! If you live in a smaller-sized home or an apartment, that's costly real estate to waste.
Dog crate furniture can offer all the advantages of old-style crates with none of the impediments. Your furry friend will love the cozy comfort and luxury these end table crates provide, and you will relish at the utility of a new coffee table or nightstand in its place. It's safe to say that dog crate furniture is the seldom known cure to the ailment of spacial restriction. The many benefits these furniture-style pet cages offer is astounding. Dog owners and pet owners at large will appreciate their versatility:
Furniture dog crates are available in many flexible sizes. This invaluable convenience allows for the perfect-sized home for your furry friend.
Their superior manufacturing materials and construction are versatile and reliable. They're furniture. Sarge will struggle ripping it apart.
They look incredible. A dog crate end table is inherently different from the dog crates of old. With the many options available today, the most stylish home decor dog crates will fit flawlessly inside the home next to any piece of furniture.
These luxurious dog homes even come with a plethora of potential accessories. Try a comfortable dog bed for your furry friend to lounge on, an outer liner for protection and decorative expression, or a clip-on water bottle for heightened dog health.
Why old-school wire dog crates just don't cut it
Wire dog crates are one of the first and most common purchases a new dog owner commits to making. Similar in construction to a dog house, they use wooden materials instead of ugly black wires or stainless steel spindles to guarantee hominess and happiness. Wire crates are handy for training a pup whether they're just beginning to be potty trained or getting ready to be left at home for a bit but aren't the best option moving forward. Crates, in general, tend to be a contentious subject among owners, and the debate has many great arguments from both wire dog crate proponents and critics. 
Like with all decisions regarding your new furry friend, research is invaluable in coming to personal conclusions about the suitability of various methods of training, housing, and toys or gear. Furniture dog crates, though not a good option for a first dog crate, relieve the dog owner of two significant problems that can arise from their use. Initially, it is a good idea to crate train your pup in a wire crate, but upgrading to a furniture dog crate will relieve you of two very troublesome common issues.
1. Whining and barking
Surely by now, you have noticed the tendency of wire dog crates to cause your pup to be rambunctious, anxious, or sometimes even annoying. Often wire dog crates can make your doggo feel uncomfortable, lonely, or left out. It's imperative to place the puppy's crate in an area with much human traffic, so the dog isn't sheltered and kept separate from its human counterparts.
A furniture dog crate surely resolves this problem, and their beautiful design and construction will most definitely result in it being placed in your favorite rooms. Dogs inherently prefer being part of the pack, and a furniture dog crate will not only contribute to their feeling of inclusion but will save space and spruce up your home too.
2. Hazardous construction
A quick search on google will, unfortunately, lead you to numerous horror stories of dog injuries or in some cases even killed by wire dog crates. The metal wires used in their construction have many sharp points, edges, and crevices that your pup can get hung up or scratched on. It is vital to your pup's longevity to NEVER place them inside a wire dog crate with their collars on.
A furniture dog crate mitigates the risk of this type of catastrophe because not only will you be more likely to be around them inside their crates, the use of wood construction removes any risk of a collar or paw getting stuck. Furthermore, the less spacious gaps between its rungs reduce the chances of your furry friend chewing on nearby objects or trying to pull them inside with them — the risk reduction of upgrading to a furniture dog crate if priceless.
Potential downfalls of furniture style dog crates
Improper crate training. It is laborious, but if your tail-wagging canine friend is not crate trained, they will not use it. These crates were not designed for training in any way. Please do not use them for this purpose.
Assembly required. Naturally, an end table crate will need some assembly. Proper assembly is vital on these pet crates. Not only might you spill your coffee when the end table wobbles, but it can collapse, severely injuring your beloved dog.
They are choking hazard. Like steel dog crates, be cautious with collars and leashes. Not only can they be precarious around the wood dog crate, but they can also be fatal. Take care not to strangle your dog.
Top 4 furniture dog crates
Now that wooden crates 101 is over, you have all the knowledge you need for a great buy. The following 4 furniture dog crates were found by and selected just for our readers and you surely will like what you see. Their prices, materials, and designs vary like all consumer products, so make sure to visit their Amazon links and read about each one prior to coming to a conclusion. This will ensure you are not only happy with your purchase, but your dog loves its new den as well. Check them out!
1. Casual Home Wooden Pet Crate
This wooden and slatted dog crate is the perfect refuge for the dog in your life. It comes in five sizes and four colors, including the famed espresso finish that is guaranteed to make your home divine as a table top or by the front door. Casual Home has been in the business for over forty years. Their products are sustainably sourced, made of authentic, solid wood, and come with many functional features.
Pros:
A lockable door latch for security and peace of mind.
High airflow throughout the wooden dog crate's encompassing slats.
Solid wood construction makes it remarkable chew resistant.
Lightweight and easy to assemble for ultimate convenience.
Sizes available for small dogs under ten pounds to extra-large dogs up to ninety pounds.
Relatively inexpensive.
Cons:
Easy to scratch the wood finish.
No crate cover included.
Read more reviews for the Casual Home Crate at Amazon.
2. Merry Pet 2-in-1 Crate
The utility of a product makes every purchase a better one. This dog crate is an excellent example of precisely that. This configurable dog crate is a transformer. It doubles as a gate, saving the fervent pet owner even more precious space. With this dog kennel, the dog's sanctuary doubles as a safe play space. Merry products are well known for their robust designs, pet EcoFlex materials, and decorative pet supplies.
Pros:
Includes solid wood veneer allowing surface use to be optimized.
Doubles as a gate for closing off rooms and doorways.
Includes a removable tray beneath it to protect your beautiful floor and make cleaning effortless with just a damp cloth.
Cons:
The size and color options are limited.
Some customers complain about the material quality.
No crate cover included.
You can read more reviews and purchase the Merry Pet Configurable Crate at Amazon.
3. Crown Pet Products Wood Pet Crate End Table
Crown Pet Products is a family-owned company known for using only the choicest materials for all their pet and decorative dog products. The stunning stained and lacquered finish brings the same quality you want to get with all your furniture pieces. A notable and unique feature of this luxurious dog crate is its medium-density fiberboard (MDF) floor. This Pawesome flooring is Melamine-covered and waterproof so it's effortless to clean and those foul odors will finally dissipate for good.
Pros:
Durable and beautiful rubberwood construction comparable to teak.
The swing door rotates inside the cage.
Allows your furry friend to see all their surroundings.
Unrivaled floor construction, including a removable tray.
Incorporates a stainless steel gate latch
Dense Para rubber tree wood resists scratching and chewing.
Cons:
Only available in two sizes and two finishes.
Relatively expensive.
No crate cover included.
See more photos and purchase the Crown Pet Crate End Table at Amazon.
4. New Age Pet ecoFlex Crate
Here is a high-quality, environmentally friendly, dog crate table that looks glorious regardless of placement. It's available in four sizes and the extra large fits large size dog breeds up to 63 lbs. This elegant furniture dog crate is unique because it's made of ecoFlex, a non-toxic, durable composite material made from recycled polymers and reclaimed poplar wood chips. 
It comes with stainless steel spindles in the door and side panels making it easy to clean and built to last in all environments. Assembly is hassle free and super easy with no tools required. It also comes in four colors, espresso, antique white, grey, and russet. 
Pros:
EcoFlex material makes it easy to clean and very durable 
Extra large size available for dogs up to 63 lbs
Stainless steel spindles
Large and X-large crates have two latches for extra security
1 year manufacturer warranty
Cons:
Slightly higher price point than other crates featured
Not designed for dogs who aren't crate trained
See photos and purchase the New Age Pet Crate at Amazon.
Conclusion
Luxury dog crates are for owners that do not want to have to choose between a comfortable space for their dog and the aesthetics of their own home. These dog crates have evolved the whole concept to a point where they are useful furniture items, keeping the house safe, the dog even safer, and the owner happy.
- Amber LaRock
My name is Amber LaRock. I am a Licensed Vet Tech that took my career online to spread knowledge on animal welfare, as far and often as I can! I grew up with a deep passion for helping animals, and knew that it was my life's purpose. After gaining my degree in veterinary technology along with my license, I began work in an emergency animal hospital. With the experience I gained from my time in the hospital, I have been able to travel the world, offering my services to as many animal rescues as I can find. If I am not at my laptop, or back home visiting family, you can find me somewhere in the world, cuddling every furry friend that I can find! Read more about me on my blog.
Now read this: