The ultimate guide to Goldendoodle brushes
The best thing about goldendoodles is that they are fluffy and lovely balls of hair that will stay by your side until their last breath. They're wonderful and peaceful companions, playful and perfect for both single people and families with children.
Like all dogs, goldendoodles will require special care and grooming, but their hair can be quite tricky to clean. Read on to discover how to make sure that your goldendoodle isn't just loved, but also healthy, hair-wise. Plus, our top 5 picks of the best brushes to make grooming your Goldendoodle easier.
Caring for your oldendoodle
Due to their mixed coats, goldendoodles have waxy and thick coats, and can be a bit tricky to care for. The hair of a goldendoodle should be brushed at least three times a week, helping pet owners get rid of tangled hair (mats).
Breeders have divided goldendoodles hair into three main types: curly, fleece, and wavy. Naturally, each type of coat has its own features, so it's important to identify them so that you'll know how to properly take care of your goldendoodle's coat:
Fleece coats have loose curls, which feel very soft to the touch. They resemble human hair in texture, rather than wool. There is a huge difference into the difficulty of grooming a pup and an adult goldendoodle with this type of hair. As the dog grows older, their hair is more tedious to groom it because it's thicker.
Wavy hairs also have a hair-like texture, but they can shed quite a lot. This isn't a precise rule and the amount of shedding will vary from one dog to another. It depends on how much poodle vs retriever DNA they have. Wavy coats are more low-maintenance compared to the other types.
Wool coats (or curly coats), are very poodle hair-like, and they have very tight curls. As a curly coat gets longer, it will take you about half an hour each day to groom your dog. The major benefit is that goldendoodles don't usually shed, so brushing them won't stir up much hair/hair around your house.
Types of dog brushes
Naturally, it's important to pair your dog's hair type with a specific kind of brush, if you want to get the best grooming results. Groomers will always know what tools to use depending on the dog breed, but if you decide to groom the dog at home, by yourself, here are the main types of brushes, as well as a bit of know-how on their use.
Slicker brush
Slicker brushes are easy to recognize due to their wire density and lengths. They feature short wires which are placed really close to one another, on a flat surface. Typically, slicker brushes are used on dogs that have curly hairs, and long to medium hair length.
The best slicker brushes are those that also come with flexible handles, making them easier to maneuver when being used. They are best used with dog breeds such as Goldendoodles or other long haired breeds.
One must pay close attention to how the brush is being used, as the narrow space between the wires can easily get stuck in tangled hair, causing your dog too much pain if you pull them with great force.
There are also self-cleaning slicker brushes available for purchase. This particular type of product features an easy method for removing hair from the brush. Typically, there is a button on the back of the brush that slides the wires through a panel, causing hair to easily come off the wires.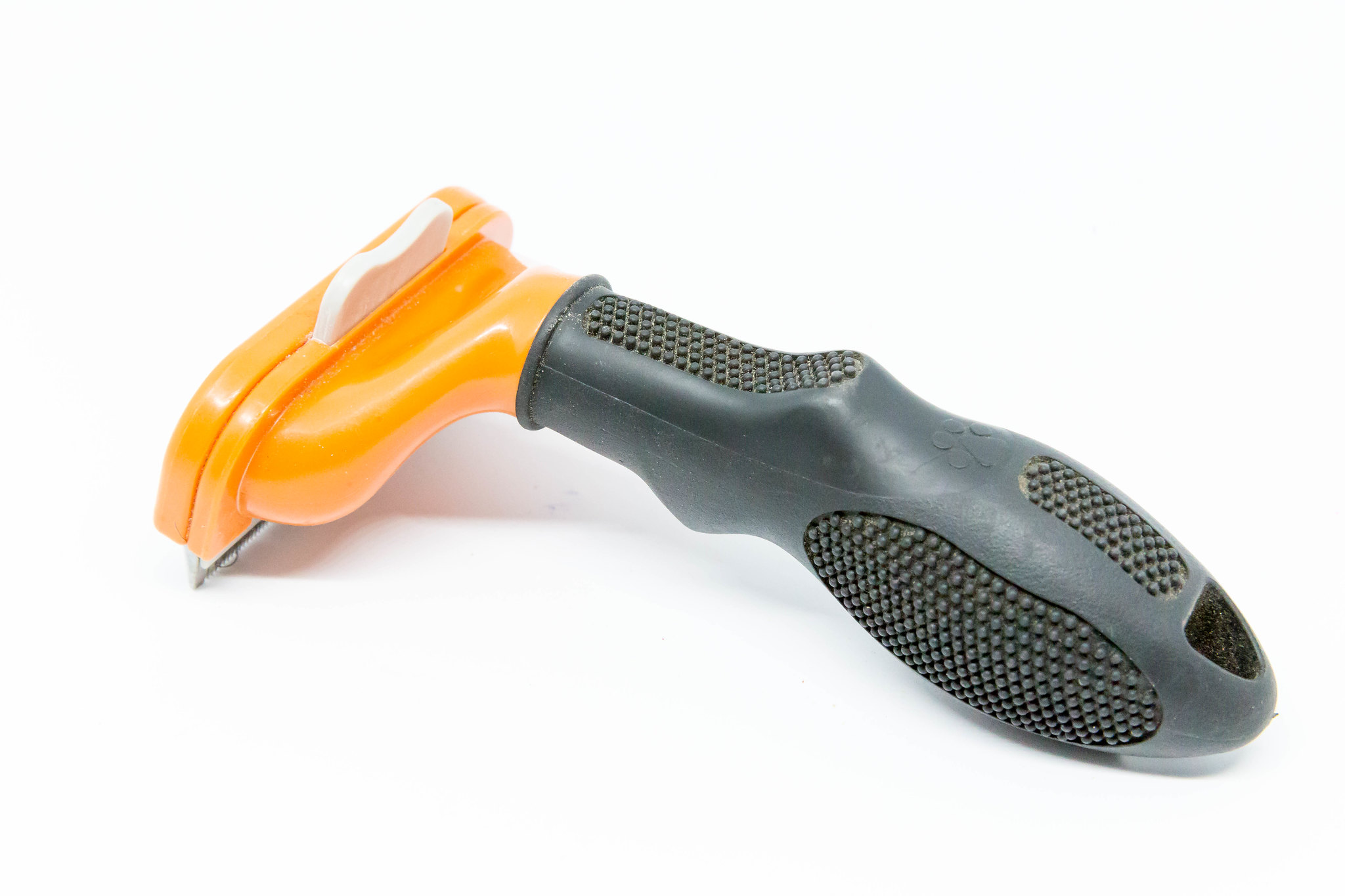 Rakes
The design of a dog rake is quite similar to a small-sized rake that's used in the garden. It can be quite efficient in removing tangles, but is often preferred because it can reach dead coat that's close to the dog's skin.
Depending on the model you opt for, a coat rake can have a single or a double row of pins, which have narrow spacing in between them. They are best suited for dog that have thick and long hair, such as Goldendoodles. You should avoid applying too much pressure when combing the dog with this type of brush.
Prior to buying this type of product, you should make sure that the pins match the length of your dog's hair. If the pins are too short, they won't be able to reach the undercoat. Pins that are too long can irritate the dog's skin.
Bristle Brush
Ideal for dogs such as Jack Russell Terriers, Italian Greyhounds, or Pugs, a bristle brush goes well with short hair dogs that have a smooth coat and shed often. The natural bristles are tightly packed and, when used, can stimulate the dog's skin, as well as get rid of any loose hairs.
A bristle brush isn't a common choice for Goldendoodles, but it's worth mentioning here so you know to opt for a different model of brush for their hair.
Metal Comb
Metal combs can be really useful as pat of adog's grooming routine. They are designed to be very sturdy and won't easily break even if pressure is applied when you try to detangle your dog's hair.
This comb is typically used prior to giving the dog a bath, as it can remove mats, as well as dirt of loose hair. Despite being made out of metal, such a comb is really lightweight and easy to maneuver. It can have two different ends, with pins that are closer together on one end, and hairther apart at the other.
Detangle Products
Additionally, there are some detangling and dematting products that can make the grooming process easier. You can use a detangling shampoo that's specifically designed for dog breeds such as the goldendoodle. Alternatively, you can opt for detangling sprays, which are applied on the dog's coat prior to brushing/grooming, making it easier to work with mats and tangled hair.
One of the best ways to prevent mats is brush your dog's coat regularly. A dematting comb and a slicker brush are essential items for every goldendoodle grooming arsenal, so make sure that you have at least these two, aside from all other products that are useful for your dog.
Top 5 Brushes for Goldendoodles
Now that you know how to care for your fluff-ball's hair, here are some of the best brushes that will help you get rid of nasty tangles, mats, dirt, or whatever unwanted thing lie in your doggo's coat.
| Brand | Type of Brush | Dimensions | Weight | Shop at Amazon |
| --- | --- | --- | --- | --- |
| 1. FURminator | Rake | 6.2 x 5 x 1.9 in. | 5.3 oz. | Shop Now |
| 2. Chris Christensen | Slicker | 6.5 x 0.1 x 3.8 in. | 1.6 oz. | Shop Now |
| 3. Hertzko | Slicker | 5.8 x 3 x 10 in. | 3.2 oz. | Shop Now |
| 4. Andis | Metal | 0.5 x 2.6 x 10.5 in. | 3.2 oz | Shop Now |
| 5. GoPets | Bristle | 9.5 x 3 x 2.5 in. | 8 oz. | Shop Now |
1. FURminator
Best for undercoat deshedding
FURminator is a brand with experience when it comes to dog grooming and delivering high-quality products. This particular undercoat deshedder is ideal for coat shedding season. The pins can rotate to a full 360 degrees, making it easy to brush Goldendoodles, but also dogs with difficult body curves that need grooming.
The handle is ergonomic and very to easy to hold and maneuver. It's recommended you examine your dog's hair and skin prior to using the rake style brush, to make sure that there aren't any lesions hidden under the coat. You can use the Furminator rake prior to giving your dog a bath, for easier detangling.
Who Should Purchase This?
The FURminator is designed for pets that have long coats, especially for those who shed their undercoat.
Best For: Goldendoodles, Siberian Husky, German Shepherd
Pros:
Good for untangling hair.
360 degrees rotating pins.
Ergonomic handle.
Rounded pins to minimize skin irritation.
Shaped lines.
Cons:
Unsuitable for small breeds.
See more details on the FURminator brush at Amazon.
2. Chris Christensen
Best slicker brush
A good slicker brush is an essential part of your goldendoodle's grooming kit. This one right here is made by a brand with experience in making dog show products, so that should vouch for its quality.
This brush is made from handcrafted beech wood, indicating a superior quality of the product. The pins are made from high grade steel, adding to the overall durability of the brush.
Who Should Purchase This?
Those of your looking for a high-quality slicker brush will absolutely love the Chris Christensen Mark, a product used by award-winning dog owners.
Best For: Yorkies, Goldendoodles
Pros:
High-grade steel pins.
Quality beech wood construction.
Durable.
Lightweight.
Cons:
Some owners reported irritated dog skin.
Learn more about the Christensen brush at Amazon.
3. Hertzko
Best self-cleaning slicker brush
Everything about the Hertzko slicker brush is amazing. It's an efficient and harmless way to get rid of mats, while also helping owners untangle their dog's hair. With a simple press of a button, the bristles retract into the brush, thus pushing forwards all dog hair for easy removal.
When grooming your dog, the most tedious part is often brush cleaning, and the Hertzko has made it all seems so easy! The ergonomic handle features a thumb rest, to make grooming comfortable for both the owners and the pet.
Who Should Purchase This?
Self-cleaning slicker brushes are the future, folks! They are the perfect grooming brush for owners who want to speed up the grooming process, but also those who gets massively frustrated with not being able to completely remove the hairs from a regular slicker brush.
Best For: German Shepherd, Great Pyrenees, Goldendoodles
Pros:
One button hair removal.
Ergonomic handle.
Thumb rest.
Eliminates mats and tangles.
Convenient price.
Customer favorite.
Cons:
Unsuitable for short haired breeds.
Read reviews about the Hertzko self-cleaning slicker brush at Amazon.
4. Andis
Best metal comb
Metal combs are absolutely awesome if you have a goldendoodle. You can buy this one in a 7.5 or a 10 inch version, depending on how long you need the comb to be. It's a great tool for detangling dog coats, but also for removing mats and loose hair.
Due to its construction, it can also stimulate hair follicles and skin. The comb has two sides, features fine and durable teeth, which can be used for detangling, as well as smoothing the coat, making it fluffy and soft.
Who Should Purchase This?
This isn't just a tool for goldendoodles, but for all dogs with long-haired coats, and dog owners that are looking for quality items to groom their pets.
Best For: Bichons, Shih Tzus, Goldendoodles
Pros:
Stimulates hair follicles and skin.
Good for detangling.
Dual-sided comb.
Fine teeth.
Lightweight.
Cons:
Some customers question the authenticity of the comb.
Learn more about the Andis metal comb at Amazon.
5. GoPets
Best bristle brush
We'll do you one better: how about a double-sided bristle brush? Bristles on one side, pins on the other. This combo brush is suitable for a wide variety of dogs, but could also be useful for pet owners who also have cats.
The rounded pins on one side will avoid irritating the dog's skin. The handle is made from silicone gel, for a firm grip and easier maneuvering. With the bristle side, you can remove mats and dirt from your dog's coat a lot easier.
Who Should Purchase This?
Since you get two products is one, this is the best purchase for dog owners who are looking to get a little bit more out of a regular bristle brush. It also comes in handy if you have two dogs that require different types of brushes for grooming.
Best For: Goldendoodles, Newfoundlands, Golden Retrievers
Pros:
Combo brush.
Silicone handle.
Rounded pin heads.
Great for dogs and cats.
Cons:
Not resistant in the face of a chewy dog.
See more about the GoPets brush at Amazon.
Step-by-step grooming guide
In an ideal scenario, it would be best to brush your goldendoodle every day, and a full groom every few weeks. The hair can grow between four and eight inches when left uncut, and is typically shorter in the face region.
Removing mats is just a single part of the entire grooming process, and bathing and clipping are just as important:
Make sure that the temperature in the room where the dog is being washed is warm.
First, you should wash the dog's face by using a damp washcloth, without any soap.
Lather the hair starting at the top of the head, and work your way down to tail, through gentle massages. This will help the dog see bathing as a pleasant experience and won't be afraid of any future grooming.
Use a fine-tooth comb to detangle the dog's hair. During this process, rinse your dog a few times. It's important to remove any leftover shampoo, as it can irritate the skin.
If you want to use a clean and dry towel to remove dripping water, you may do so, but always make sure that you are not rubbing the towel on the dog's hair, as this will cause tangles.
If your dog responds well to a dryer, you can gently use one to dry the hair.
With your dryer turned on to a low setting, use a slicker brush on the dog's coat.
Those of you that want to fully groom your goldendoodle, make sure that you never shave the hair off completely.
Trimming the coat should only be done by clipping it to about two inches in length.
For trimming, you can either use an electric dog clipper, or a sharp pair of scissors. Needless to say, make sure you don't hurt the dog when clipping.
For the best-looking results, trim your dog's facial hair to a reverse "V", maintaining the classic look of a goldendoodle.
Mats will normally form under the dog's ears and elbow, and they need to be clipped. To do so, use a small pair or scissors which have previously sharpened, for a clean cut.
Mats can be a complicated issue on a dog breed such as the goldendoodle. Withproper grooming and bathing, a pet owner can prevent mats, especially if they cut the dog's hair short on hot summer months. Longer hair will always require dog owners to put in that extra effort to keep the coat nice, shiny, and detangled.
Bottom line
For the best results, it's not just enough to buy the right tools for grooming your goldendoodle; you should also stick to a strict grooming schedule. Caring for your dog's hair is important not just for aesthetic reasons, but it also makes the dog feel clean, comfortable, happy, and healthy.
Now read this: