The best dog ramps for every situation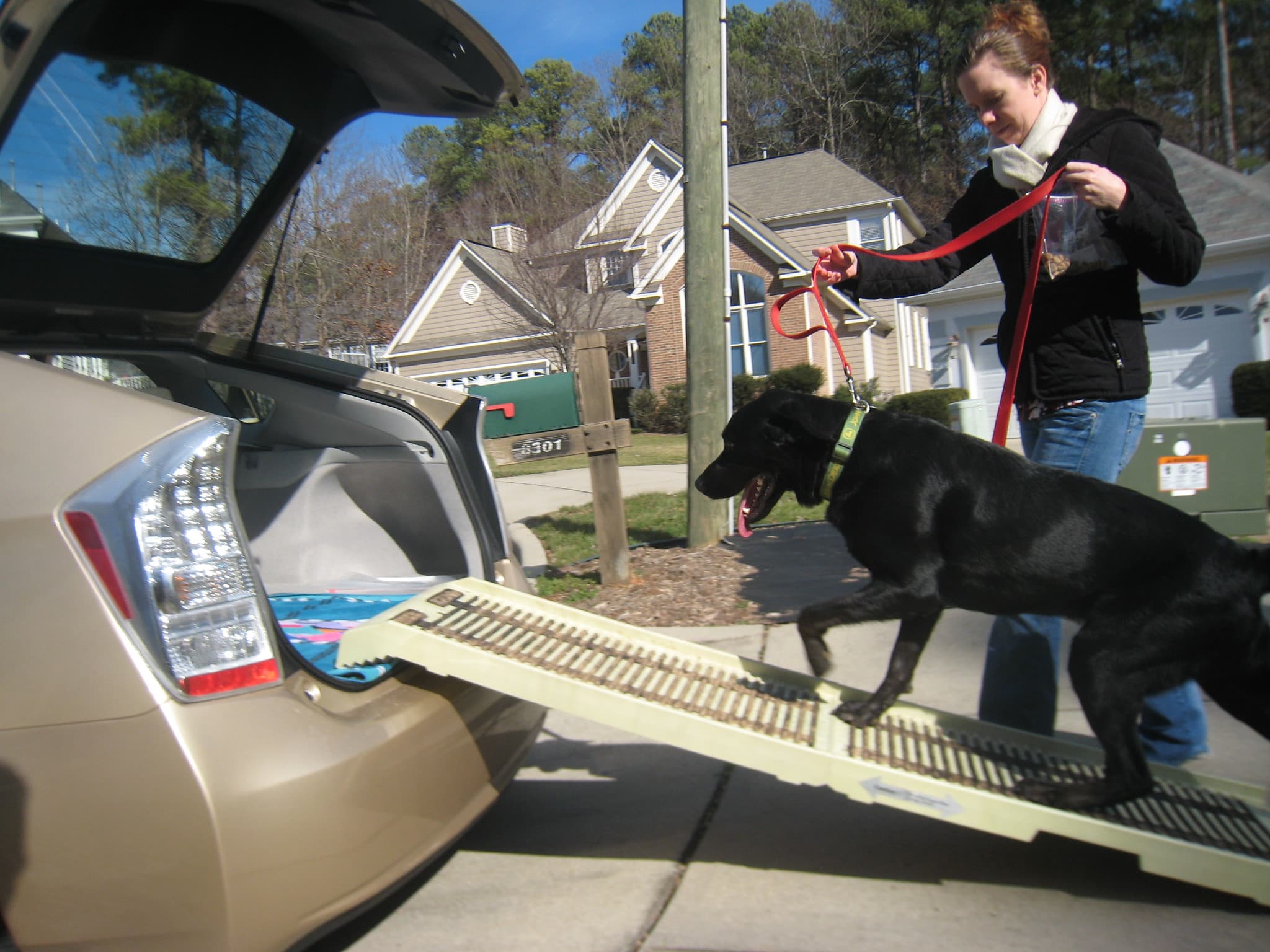 As man's best friend, it's important for us to take care of our dogs and provide them a little extra help when they need it. Sometimes as a dog owner it means giving them a leg up, literally, in the form of a ramp to get into your vehicle or onto your bed because their mobility is declining or you aren't able to physically lift them. So, let's talk about ramps for dogs – the what, the why, and of course, our research on the best dog ramps!
If you're in a rush and looking for the best overall dog ramp for every situation we recommend the WeatherTech Pet Ramp and you can purchase it at Amazon.
Purpose of ramps
There are really three purposes for using a ramp for your dog(s). Obviously, the main concept is as an assistive device to help them go from the floor to a higher spot/location (or vice versa) without jumping, but there are three situations that warrant using a ramp.
The declining mobility of your dog as he/she ages or experiences physical problems, limiting his ability to jump. Dogs with short legs or long bodies may also benefit from the use of a ramp.
Stubborn or hesitant dogs that don't want to get into or out of a vehicle.
When an owner doesn't want to or is unable to lift a large, unwilling, or older dog.
In all three instances, having a ramp will make your life easier and save strain on your back.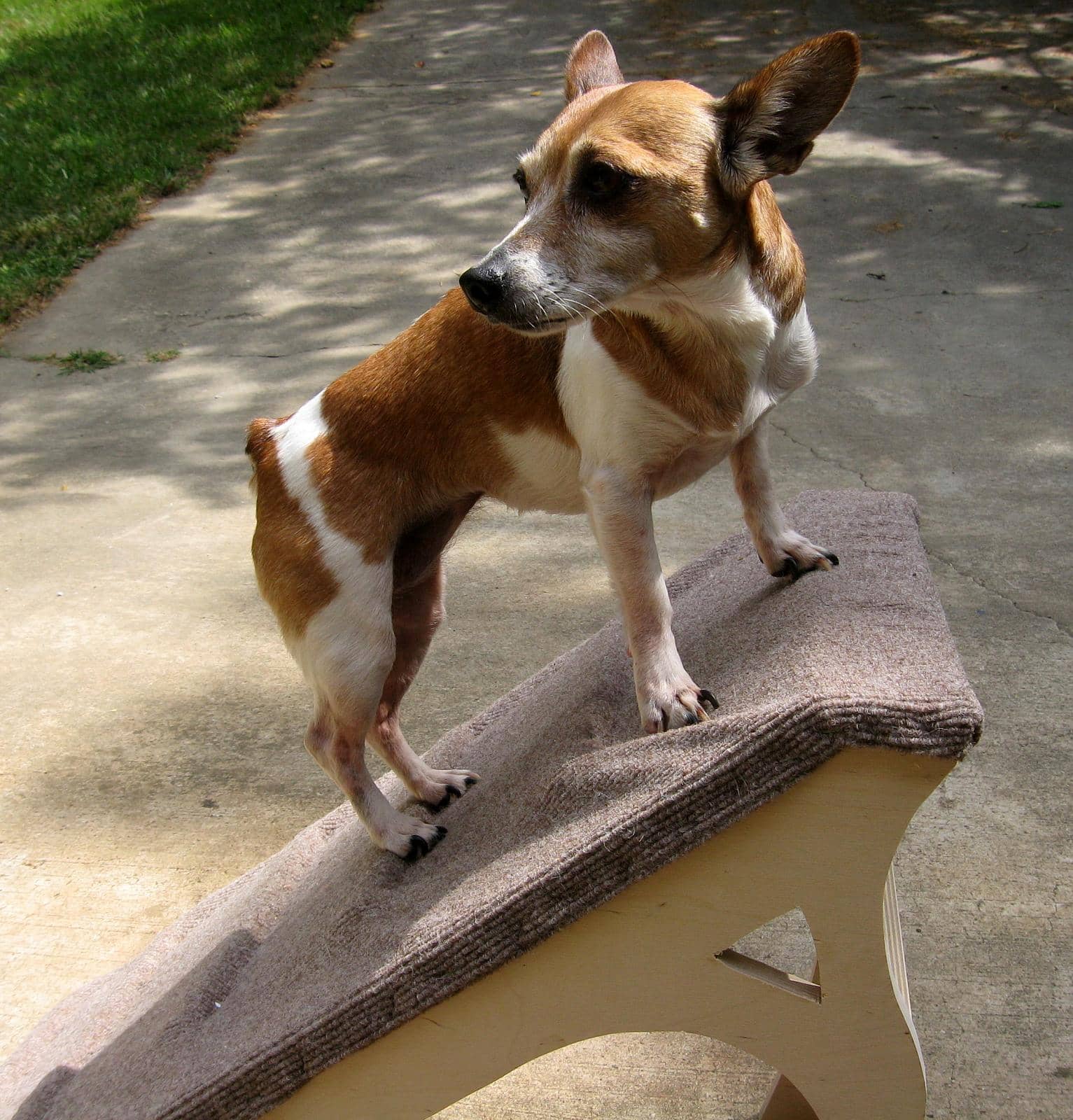 Types of ramps 
Ramps for dogs come in different types based on how they are constructed. It's important to understand the differences and think about which is most appropriate for your life and situation.
Fixed ramps are constructed as a permanent fixture (after assembly, if needed). They don't fold up for easy storage or portability and are meant for long-term use as a free standing ramp, typically within your home or yard for access to furniture. 
Folding ramps offer more versatility and portability than fixed ones. A folding dog ramp typically has hinges in the center that allow the two panels to fold together, allowing the ramp to be put into a vehicle, stored in the garage, etc.  
Telescopic ramps have the same versatility and portability as fixed ramps with numerous panels that slide over one another. These panels can be extended to create a ramp with a custom length and then easily retracted for easy storage when no longer needed. Telescoping ramps are more expensive than folding ones but negate the flipping and folding decreasing the risk of injury to yourself or your vehicle when setting them up for use.
What to look for in a dog ramp
Due to the differences in ramp types, as well as a myriad of dog breeds, there isn't a one size fits all dog ramp that works in all situations. To choose the best dog ramp for you and your pet it's important to take the following factors into consideration before purchasing one.
Size and shape: The size of the ramp you need will depend on factors such as the height of your vehicle (sedan versus SUV), the height of your furniture, and the size of your dog. To keep the incline from being too steep you need a longer, larger ramp. Larger dogs require a wider ramp than small dogs as well. Look for a ramp at least 12-inches wide for small dogs and a minimum of 24-inches wide for medium to large pets.

Strength or weight limit: The strength of your ramp and the amount of weight it can hold is an important consideration as well. Weight capacity and strength will vary depending on the materials used to construct the ramp. You want something that is lightweight enough you can move it, yet sturdy enough to support their weight.

Material: Plastic, metal, and wood are the three main materials used to make ramps. Plastic ramps are easier and lighter for you to move around but they can't sustain as much weight and have a great chance of breaking/cracking as the plastic gets old and brittle. Metal ramps are more sturdy and durable, making them more heavy-duty but weight more than plastic. Wood ramps are incredibly durable too, but are the heaviest and are subject to weather. They are best used for indoor purposes.

Durability: How often will the ramp be used? If it's infrequently you can opt for a ramp that is less expensive to save money. If you will be using it constantly for indoor access to furniture, or you frequently take your pet in the car, financially it makes sense to purchase something more durable, albeit more expensive.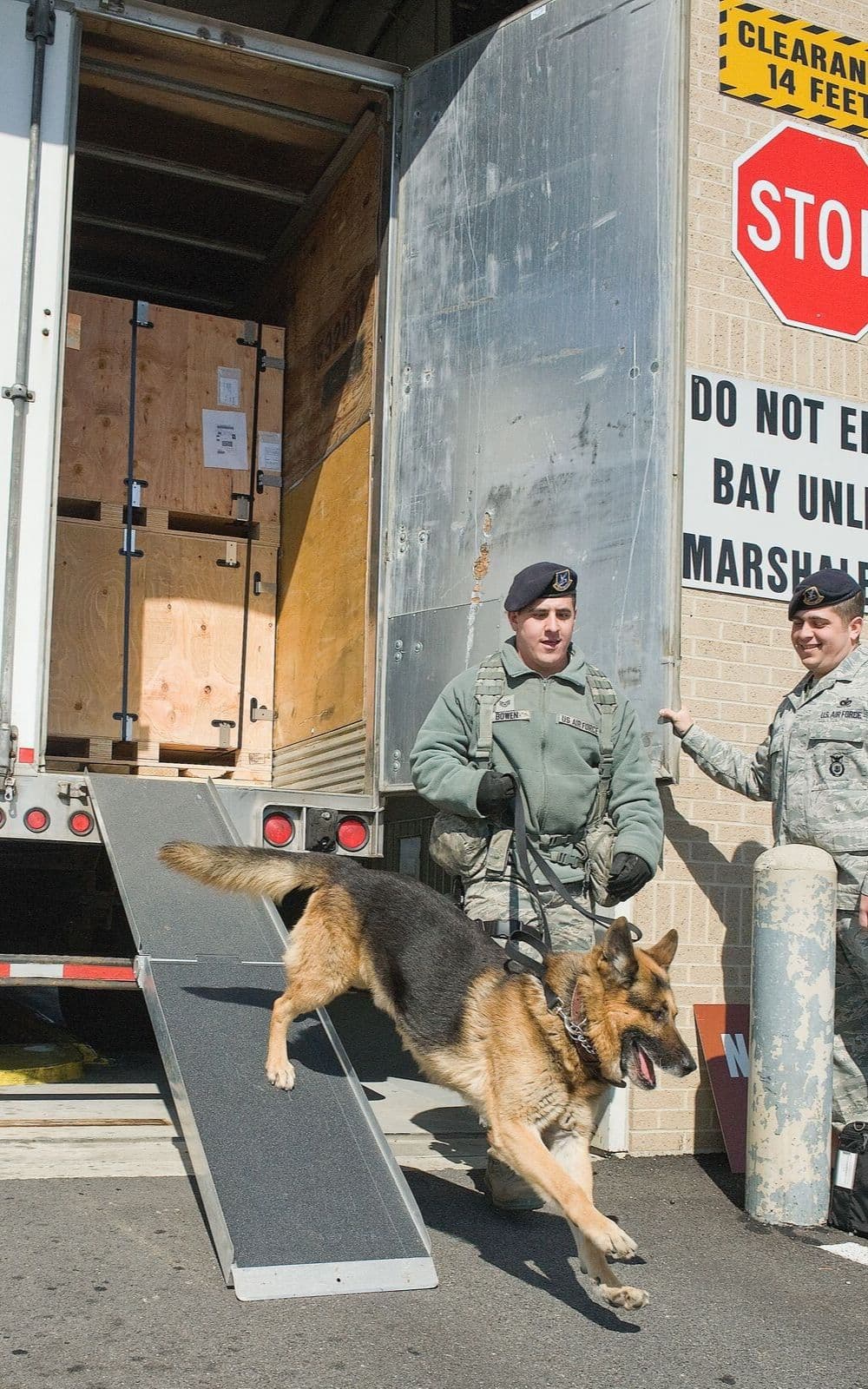 Surface traction: Traction helps give your dog a sense of security as they transverse the ramp. A non-skid, non-slip surface gives a dog's paws something to grip. The walking surface on a ramp may be covered in carpeting, textured non-slip rubber, or poly-grass or can simply have grooves cut into it to create a high-traction surface.

Storage/portability: Ramps to help your pet into a vehicle will be moved often so they should be easy to move (i.e. as lightweight as possible) and also fit into your vehicle. A folding or telescopic ramp is better in the situation. Bed ramps or ramps for access to furniture are ones that you will typically leave in place, so storage or portability isn't as much of a concern. In this case, it may be best to go with a fixed ramp that provides more stability. 

Steps or ramp: Some dogs prefer steps over a ramp; the level platform on each step, or tread, allows them to gain their footing and balance as the dog steps up or down giving them a better sense of security. Ramps are typically better for senior dogs or dogs with mobility issues. Steps work well for dogs with the ability to use normal household stairs but just need help to get into vehicles or onto furniture.

Incline angle: The angle of the incline is an important consideration when purchasing a ramp. The slope of a ramp fits into one of three classifications: easy, normal, and climber.

An easy slope (18-20°) is recommended for older dogs, dogs with small legs or long bodies, or pets with hip/leg problems.

A normal slope (22-24°) is best for dogs beginning to show signs of age or minor mobility issues.

A difficult slope (26°) has the steepest incline and should be used by younger, healthier dogs to minimize jumping as a preventative action. See the following chart for appropriate ramp length and height in relation to the incline angle.
| | Maximum Ramp Height | | |
| --- | --- | --- | --- |
| Ramp Length | Easy Slope (18-20°) | Normal Slope (22-24°) | Difficult Slope (26°) |
| 36" (3 Feet) | 12" | 14" | 16" |
| 72" (6 Feet) | 22" | 27" | 31" |
| 84" (7 Feet) | 26" | 32" | 36" |
| 96" (8 Feet) | 29" | 36" | 42" |
Best car ramps for dogs
A dog car ramp is designed to help your dog get into and out of your vehicle safely, without putting stress or strain on their back, paws, joints, etc. or putting strain on your body. They also reduce the fear dogs experience jumping up into a vehicle where they can't see the landing area (fear of the unknown) or are hesitant of the height of the jump. 
Ramps for vehicle access should be made from lightweight material so they are easily portable, yet be durable enough to handle the weight of your dog. The ability to fold or telescope makes them easy to store when not in use or fit inside your vehicle.
WeatherTech Foldable Pet Ramp
Best for SUV's or large dogs
The WeatherTech Pet Ramp is a foldable ramp with a high-traction walking surface. Compared to other similar products it is significantly lighter but is built using a proprietary resin so it can hold up to 300 pounds! Easy to lift in and out of your vehicle yet strong enough to do its job.
To use, easily unfold the ramp (which measures 67 x 15" unfolded) into position; specially designed rubber feet on both ends to keep it from sliding or slipping on either your vehicle or the ground to provide stability. The walking surface has soft, textured rubber molded directly into the ramp. 
Made from resin and rubber here in the United States, the WeatherTech Pet Ramp won't corrode and is a cinch to clean. 
Who should purchase this?
This is my go-to recommendation for pet owners who drive taller vehicles or have large breeds. It's length and higher weight limit create a gentle incline that can hold heavy dogs.
Pros:
Weighs only 16 pounds, with a weight limit of 300 pounds.
Constructed in the USA from proprietary resin.
Rubber feet on both ends to keep it from slipping.
Cons:
No locking mechanism to hold two halves together when folded.
Only 18" wide.
You can purchase the WeatherTech Pet Ramp at Amazon.
Good Life Non-Skid Pet Ramp
Best for smaller vehicles or smaller dogs
The Good Life Non-Skid Pet Ramp weighs in at just under eight pounds with a weight capacity of up to 150 pounds. This fixed ramp is simple to use with no need to fold/unfold or extend/retract it when using. 
Place the rubber feet of one end on the bumper or bottom of the open door and your pet is good to go! The side safety rails and non-skid surface provide extra security.
Who should purchase this?
The Good Life Ramp is the best choice if you're looking for a car ramp to aid a smaller dog get into your sedan or minivan. 
Pros:
Side rails provide extra protection for your pet.
Plastic makes it suitable for indoor or outdoor use.
Lightweight.
Cons:
Tends to slide around.
Walking surface is rough (sandpaper-like).
You can read more and purchase the Good Life Pet Ramp at Amazon.
Best ramps for older dogs
Ramps for older dogs need to be slightly different than car ramps since they have a slightly different purpose.
They should be strong and durable, providing an extremely stable ramp for your doggie to walk up and down. A longer length with a gentler incline is easier on weary, ailing bodies. Older paws benefit from high-traction, skid-resistant walking surfaces even more so than younger ones.
In the case of older pets, it may make more sense to purchase more than one ramp so you have a stationary one for indoor use and one more portable to help your dog get in and out of your vehicle.
PetSafe CozyUp Bed Ramp
Best overall ramp for older dogs
A great alternative to steps, the Solvit Wood Bedside ramp for dogs is a durable, long-length free-standing ramp. Measuring 70 in. L x 16 in. W x 25 in. H it provides a gentle incline and a generous platform at the top for older dogs to access your bed or furniture. Made from real wood in a rich cherry finish it is sturdy enough to hold dogs up to 120-pounds.
Thicker carpeting gives your dog better traction when navigating up and down the ramp and is made to feel softer on the pads of their paws. Once assembled it functions as a fixed ramp.
Easily cleans with furniture polish and carpet cleaner to keep it looking beautiful.
Who should purchase this?
The Solvit Wood Bedside ramp by PetSafe is my recommendation if you're looking for a free-standing ramp that fits into your household decor! Beautiful solid wood construction makes this ramp looks like a piece of furniture while being incredibly useful at the same time.
Pros:
Long ramp length provides a gentle climbing angle.
Made from real wood.
Sturdy, durable construction.
Generous top landing area.
Cons:
Doesn't fold up after assembly.
Slides on wood or tile floors.
Read more reviews and purchase CozyUp Bed Ramp at Amazon.
Pet Gear Free-Standing Ramp
Best choice for smaller dogs
The Pet Gear Free-Standing Ramp measures 56-inch L x 16-inch W x 23-inch H and is designed for pets weighing up to 200 pounds. Raised edges on both keep your dog from accidentally slipping off the side.
The free-standing design allows the ramp to stand securely on its own as long as the surface or terrain is flat. If you need to move it quickly fold it up and go; weighing only 17 pounds it's easy to carry wherever you need it.
SupertraX covering on the walking surface is designed to provide improved, pressure-activated grip for your dog and is removable for easy cleaning.
Who should purchase this?
This ramp is my recommendation for owners of small dogs who are older or have mobility problems. Being lightweight it can easily be moved from room to room indoors or used outside, negating the need to buy more than one ramp.
Pros:
Pressure activated, washable grip on walking surface.
Lightweight, easy to fold design.
Freestanding.
Cons:
User reviews claim covering is too slippery.
Incline is steeper than other models.
Purchase the Pet Gear Ramp at Amazon.
Best bed ramps for dogs
There's no shame in admitting your dog sleeps on the bed with you, it's certainly not uncommon. But it can also be difficult for them to get up there if your bed is tall or if they have mobility issues so a ramp is a great product to have in your bedroom.
Many people look to purchase fixed ramps that stay in place for bed access. This allows their pooch to get up and lay down any time they'd like. Since it is in the bedroom people also look for designs that fit in with their bedroom furniture so the ramp doesn't look like an eyesore.
In the case of bed ramps, form and function need to find a good balance. 
PetSafe Solvit Wood Sofa Ramp
Most stable bed ramp
A great alternative to steps or aesthetically pleasing metal or plastic ramps, the Solvit Wood Bedside ramp for dogs is a full-length ramp with a gentle incline and generous top platform to allow your dog to get onto your bed. Measuring 45 in. L x 14 in. H it fits alongside most queen and king-size beds without sticking out, even if you have a nightstand. Made from real wood in a rich cherry finish it is sturdy enough to hold dogs up to 100-pounds.
Thicker carpeting gives your dog better traction when navigating up and down the ramp and is made to feel softer on the pads of their paws. Once assembled it functions as a fixed ramp.
Easily cleans with furniture polish and carpet cleaner to keep it looking beautiful.
Who should purchase this?
If you're looking for a bed ramp that fits into your bedroom decor and is meant to be a permanent fixture in the room, the Solvit Wood Bedside ramp by PetSafe is for you! This ramp looks like a piece of furniture while being incredibly useful at the same time.
Pros:
Long ramp length provides a gentle climbing angle.
Made from real wood.
Fits alongside a king-sized or queen-sized bed.
Generous top landing area.
Cons:
Doesn't fold up after assembly.
Slides on wood or tile floors.
See photos and purchase the PetSafe Solvit Sofa Ramp on Amazon.
Pet Gear One Step
Best in-between option
The Pet Gear One Step combines the functions of a step with the slight incline of a ramp to give your dog a gentle assist up onto your bed or other household furniture. 
A large teardrop shape on this step gives your dog a wide platform to step onto, increasing their comfort level when using the product and can easily be accessed from all sides. Removable supertraX removes easily and can be thrown in the washing machine for convenient cleaning.
Rubber grippers on the bottom keep to it from slipping and sliding on all floor surfaces.
Who should purchase this?
This single step bed ramp is the perfect option for dogs that only need a small step to help get them up onto your bed. It's smaller, lightweight, and inexpensive.
Pros:
Doesn't take up much space.
Carpet tread is removable and washable.
Snaps together easily.
Cons:
Some dogs don't like the feel of the supertraX on their pads.
You can buy the Pet Gear One Step at Amazon.
Training
Now that you've decided on a ramp and went ahead with the purchase, it's time to get your dog trained so he/she can safely use it. As with any other training make sure to go slowly and offer praise, praise, and more praise. 
Allow your dog to get used to the presence of the ramp. Lay it on the floor in the dog's space, letting them sniff it, walk around it, etc. This step simply gets them acquainted with the ramp.
Once your dog is familiar with the ramp, encourage him/her to walk on it when it's flat.
When they are comfortable walking on the flat surface, gradually add height until your pet is comfortable and using it at its intended height.
-Jordan
Now read this: