PuppyLife: Puppy Starter Kit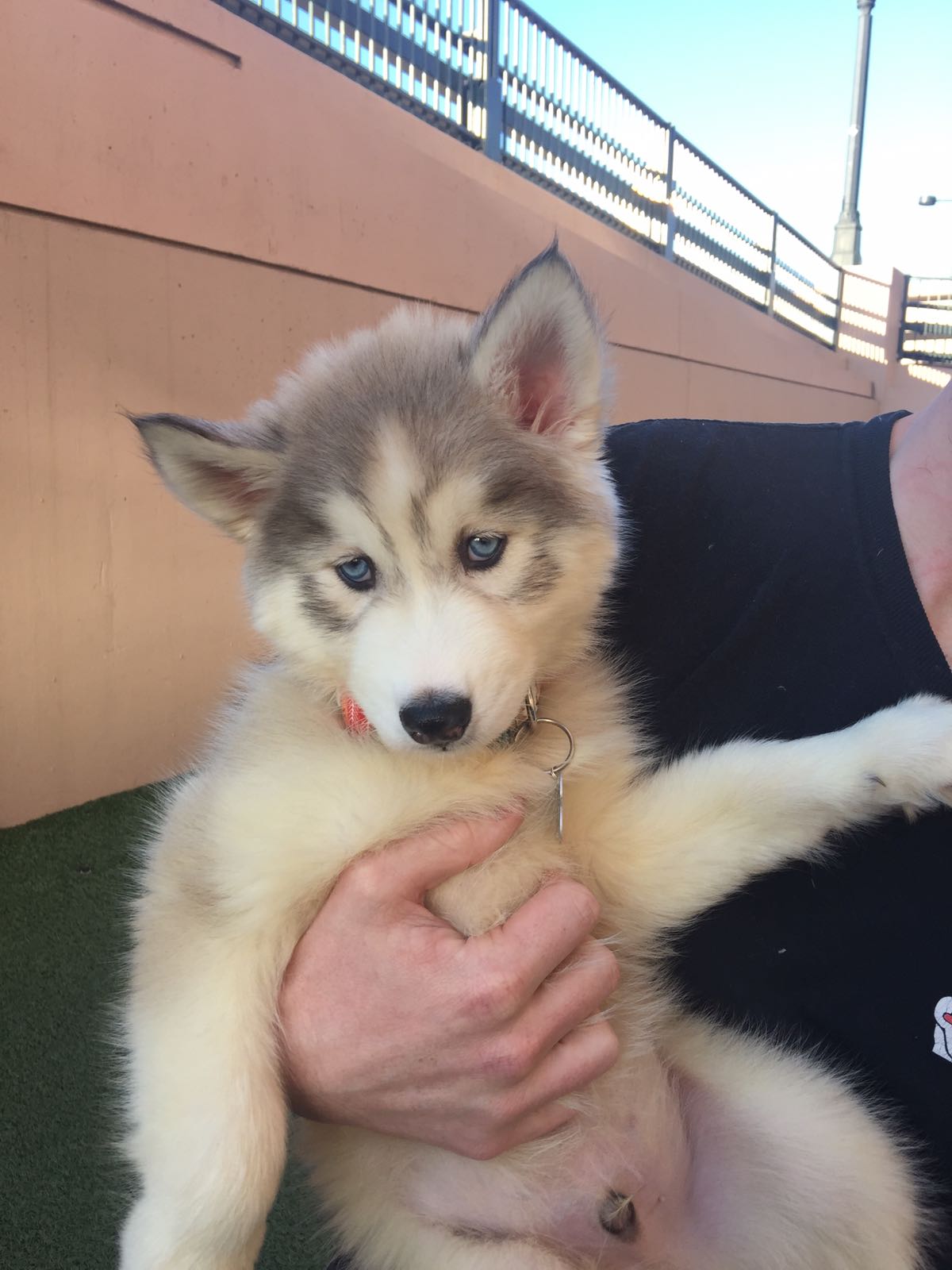 Are you ready to bring your new furry family member into your home?
More importantly, do you think that you're ready to bring this new family member into your life?
This week in our PuppyLife series, we go over everything you need to know for the big arrival.
Before I picked up Carl, you can read more about him here, I thought I was ready. I thought I was prepared for the new challenges that awaited me.
How hard could it possibly be right?
Like most people who are getting ready to bring their first puppy home, I was a bit nervous. At the same time I was overconfident, and I drastically underestimated the commitment it took to properly raise and train a "good" dog.
One of our main goals at Natural Dog Owner is to have our hard work and research benefit you!
I believe with all of my heart, that this puppy starter kit has all of the bases covered. From picking a Vet that you feel comfortable with, to finding a crate that works best for you and your pup, we put the work in to break it all down.
Puppy Starter Kit
Let's get started.
Find a Vet You Can Trust
First, I recommend that you dedicate a couple hours to researching the best veterinarians in your area. You should not only do your research online but also take the time to physically go to their offices.
Nothing beats a face to face interaction with your soon to be Vet.
If you can't be comfortable on your own you won't be comfortable with your new puppy.
Patience & Cleaning Products
Two things are needed in abundance when you welcome a new puppy into your home, patience & cleaning products.
It's impossible to avoid messes completely, but if you take a few precautionary steps you'll be able to prepare for them! Embrace it!
Puppy Pads
I'm of the opinion that you can never have enough puppy pads. They're relatively inexpensive, easy to dispose of, and are good to have on hand way past the puppy stage of your dog's life cycle.
I still keep a pack close by in case Carl gets sick!
One thing I don't recommend is to attempt to train your puppy to go on these pads indoors. You want these to be for emergencies only!
Out of all the brands I've tried, I found the Amazon Basics Puppy Pads to be the best. They're cheap, shipping is hassle free, and they store very well in their packaging.
I currently have mine sitting under my sink for quick access.
You can buy Amazon Basics Puppy Pads here.
Cleaning Products
There are plenty of great cleaning products on the market, but I've found that Bissel products work the best for me.
Generally speaking, companies like Bissel who have dedicated pet product lines have a better handle on what it takes to clean tough messes! Regular cleaning products don't always do the trick for pet stains. Furthermore they are not always pet friendly.
One of the major keys here is to find a product that has enzyme action. Bissel Pet Stain & Odor carpet cleaner is my go to for cleaning up when Carl has an accident.
You can get Bissel Pet Stain & Odor Cleaner here.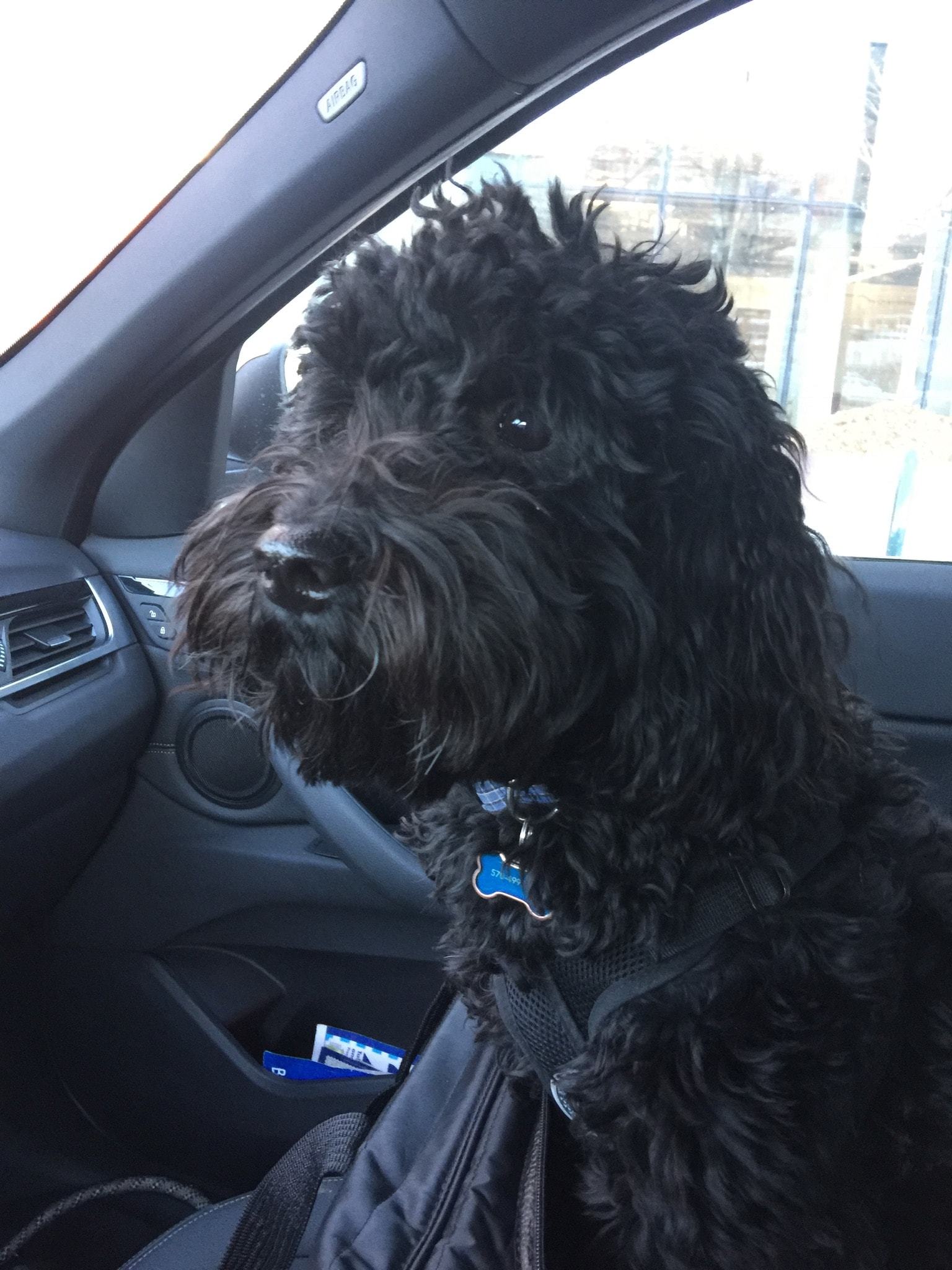 Carl riding shotgun :)
Crates & Kennels
The best, and quickest way to potty train your new puppy is by using crate training.
There are several opinions on this subject, but most of it comes down to preference.
Personally, I know that Carl loves being in his crate or anything that resembles it! It makes him feel like he has a place of his own.
I've found having a separate crate for sleeping and a kennel for stays during the day to work best.
During our entire potty training process, Carl only had two total accidents inside my apartment.
The best way to crate train your puppy is to follow 2 guidelines:
Make them want to be in there!
Don't give them enough space to get into trouble!
Feeling Comfortable
Let's dive into making them feel comfortable first.
It's very important to make the crate or kennel you're using inviting for your puppy.
Personally, I use the same stain resistant pad, wrapped in a blanket in each of Carl's spaces.
Find what works best for your dog. If they're playing with the blanket all night, then they probably don't want it there!
For sleeping, I suggest a plastic crate preferably with a handle for easy transportation.
It's important to find a plastic crate that is the appropriate size for your puppy. Keep in mind as he or she grows, you will probably have to replace.
When Carl was about 8 months old he started refusing to go in his crate for bedtime. At first, I thought he was just giving me a hard time, but then I realized it was too short for him to stand up in!
You can find the crate I use for Carl here. Remember to select the appropriate size for your dog.
Staying Out of Trouble
For stays during the day, I suggest a metal kennel with dividers.
These are the perfect size to give your puppy enough room to move around, but not too much room to get in trouble!
Personally, I have enough space in Carl's Kennel for his water bowl, his bed wrapped in a blanket, and a little area of space for him to stretch out.
You can find the kennel with dividers that I use for Carl here.
This kennel is my favorite because you can make it as confined or spacious as possible, and it breaks down super easy for quick storage.
It also has 2 doors, so its placement in your home is extremely flexible.
Stay Away From Open-Aired Pens
Another option for during the day can be an open-aired pen. Personally, I can't suggest one of these because I haven't had the best experiences with them.
I tried to use one when I first brought Carl home but soon realized that he was able to escape quite easily. Whether it was him climbing out, or using something to boost himself out, he was able to start escaping at a little over 10 weeks old.
As soon as I realized I couldn't stop him from escaping the pen, we switched to the kennel, and it has been perfect ever since!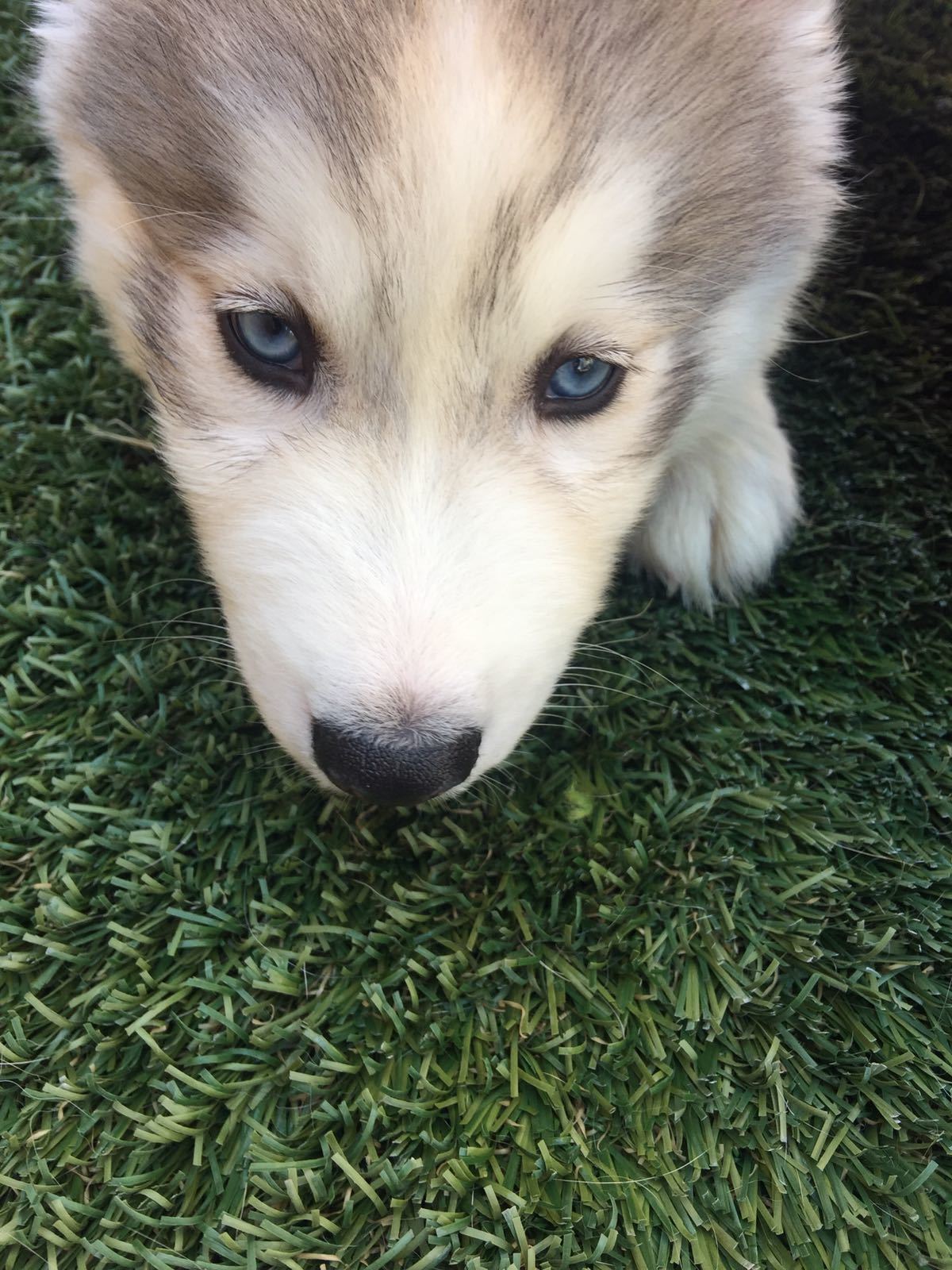 Rocky, a friend of Carl
Inside Crates & Kennels
This is my go to bed pad insert for Carl's crates and kennels. It's tough to destroy and easy to clean!
While it is a bit pricer the easy of cleaning and toughness mean it will last for a long time. Other bed's that don't hold up as well maybe cheaper but you will have to replace them more often. This will cost you more in the long run.
Get the bed pad insert here.
Dog Beds
Let's get back to the main theme of making your puppy feel comfortable.
A stationary bed for outside of a crate or kennel can be a great addition to your pup's life.
This will make them feel like they have plenty of options to call their own!
There are plenty of great dog bed's out there, but for puppies I suggest buying a small bed to start. Get it from a company that has multiple sizes for different dogs. This way, as your puppy grows he or she can still feel comfortable in their space.
Non-Tip Dog Bowl
Hopefully, by now, you've realized that a major part of this guide is to help you prevent as MANY messes as humanly possible!
Non-tip dog bowls are a great tool in our anti-mess arsenal.
The key here is to find a sturdy bowl that is the right height and size for your pup. From stainless steel to plastic with cute patterns, the choice is yours. Find something that fits your personality.
Leashes
The key with leashes is to be gentle.
Find a lightweight leash that isn't too long. I would suggest avoiding retractable leashes to start. When starting out you want to keep your puppy as close as you as possible.
Pick a color that's right for you and go for it.
This simple PetSafe Nylon Leash is a great option and comes in a variety of colors.
Collars & Harnesses
A velcro or lightweight buckle harness is great to start with. They're easy to take on and off, and gentle on the little one.
Having a collar on hand is also a good way to go. Switch back and forth, to figure out what works best for you and your dog. There will be a lot of trial and error in this process.
Carl loves his padded vest harness and you can buy it here.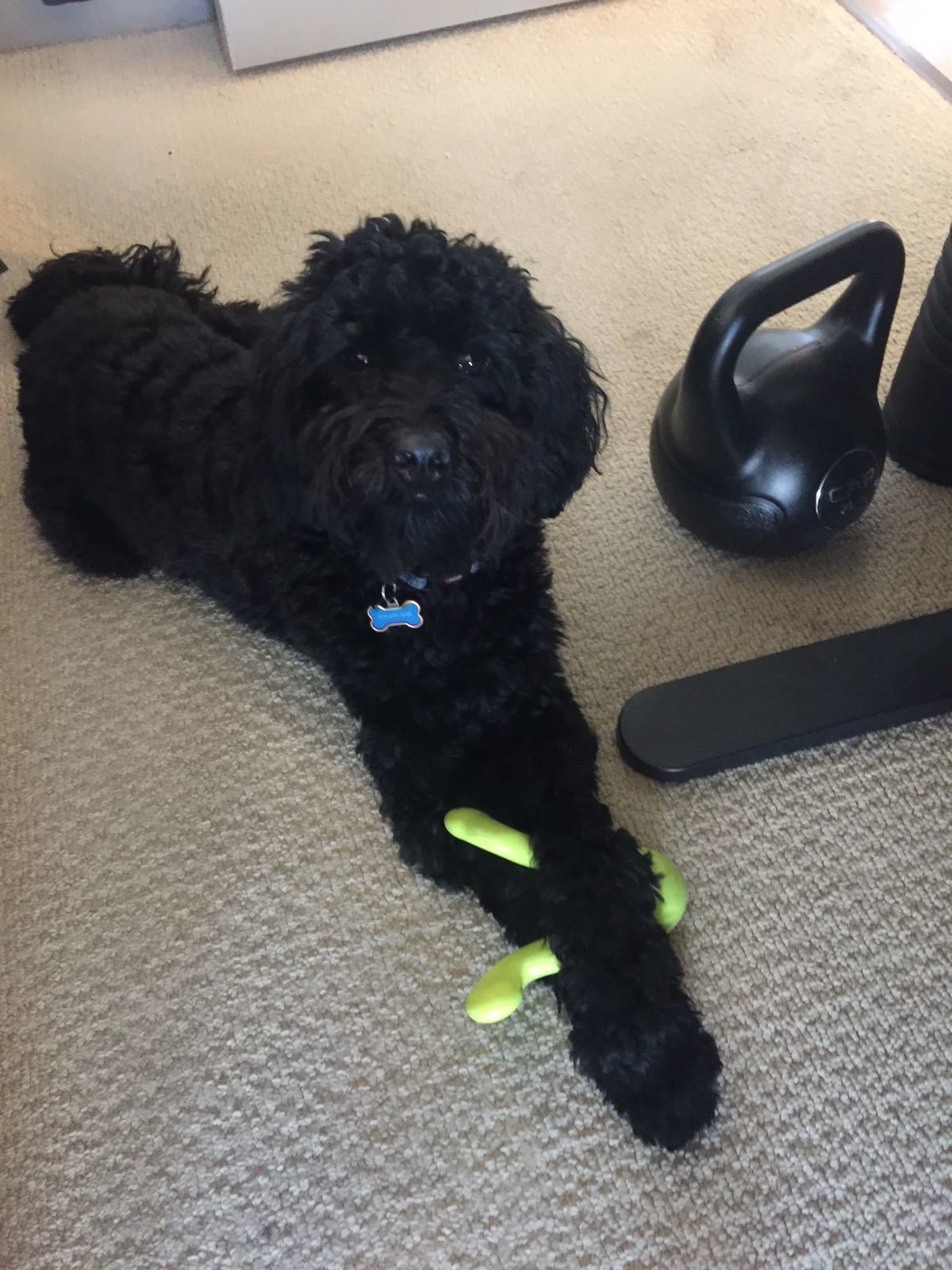 Carl with his toy
Toys
I am a firm advocate of spoiling puppies.
Get as many toys as you can!
Balls, plush toys, and chew toys to name a few. Grab a ton, and see what your puppy likes.
Personally, when I first brought Carl home, he ignored all his toys…. until I squeezed a squeaky toy, and we've been playing constantly ever since.
I suggest getting a toy bundle or subscription service. Your puppy will likely destroy countless toys, try to keep as many as you can in stock.
This is where a BarkBox subscription comes in handy. With it I'm able to count on having 1 or 2 new toys a month.
This is the bundle of squeaky toys that first got Carl going.
Dog Food & Treats
Last, but certainly not least we have the ever controversial topic of dog food.
Which brand is best? Dry, wet or raw? The choices really are endless.
Since dog food is such a complex topic, attempting to cover it in this guide would be a disservice.
Instead, we'll be dedicating several articles to it.
Stay tuned for the PuppyLife Dog Food Edition.
General Guidelines
For now, I want to leave you with a list of guidelines to follow before you get your puppy.
Ask the breeder, animal shelter, or whomever you acquired your puppy from what they've been feeding them up to this point.
If that food fits your standards, it may be a good idea to stick with that brand for now.
Ask your Vet what they think.
Sometimes your Vet may have an affiliate partnership with a certain company, so keep in mind.
Don't be married to a dog food that isn't working for your dog.
Be flexible.
That's it for the puppy starter kit portion of the PuppyLife Series.
We hope you find this helpful and remember to give your puppy the best life possible!
Till next time.
-Jordan
PuppyLife is a multipart series designed to give new, and experienced dog owners a step-by-step guide to eliminating some of the challenges that come with having a new puppy.
Now read this: