Petfusion Ultimate Dog Bed Review: Best Dog Bed Ever?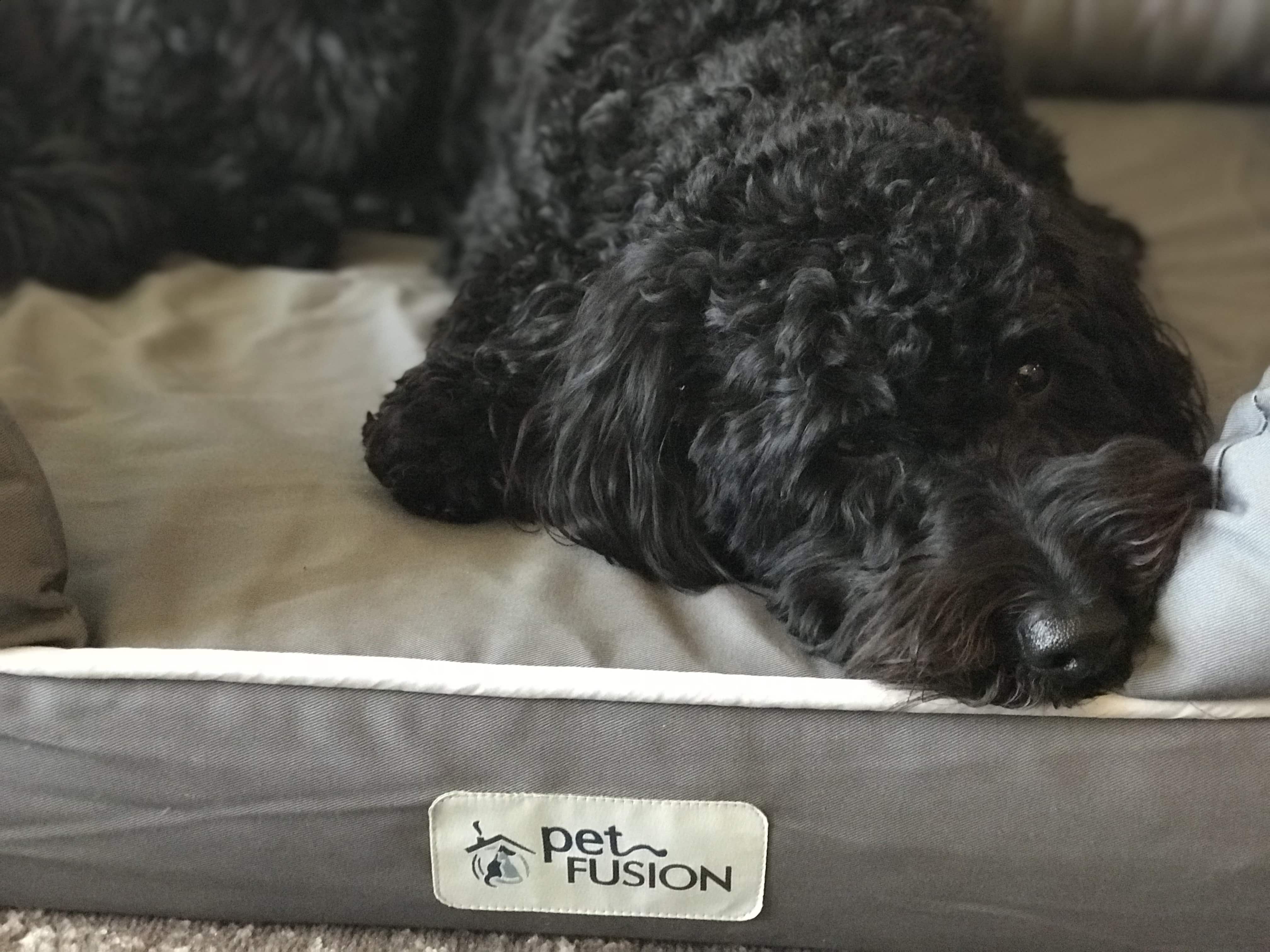 If you're anything like me, your social media feed is constantly crowded with advertisements of new trending products.
Over the past year, I've noticed a considerable increase in the number of advertisements I see for new memory foam mattress startups.
From Casper to Purple these ads have been almost a constant feature in my news feed.
It's safe to say Memory Foam mattresses delivered right to your home are all the rage.
What about your dog though?
They deserve a comfortable and clean memory foam bed instead of an outdated, smelly and old fashion filled feather pad.
I recently found myself in this exact scenario. Carl's bed was old, stinky and needed to be replaced, so I went on a hunt for the best memory foam dog bed.
After a long search I found the PetFusion Ultimate Dog Bed & Lounge and couldn't be happier with this solution. It's easy to clean and most of all Carl loves it!
Problems With Traditional Dog Beds
As I was getting ready for a move last month, I looked around my apartment and noticed that Carl's bed was in really rough shape. It was probably too small, it smelled terrible (I wasn't interested in confirming that though), and it was clear that Carl needed a replacement!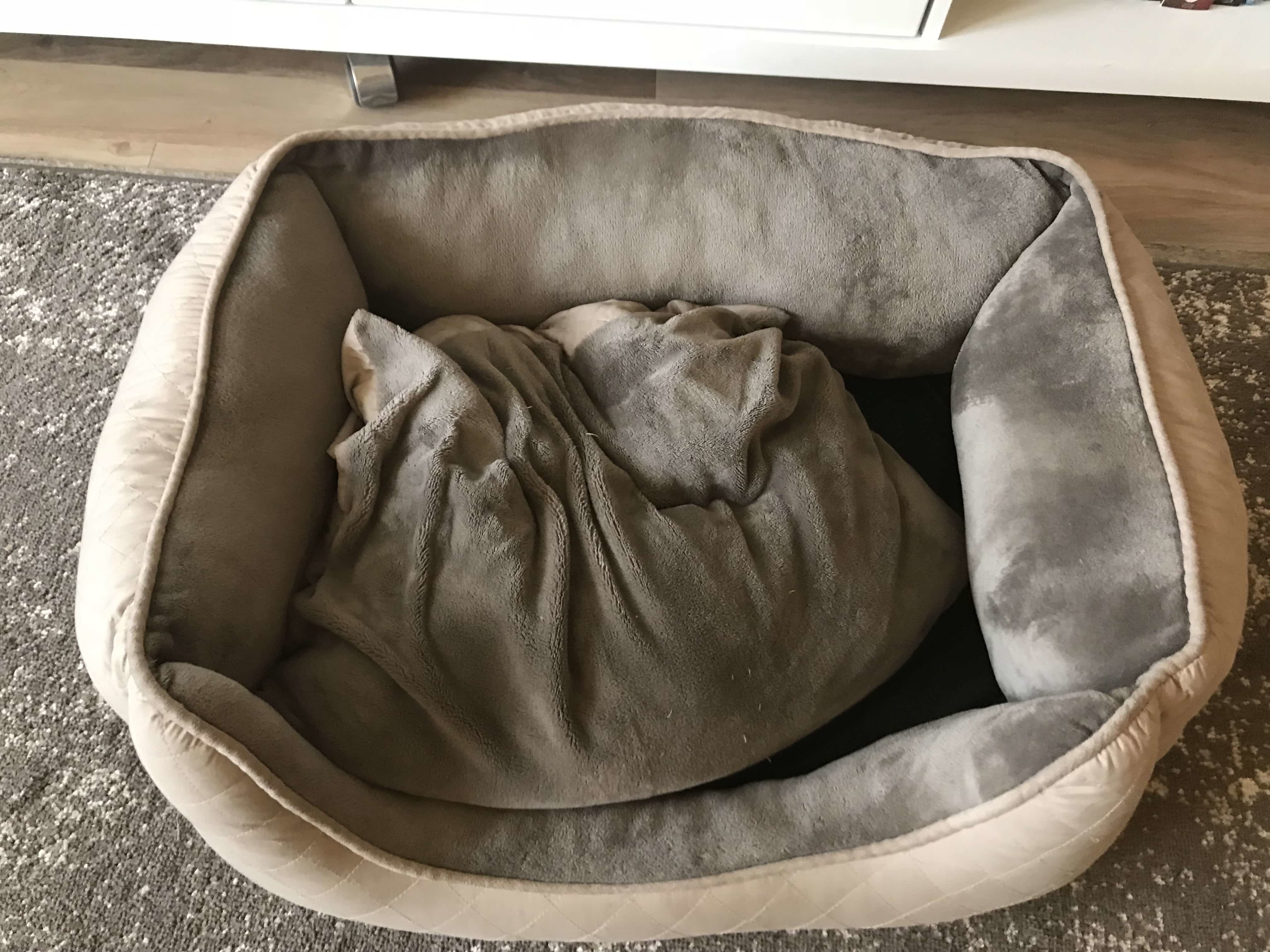 I figured "Hey, this bed has worked so far. He likes it. Why not just buy the same on in a bigger size?". This thought is why I brought up the rise in memory foam beds earlier. Instead of staying with the same mediocre dog bed I decided to do some research and find a better and cheaper option.
The main problem with traditional dog beds, like the ones you find at big-box retailers, is they're an inferior product for often the same price you'll pay for a comparable modern memory foam product.
Here's a list of the drawbacks with a fluff-filled dog pad:
Poor Support
With time the fluff or feathers inside the bedding will wear out leaving your dog will poor support. They typically start out supportive the day you buy them but eventually turn into your dog laying on nothing more than a thin piece of fabric over the floor.
Unsanitary
Typically you can't wash these old school beds. The most you can do is vacuum them, but even then you're only removing surface dirt. Over time these pillows just become a breeding ground for bacteria that your dog will end up laying in.
Terrible Odor
Since there's no real way to clean these fluff beds, they end up retaining moisture and odors that your dog naturally omits. It doesn't take long before they just downright stink!
Durability
Last but not least these poorly constructed pillow-like beds don't last. They break down quickly from the dirt, sweat, shoddy construction and thin casing to soon end up as your dogs newest chew toy, destroyed.
There I was, someone who prides themselves on finding the best quality dog products on the market, letting my little buddy lay in a sub-par bed! It was time for a significant change, it was time for an upgrade, and my friends that update included memory foam.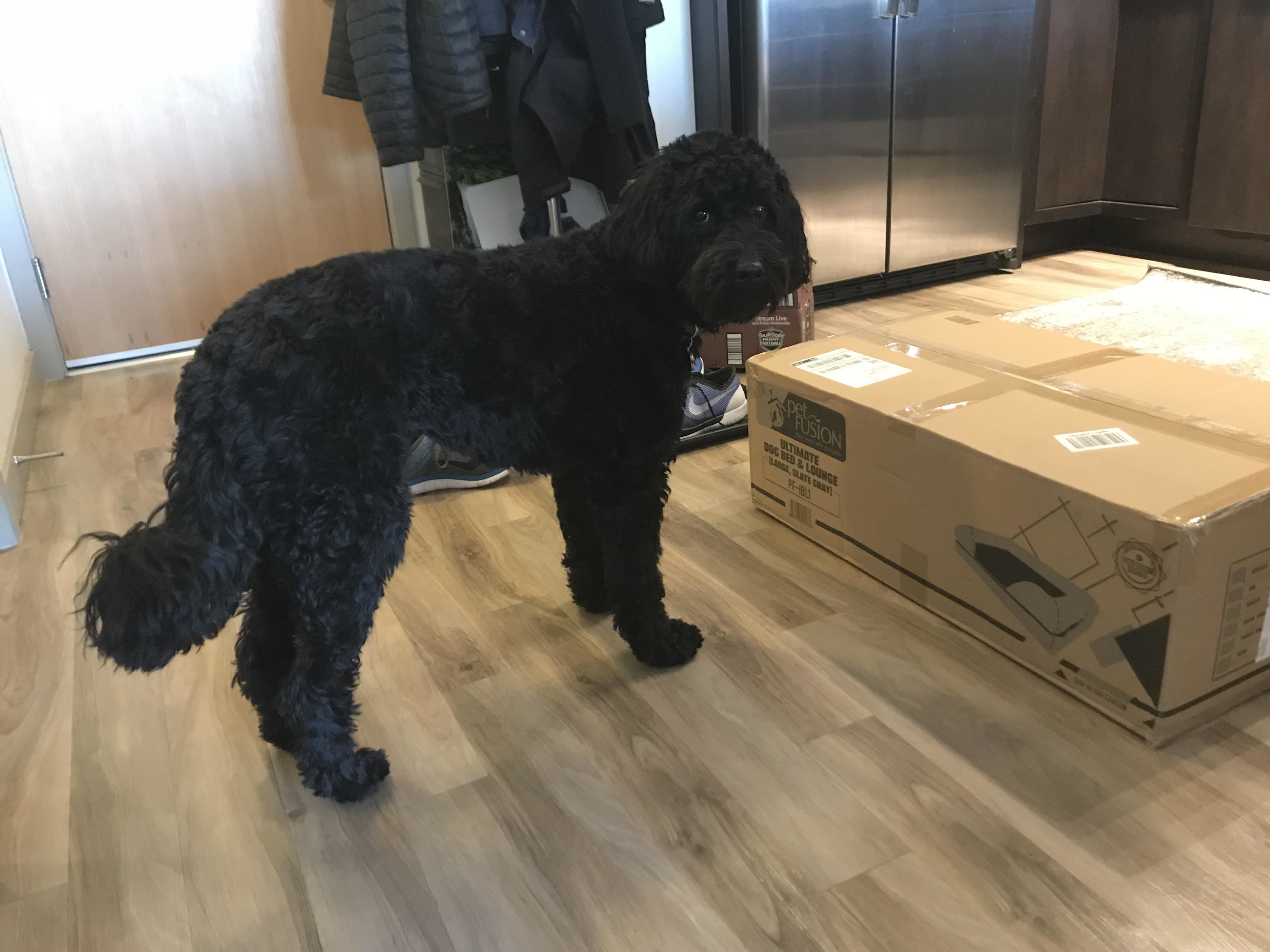 The Search For a Better Dog Bed
I wasn't looking for anything overly complicated. I wanted a high-quality bed that would be easy to clean and most of all comfortable for Carl. Also, I wanted something that came with minimal assembly!
When I started my research, I was shocked to find that the price of high-end memory foam dog beds was relatively comparable to the subpar bed that I purchased at my local chain pet store.
Before this, I assumed that memory foam beds would be costly in comparison to a standard big-box store brands because of the enormous difference in quality between the products. I was wrong.
A quick search caused brand after brand of memory foam beds to fill my Amazon page, but before long I was able to separate the pretenders, from what some (including PetFusion) and myself, would call the Ultimate Pet Bed!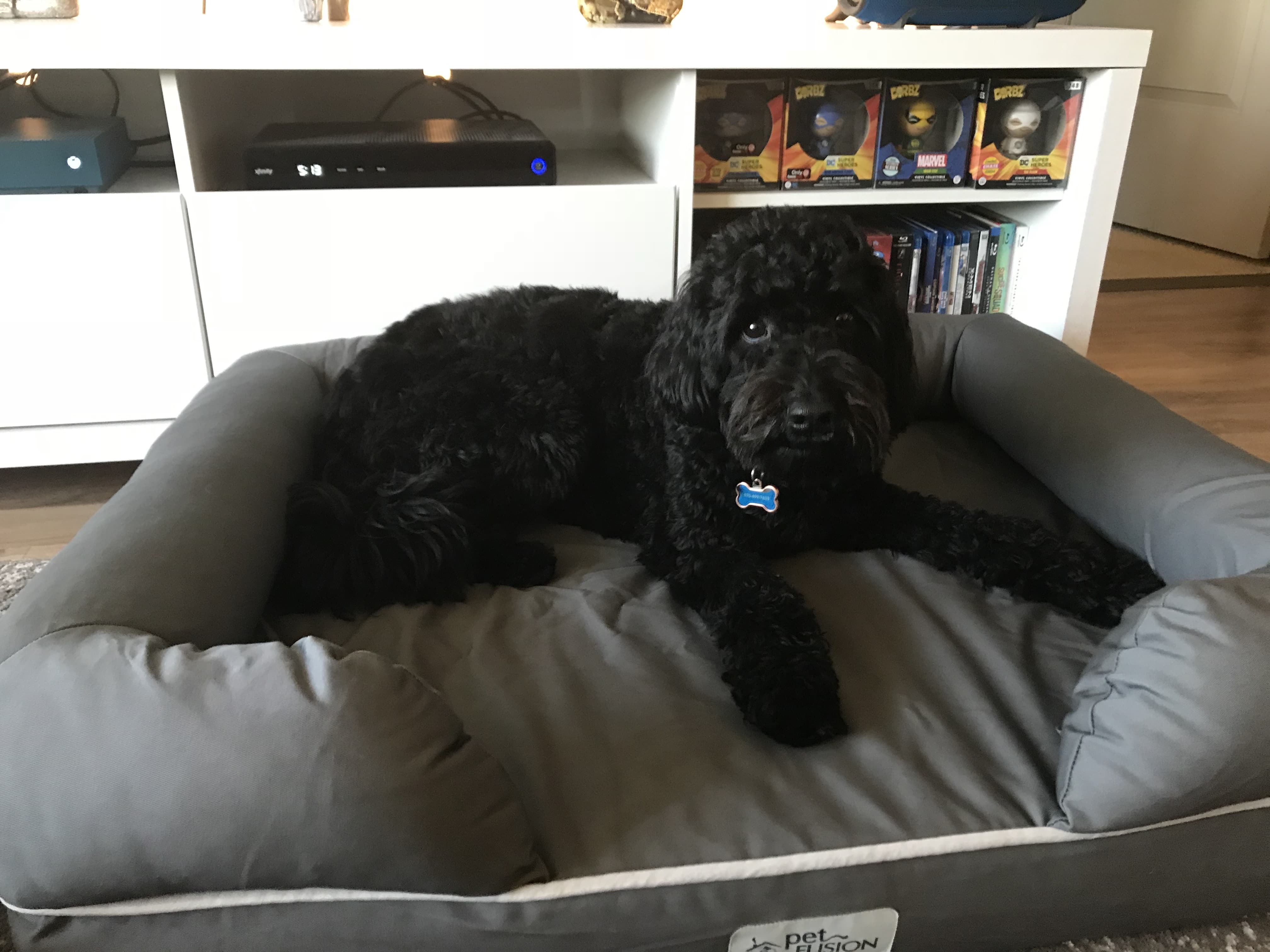 PetFusion Ultimate Pet Bed & Lounge
From unboxing, to set up, to cleaning and most importantly overall comfort for Carl, I rate the PetFusion Ultimate Pet Bed & Lounge a 10/10! I made this purchase a little over two months ago, and up to this point, my only regret is that I didn't make the upgrade months ago.
Unboxing
As soon as you open the box, you'll see that The PetFusion Bed package is set up with ease of use in mind. The memory foam is individually sealed and wrapped. Also, the covers and bed casing come separately.
As you can see in my unboxing and setup video, the whole process was extremely simple. The time from unboxing to Carl lounging in the gloriousness that is memory foam, took a total of 15 minutes.
3 Main Features
When PetFusion was designing the Ultimate Dog Bed Lounge, they prioritized three main things.
Provide a high quality, and durable bed.
Provide a dog bed that's easy to clean & take care of.
Provide your dog with the comfort that they ultimately deserve!
These claims aren't just lip service. You're able to see the attention to detail Pet Fusion puts into this bed at every step of the way. From the quality of the memory foam and its liner to the stitching on the corners and other notorious problem areas, the lounge is put together with an unrivaled attention to detail.
Colors
Outside of its structural integrity, the company also offers two options for colors: grey and brown. Regarding appearance, it has a very clean and modern look to it.
Sizes
There are two sizes, medium and large. The large bed is excellent for all dogs up to 100 pounds. You can also repurpose it for multiple small dogs. Pet Fusion says the medium is an excellent fit for dogs up to 50 pounds, but personally, I went with the large for my 30 pound Mini Golden Doodle, Carl.
Cleaning and Care
After owning the Ultimate Pet Bed & Lounge for a little over two months, there's a ton to like. Carl not laying on my lap constantly is a big plus. The icing on my organic dog treat, however, has to be the ease of cleaning! For minor dirt, hair, and the like I've been using an attachment for my vacuum to clean the surface of the bed casing.
When vacuuming just won't cut it, I've resorted to putting the removable bed casing into the washing machine on the most delicate setting available. So far that's worked out great for me, but I have seen some complaints about others having issues with the zipper on the bed casing after washing it this way. As long as you keep everything delicate, I think you should be fine.
Another huge plus is that the company is more than willing to replace broken bed casings free of charge. Add that to top-notch customer service, and I simply can't find a single bad word to say about my experience with this product.
You can purchase the PetFusion Ultimate Dog Bed from Amazon.
Bottomline
New companies and new products are coming out all the time that can seriously change the quality of what your dollar can buy you. That's exactly what PetFusion offers with their memory foam bedding for dogs. It's easy to clean, looks great, won't break the bank and most of all comfortable for your canine.
Till next time!
Now read this: