K9 Sport Sack Review: Real life test and results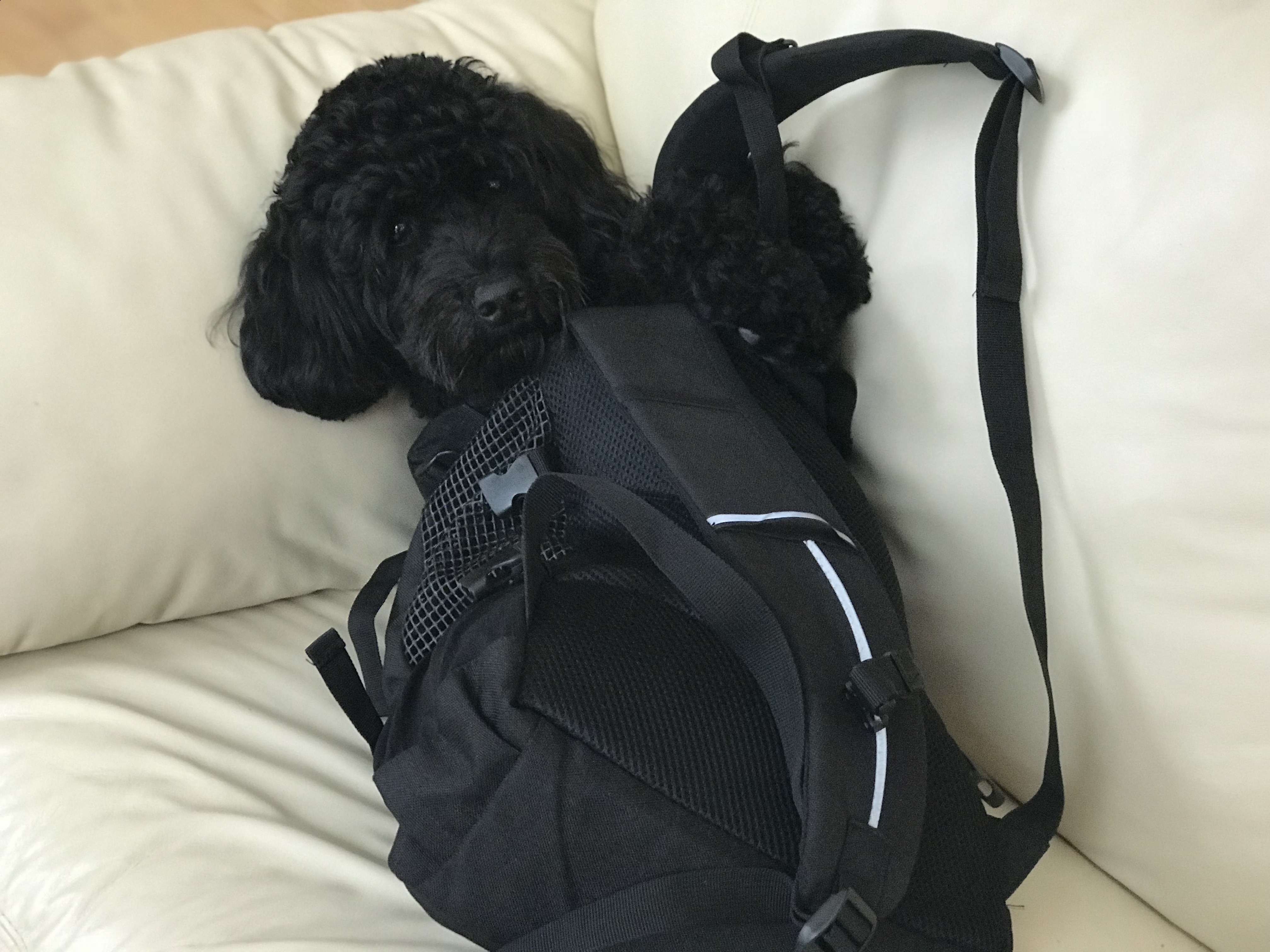 Everyone in this world who is an active person and has owned a dog, knows how pleasant it feels to be able to walk with their trusty companion by their side. However, taking a small dog on a big adventure can be tiring for the little canine. As much as dogs love walking, they sometimes can't keep up with their humans. What if there was a way to change that? What if there was a solution to walk as much as you want, and have your dog behind you at all times? Well, that's exactly what the K9 Sports Sack has to offer!
What is the K9 Sports Sack?
Invented by Joseph Watson, a visionary and pet owner that felt heartbroken each time his dog, Daisy, was left behind, the K9 Sport Sack is the ultimate small to medium dog carrying backpack. It's available in three different sizes, veterinarian approved, and fully ventilated, to make sure that no dog is left behind.
Benefits and uses
Of course, not all products are for everyone, but there are definitely a number of people that could benefit from its features. The K9 Sports Sack can be used for:
Travelling with pets. It allows the user to be hands free while also carrying their pet.
Hiking, trekking, or climbing. This is great for smaller dogs who can't necessarily conquer larger, rougher terrains but still enjoy accompanying their owner on outdoor adventures.
Bike riding. This makes this trip easy and practical for both the owner and the dog.
Small to medium sized dog that wants to be with the owner at all times.
A dog that easily gets tired from taking longs walks.
Dogs who are injured or have a condition that limits mobility.
Doubles as a backpack that's both practical and comfortable.
What makes it the best choice?
Pros:
Complex strap system for maximum adjustability.
Perfect for everything from walks to bike rides.
Completely safe when used correctly.
Veterinarian approved.
Designed with ventilation features to maximize airflow.
Complete with pressure-relieving shoulder straps.
Suitable for all dogs that weigh a maximum of 40 lbs.
Worldwide shipping.
Cons:
Not airline approved.
Dog should be taken out of the bag once every 45 minutes.
Color options and general info
The K9 Sports Sack is available in three different versions, all of which were created after veterinary consultancy, to give customers an end product that has the comfort and the best interest of the doggo in mind. While the K9 might seem like your ordinary hiking backpack, there are many details that make the world's difference (you probably won't even realize how many benefits there are, since you're not really a dog).
The K9 Sport Sack Air is the baseline model for dog owner who plan on taking their four-legged friends on mild hikes. Since the product itself is very definition of must-have, it provides:
Five trendy colors to choose from.
Adjustable pockets on each side.
Comfortable padded shoulder straps with moisture wicking properties (joke's on you, hot summer weather!).
Four different sizes to fit all small to medium doggos.
Ventilated side panels.
Support and comfort for every dog that weighs a maximum 30 lbs.
If you want even more awesome features, the K9 Sport Sack Air Plus has got you covered. It's basically an upgraded version of the Air backpack, but with features added after extensive research, and while taking into account the buyer's feedback.
You can see more pictures and buy the K9 Sport Sack on Amazon.
The advantage of the Air Plus comes from:
The ventilated sides that maximise air flow and leave your dog enjoying every cool air breeze.
Upgraded shoulder straps, which are thicker, wider, and better at relieving pressure.
A detachable storage bag so that you may carry your fur ball, alongside whatever other stuff you need to have with you on your hike.
A padded back panel that feels comfortable against your back.
Adjustable side pockets, for making sure that none of your valuables get lost on your adventure.
If the Air and Air Plus are focused on bike rides, trekking, hiking, or exploring-type of adventure, there's also a backpack designed for dog owners that want to make a fashion statement while walking their doggos through town. The K9 Sport Sack Urban is more than just a stylish backpack: it's a comfortable dog carrier with an urban design, which features:
A padded bottom, so that your dog can travel in style and comfort.
Side zipper for proper ventilation, improving airflow for your dog's skin to be able to breathe.
Faux leather accents and straps, because fashion!
Adjustable side straps, for a proper doggy fit.
Pockets on both sides, for phones, wallets, chew toys, doggy treats, and whatever else can fit in there.
If you've never tried the K9 Sport Sack up until now, every marketing claim may sound a bit exaggerated. However, thousands of happy customers can vouch for how practical, good-looking, and comfortable this product actually is.
The K9 Sport Sack has given dog owners a lot of freedom in terms of how much time they can spend with their dogs without being limited to a specific space. the backpack was used to take dogs on hikes, to the gym, at the local supermarket, or for walks in the park. To describe just how amazing and useful this product is, customers have called it "a game changer".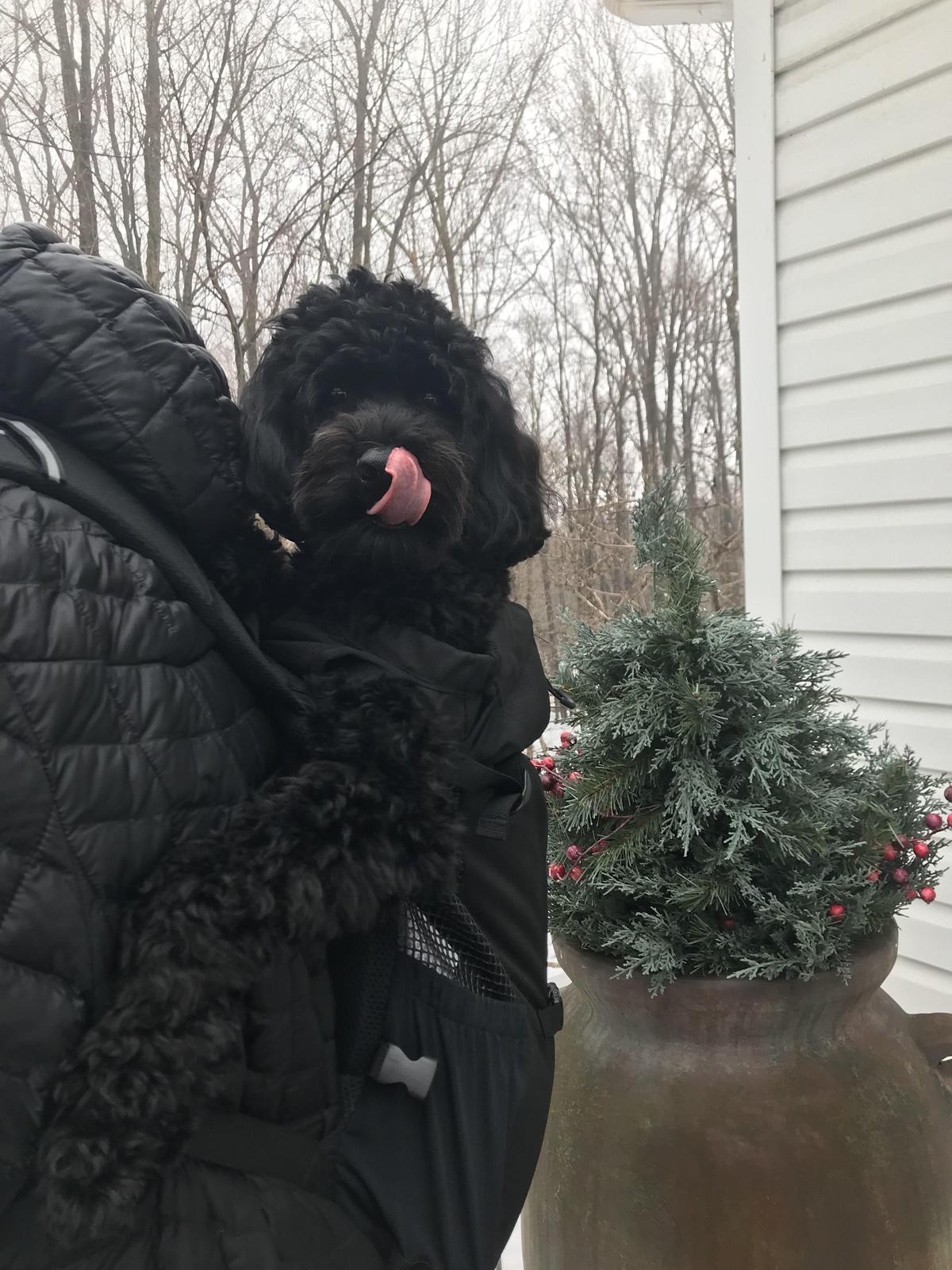 How to get your dog inside the K9 Sports Sack
While the K9 Sports Sack has proven comfortable for most dogs from the get-go, getting the dog into the backpack in the first place can be quite a challenging task. Luckily, "challenging" does not equal impossible!
For the first step, lay the K9 Sport Sack on the ground. There is also the alternative to place your dog inside the bag while holding it in a vertical position, but this process is a bit more difficult for you. You will have to raise one of your legs to provide support for the dog and the backpack.
Place the dog inside the bag, making sure that the upper paws are placed gently through the arm holes. While doing so, always keep one of your hands under the dog's abdomen.
Grab the collar clip, and secure it around the dog's neck.
Make sure that the dog's tail and fur are concealed inside the bag.
Carefully pull the zipper all the way up, making sure that you don't pinch any of the dog's fur.
Open the collar cord and place the loop of the zipper through it, and then close it again.
Cinch the side straps, to make sure that the bag fits snuggly on your dog.
When placing the bag on your shoulders, do not swing the dog. Rather lift him over your shoulders.
Place the dog up on your shoulders.
Cinch the shoulder straps to avoid any wobbling, and then secure the sternum strap, by clipping it.
Tip #1: Always make sure that your dog is relaxed when placing them inside the bag. If the dog is agitated, it will be very difficult for you to zip, clip, secure, not to mention that this whole process might stress out the pup. Maybe a handful of treats beforehand will do the trick!
Tip #2: Getting a friend to help you by asking them to hold the bag while you place the dog inside is the easiest way.
Tip #3: Never leave your dog for more than 45 minutes straight inside the backpack. If the temperatures are too high, lower this time frame accordingly. Take the dog out of the bag and allow them to walk around for a little bit before placing them back inside the bag.
For further instructions and detailed images, here is a video that might be useful.
K9 Sports Sack vs Petsfit
Petsfit is a pet carrier bag advertised as being a reliable solution for dogs. Despite being a solid product, it lacks a lot of the benefits that the K9 Sports Sack brings to the table. First of all, it can only support dogs that weight a maximum 15 lbs., while the K9 can go as high as 40 lbs. Compared to the K9, the Petsfit also lacks any extra pockets for you to place your valuable or other items that you might want to take with you.
K9 Sports Sack vs Pawaboo
The Pawaboo backpack is more similar in design compared to the K9 Sports Sack, but not as nearly as efficient. First off, it also features holes for the back legs of your dog. This means that the dog's weight will be supported by the bottom padding, which could put the pup a lot of discomfort. While the Pawaboo has a front panel made from mesh to provide maximum breathability, it might not be efficient to use in colder seasons, as the dog isn't protected against lower temperatures.
K9 Sports Sack vs Jian Ya Na
The Jian Ya Na dog carrier is available in only two sizes: small and medium. The small size can only support dogs that weigh a maximum of 4.4 lbs, while the medium sized version is good for dogs that weight maximum 8.2 lbs. This means that you can only use it to carry around small dogs, unlike the K9 Sports Sack, which can successfully carry dogs up to 40 lbs.
Despite the size problem, it is the only one that comes close to the K9 in terms or usability, featuring side pocket for carrying your items, padded straps for the dog owner's comfort, plus a cord that can be tightened to prevent the dog from leaping out of the bag. Even so, the backpack itself doesn't fully allow the dog to enjoy nature walks, as there is only a small gaps for its head to come out. As of writing this it's only available in Canada.
Conclusion
Ever since its launch, the K9 Sport Sack has become the favorite dog carrier of owners from all over the world. Whether your pup gets easily tired, suffers from limited mobility, or simply can't keep up the pace when you want to take on longer foot journeys, this product aids dog owners in never leaving their pets behind. If you had a K9 Sports Sack, where is the first place you and your dog would go?
-Candace
Now read this: