Best dog socks and paw pads for protecting hardwood floors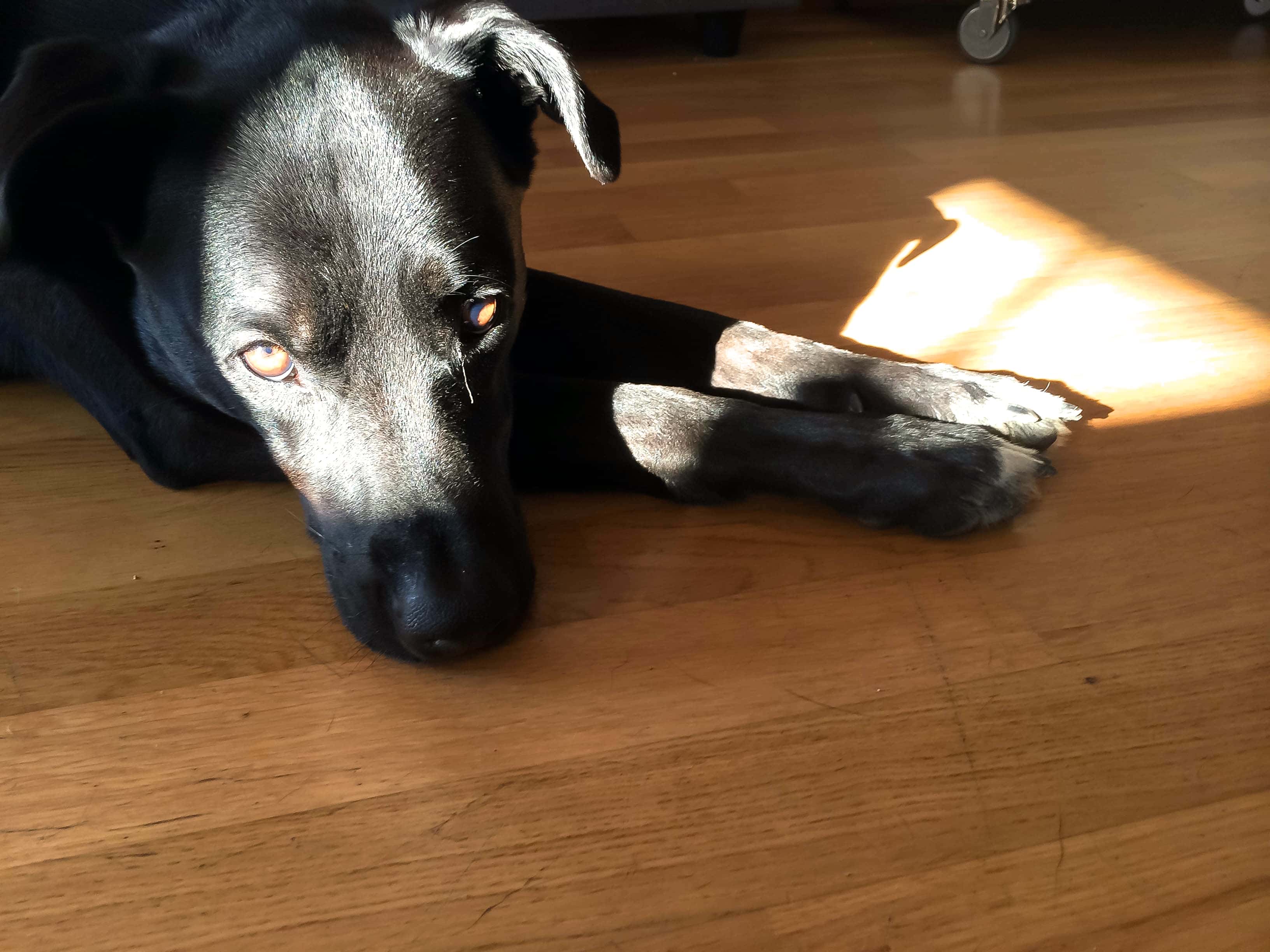 We've all seen the commercials of a cute puppy hurtling toward his food, his feet sliding out from under him until he slips and slides right into the dog bowl spilling kibble all over the floor.
Adorable, right?
What I just described is what an average day in my house looks like, except instead of a cute little puppy and some dog kibble it's usually a slobbery stuffed toy and a giant Labrador.
Just about all of the flooring in my house is hardwood or tile, but it's hard to fight the urge not to throw the toy when you have a set of sad puppy eyes staring back at you. But I won't lie, as amusing as it is to watch him slide through the house, it's also hazardous.
Fortunately, there are several ways you can keep your pup safe on slippery surfaces. Keeping your dogs nails and paw hair trim, adding rugs, and using paw pads, socks or booties are all things you can do to protect your dog from injury and keep your hardwood floors scratch free. We'll explain each option and review our top picks for socks and paw adhesives for your canine.
Trim your dog's nails and excessive hair around pads
If you look at the bottom of your dog's paws, you'll find something called the carpal pad, which is better known as the 'stopper pad.' You guessed it – the "stopper pad" is what helps your dog gain traction and keeps them from sliding when walking on steep or slippery surfaces.
Allowing hair to grow around your dog's carpal pad may reduce their stopping power and ability to gain traction, particularly on hardwood or tile. In addition to keeping excess hair under control, trimming your dog's nails will also help them maintain good contact with smooth surfaces.
Unfortunately, your dog may not be willing to wait patiently while you trim their hair and nails and you don't want to be using sharp objects on a squirrely pup. If you don't feel comfortable trimming excess hair yourself, you should ask the vet or groomer to take care of it on your next visit.
Place rugs or carpet on the floor
Using slip-resistant rugs or carpet is another excellent option to keep your dog from losing traction on smooth surfaces. This technique is especially useful if you place the rug carpet in an area where your dog sleeps and plays. When your dog wakes up from a nap or is hurtling toward their favorite toy, a slip-resistant carpet or rug will help to slow them down.
This method is particularly useful for dogs that are elderly or have existing mobility issues, because it may already be difficult for them to get enough leverage to stand. Some dog owners elect to use a yoga mat near their dog's bed instead because they are durable, portable, washable and offer proper grip.
Socks, Boots, and Stickers – oh my!
You may be asking yourself "what is the best option for my dog?" To answer this question, there are a few more dog-specific options to consider.
Dog Boots
Dog Boots are rubber, plastic or fabric shoes for your dogs' paws that help protect them from harsh terrain and severe climates. Although they originally were meant to protect the paws of sled dogs in subarctic environments, dog boots have adapted to protect the paws of the everyday dog.
Dog boots are incredibly versatile and provide the extra traction needed to keep your dog from slipping or falling on smooth surfaces.
Non-slip dog socks
Non-slip socks are similar to socks that you or I would wear. Generally, they have a rubber coating that surrounds the sock, to prevent them from falling off, or strategically placed rubber grips on the bottom of the sock to enhance traction control.
As opposed to a dog boot, non-slip socks are made from softer, more comfortable materials, which makes them a better option for long-term, consistent use. If your dog is post-op or elderly and needs traction control all-day, a non-slip sock may be a better option than a dog boot.
Adhesive stickers
Adhesives are meant to be the most natural option for dog paw protection and comfort. Rather than covering the entire paw, like a sock or boot, adhesives stick to the bottom of your dog's bad to boost traction control.
If you're worried about the word "adhesive," keep in mind that the adhesive material used for dogs differs from standard glue or paste. Although it is a bonding material, it is generally ultra-thin and made from non-toxic materials that are safe for your dog. Adhesives are easily removed or will naturally fall off after extended use. More on these below in our Loobani review, which is the brand I recommend.
Finding the right size dog socks or adhesives
For non-slip socks or adhesives to work correctly, you'll need to make sure the sizing is appropriate for your dog. Each manufacturer will have a unique set of recommendations or instructions for their product, so you'll want to review sizing instructions closely.
As a general rule, however, you'll want to do the following:
Trim your dog's nails and excess fur around their pad
Place their paw on a sheet of paper or applicable manufacturer's sizing guide
Press their paw down slightly
Mark each side of their paw
Measure the distance between each marking
Tip: Some products recommend that you measure front paws and back paws individually
How to get your dog comfortable with non-slip options
To convince your dog that wearing a non-slip sock or adhesive is a good thing, you'll want to make it a positive experience for them. To do this, start by introducing your dog to the sock or adhesive slowly. Leave the object in a neutral area or rest it in your hand – when your dog approaches to check it out, give them a treat!
Once your dog seems indifferent to the object, try placing one sock or adhesive sticker on at a time and test their reaction. If your pup seems anxious, remove the object and allow them more time to get acclimated to the sock.
Once your dog seems more comfortable with wearing the socks or adhesive stickers, praise, praise, praise! Extra love, a cherished toy or a special treat will help solidify that their new attire is a good thing!
You may need to repeat this process more than once, depending on how your dog reacts. Although some dogs warm up to socks or adhesives, quickly, others may require a little more patience.
Protecting your hardwood floors
So, we've gone over the benefits to slip-resistance for your pup, but let's talk about you for a minute. What about those beautiful hardwood floors? Investing in a non-slip option for your dog also has the bonus of protecting your floors.
In addition to the suggestions above (trimming nails, using rugs, non-slip products), there are a couple more things you can do to keep your hardwood floors from falling victim to doggie damage:
Limit indoor playtime
I don't mean to be the bearer of bad news, but playtime can be seriously detrimental to your décor. You don't always have control over when or how your dog will play indoors, but if you're like me and you tend to heave toys across the room to appease your restless pup, you may be adding insult to injury.
Apply wax to your floors
Keeping your hardwood floors waxed isn't only aesthetically pleasing, it also adds extra traction to your floors. The more traction there is on the floor, the less likely your dog will be digging their claws into your hardwood.
Top dog socks and traction pads
Here are our top two picks to keep your dog up right and protect those beautiful hardwood floors from scratching.
Dog Paw Protector Traction Pads by Loobani
Loobani's 48-piece disposable self-adhesive traction pads are like little rugs for your dog's paws. With 12 sets that last approximately 2-7 days, this is an excellent option if you're in need of an alternative to dog socks or shoes.
In fact, Loobani's traction pads are unique because they do not wrap around your dog's paws but safely adhere to your dog's pads, instead. In addition to solving the fundamental no-slip dilemma, these toxic-free, hypoallergenic adhesives might be a great option for elderly dogs, dogs with paw problems, or dogs with unique allergies.
Loobani recommends that you trim your dog's nails and fur, in addition to making sure your dog's paws are clean and dry. Following these instructions will help to make sure that the adhesive pads do not cause any discomfort for your pup and that they work as intended.
Ranging from 1.30" x 1.54" to 3.07" x 3.38" there are a variety of sizes to fit just about any dog. However, for these adhesives to work, you'll need to ignore your dog's breed recommendations and measure your dog's paws according to Loobani's specifications: Place your dog's paws on a piece of paper, press down, and mark the measurement to select the appropriate size from the size chart.
Pros:
Dogs adjust quickly to having them on
Work well for dogs with arthritis or other health problems
No sticky residue left on the paw
Vet recommended
Cons:
May not work as well on larger breeds
Don't work well to protect paws from hot surfaces
Users have reported they tend to run small
You can read more reviews and buy Loobani Dog Paw Traction Pads on Amazon.
Pawks Dog Socks by RC Pet Products
Aside from being incredibly adorable - or handsome, if you decide on an argyle pattern – RC Pet Products designed 14 different styles of anti-slip socks with maximum comfort in mind. Because they are made of quality cotton and offer full-paw protection, Pawks are an excellent choice for dogs that are recovering from an injury.
Similar to an adhesive sticker, Pawks offer traction on the bottom of the foot, rather than on the entire exterior of the sock, which makes them a more comfortable alternative to dog boots.
Although Pawks are not designed for the outdoors, specifically, RC Pet Products offers a similar design – the Sport Pawk – that are more suitable for outdoor use. So, if your pup has adjusted to the indoor Pawk and you're looking for an outdoor option, RC Pet Products has you covered.
Similar to the Loobani Traction Pads, RC Pet Products has a comprehensive sizing guide (sizes xx-small to x-large), to make sure you get the right fit for your dog. We recommend that you place the guide on the floor, set your dog's paw on the guide and measure front and back paws separately. It's also important to note that if your dog is in-between sizes, you should choose a size smaller, to keep the Pawks from falling off.
Pros:
The bonus of keeping your dog's paws warm in the winter
Protects wood and wood laminate
Offers great traction control
Keeps your dog from licking their paws (allergies/injury)
Appealing designs
Cons:
Slides off easily if not sized correctly
Traction is only on the bottom, so if the sock slides it will not provide traction at all
Some dogs will shake them off
Can be difficult to put on
You can read more reviews and buy Pawks Dog Socks on Amazon.
Conclusion
No dog is alike, so it's important to remember that each type of traction control serves a different purpose and what works for one dog may not work for another. Whether your dog is elderly and needs a little extra help navigating your wood floors or you're trying to keep your floors from being abused by a rambunctious puppy, there is a non-scratch option for you!
-Morgan Shannon
Now read this: